Airlie Beach YHA, Whitsundays
Airlie Beach is your gateway to the Whitsunday Islands. Sail around the islands, take a day trip to the reef, go snorkelling in the fringing reefs, get an aerial view with a scenic flight or visit Whitehaven Beach. Bookings can be made with YHA Travel and Tours at reception. Discounts are available for YHA members, all backpackers are welcome to join.
Airlie Beach is well known as a 'party town'. There are plenty of bars, restaurants and nightclubs - all located within a 400 metre walk from the Airlie Beach YHA hostel. Dining out is easy with bar/bistros offering regular backpacker specials and cheap eats.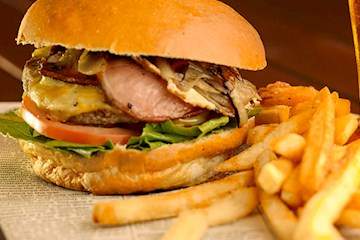 $10 Meal Discount
Grab a voucher from reception and head down to the Beaches pub for a cheap meal.
Airlie Beach
There are many walking tracks through the Conway Ranges National Park where you can see plenty of kangaroos, wallabies, birds, goannas, snakes and lizards.
The Cedar Creek Falls are a short ten minute drive and offer spectacular views of the falls and a great fresh water swimming hole.
The Airlie Beach lagoon is right in the centre of town where guests can swim all year round as well as sunbake. The Airlie Beach markets are held every Saturday as well as everyday that a cruise ship is in town.
You can pick yourself up a sundress, new hat, fresh mango sorbet or even a Hungarian tower cake.