Brisbane's best National Parks
Sometimes you just gotta escape the busyness of the city and get back to nature. Thankfully, there's plenty of spots in and around Brissy to do just that. Here's some of our faves..
Bribie Island

The only Queensland island with a bridge, Bribie Island will give you that island feeling without having to organise a ferry to get you there! Let your worries drift down the Pumicestone Passage, 35 kilometres of channels between Bribie and the Caboolture coastline – close enough to wave at the land lovers who aren't out on this island paradise.

From markets to skydiving, or hiking through protected national parklands, Bribie Island is much more than a National Park, and you'll never have a dull moment. End the day with a cold bevvie at the Sandstone Point Hotel and call it a day well spent!

How to get there: Less than an hour out from Brisbane, hop the Bribie Island Coach or jump in the car to head to this island paradise.


Enoggera Reservoir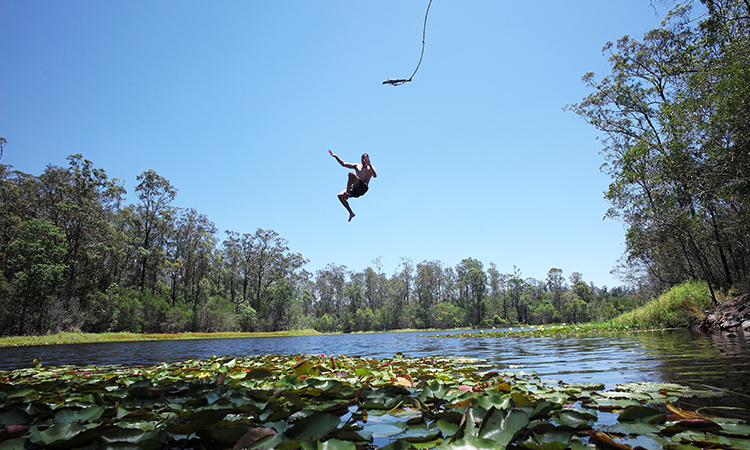 This local's favourite has been around since colonisation back in the 1800s and continues to be enjoyed by Brisburnians over a century later. Right next to the D'Aguilar National Park with its nearly 37,000 hectares of eucalypt forest and rainforest, you can chase adventure in the wilderness, follow the reservoir walking tracks, or enjoy a day spent by water with all the essentials nearby... including wifi!

You can't pass up the opportunity to say hello to some us Australia's cutest native animals at the nearby Walkabout Creek Discovery Centre (currently closed due to COVID-19,) or pack along your camera to spot some wildlife in the wild! Bring along a floatie or a kayak, a good book, and some hiking boots, this spot has it all. Now all that's left is to decide how you'll spend your day down and Enoggera!

How to get there: There's plenty of parking at The Gap park 'n' Ride, just 20 minutes from the CBD, or jump the 385 bus to The Gap from the Roma Street stop 121, just 500 metres from Brisbane City YHA
Flinders Peak

In the words of one of our team, Flinders Peak is going to 'blow your mind.' This trek isn't for the light-hearted, but the work is worth it. It can take between 4-6 hours to hike to the summit, with views of Mount Blaine and looking all the way out to Brissy, Flinders Peak is the highest point in the Greater Brisbane region.

Make sure to pack plenty of water and snacks on this full-on hike, and expect some rock scrambling, boulder hopping and views that will take your breath away. Now that's something worth boasting about on Instagram!

How to get there: Jump in the car and head out an hour from the Brisbane CBD to the Flinders Plum Picnic Area and follow the signs and trail to the summit!
Tamborine National Park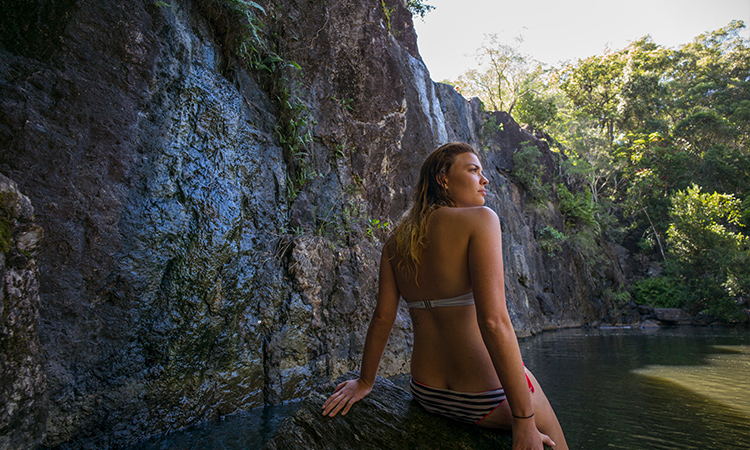 Part of the stunning Scenic Rim, pack your camera and dream of chasing waterfalls at one of the most stunning national parks in the country. Queensland's first national park, you'll find waterfalls a plenty, with secret watering holes to take a dip if you're getting too warm from your walking!

Cliffs and outlooks will give you views all the way to the ocean, with the rim of mountains a remainder of volcanic explosions near Mount Warning (Wollumbin,) nearly 23 million years ago. There are walking tracks for every age and ability, including the Cedar Creek Falls track, which is wheelchair accessible. Whether you're keen on a quick 30 minute circuit to Curtis Falls, or you're keen on the full hour-and-a-half circuit around Palm Grove, there's always something to be discovered along the Scenic Rim.

How to get there: Tamborine mountain is about an hour from Brisbane by car, with parking available along Tamborine-Oxenford Road at the Cedar Creek, Knoll, Palm Grove and Witches Falls entrances to the park. Make sure to carpool if you can, as parking is limited!
Naree Budjong Djara National Park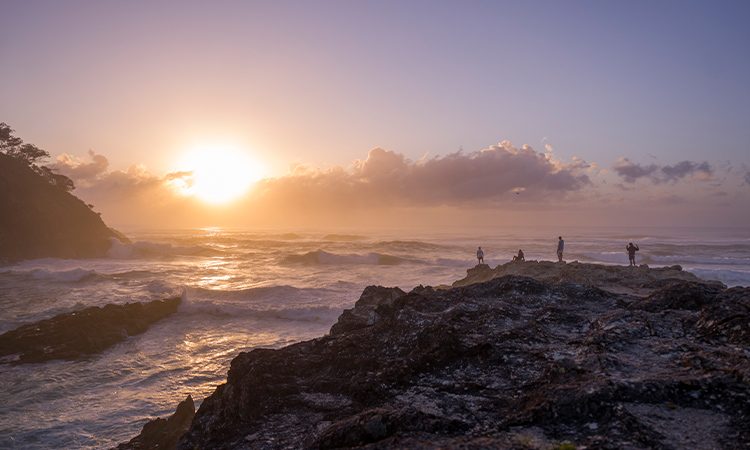 Over 50% of Minijerribah (Stradbroke Island) is protected national parkland, and rightly so! This stunning island escape is home to unique and endangered species and a resting place for manta rays as they migrate up the coast. Narree Budjong Dara means 'My Mother Earth' in the language of the Quandamooka people, the traditional landowners of what many locals know lovingly as Straddy.

Run in partnership with the Quandamooka people, you can join historical walks along the Goompi trail to learn about everything from bush tucker and bush medicine to how modern Aboriginal conservation efforts help keep island in its pristine condition.



Once you've learned about the history and significance of Minijerribah, you've gotta soak up the stunning surroundings, and what better way to do it than a swim! There's stunning beaches for every swimmer and surfer, our top tip is to ask the staff at Stradbroke Island YHA which beach is best that day, they'll give you the locals secrets to making your trip perfect.

How to get there: Around two hours drive from the Brissy CBD (ferry ride included,) you'll need to plan to get out to Straddy. Hop the train to Cleveland station, then connect to the ferry heading to the North Stradbroke ferry terminal. From there, you're a bus ride away to the 'Adder and Manta,' stop, right out the front of Stradbroke Island YHA!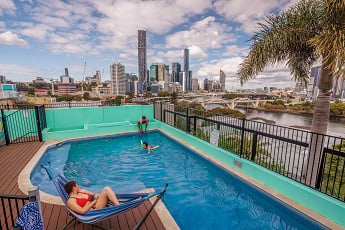 YHA Brisbane City
Nestled in Brisbane's traveller precinct and within walking distance of Suncorp Stadium, this buzzing, diverse inner-city YHA boasts a rooftop pool and bar.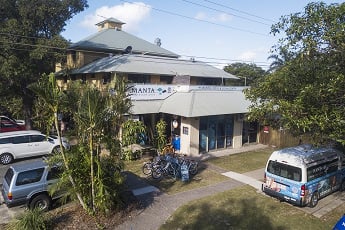 YHA Stradbroke Island | Manta Lodge & Scuba Centre
YHA Stradbroke Island is a hostel and scuba dive centre providing beachfront traveller accommodation with a friendly and relaxed atmosphere.