YHA Australia Launch a Reconciliation Action Plan (RAP)
YHA Australia is a proud for-purpose organisation which has been encouraging connection and understanding through travel for over 80 years. Our mission is to create a community in diverse spaces, by connecting the curious, inspiring personal growth and creating genuine local experiences, in a sustainable way.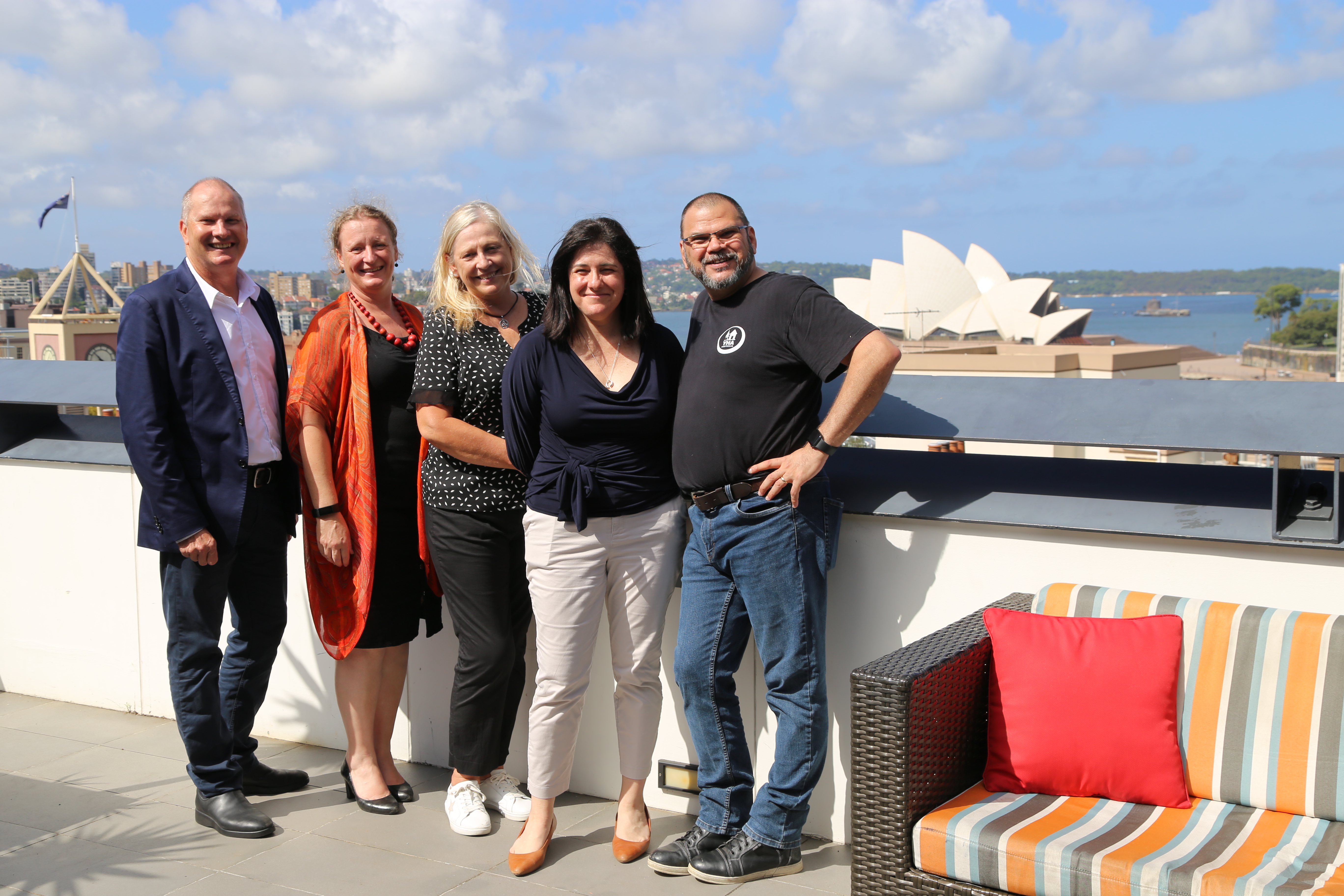 From YHA Australia (L-R): Paul McGrath (CEO), Gieta Seymour (Head of Commercial), Tracey Powell (Board Member - Chair), Naomi Myers (Head of People & Culture), Mark Hussien (Head of Operations) - Sydney Harbour YHA rooftop
We believe that the nature of our business and the geographical spread of our network across Australia provides us with a unique opportunity to educate our employees and guests about our country's unique Aboriginal and Torres Strait Islander cultures with the joy of discovery through travel
We are committed to working towards reconciliation in Australia. We officially launched our Reconciliation Action Plan on February 18th, 2022. YHA joins a network of more than 1,100 corporate, government, and not-for-profit organisations that have made a formal commitment to reconciliation through the RAP program.
What is a Reconciliation Action Plan (RAP)?
Since 2006, RAPs have provided a framework for organisations to leverage their structures and diverse spheres of influence to support the national reconciliation movement. The program's potential for impact is greater than ever, with over 2.3 million people now working or studying in an organisation with a RAP.
The four RAP types — Reflect, Innovate, Stretch and Elevate — allow RAP partners to continuously develop and strengthen reconciliation commitments in new ways. YHA's Reflect RAP will lay the foundations, priming the workplace for future RAPs and reconciliation initiatives.​ The RAP program's strength is its framework of relationships, respect, and opportunities, allowing an organisation to strategically set its reconciliation commitments in line with its own business objectives, for the most effective outcomes.
These outcomes contribute towards the five dimensions of reconciliation:
Race relations
Equality and equity
Institutional integrity
Unity
Historical acceptance
It is critical to not only uphold all five dimensions of reconciliation, but also increase awareness of Aboriginal and Torres Strait Islander cultures, histories, knowledge, and leadership across all sectors of Australian society.
A Message from YHA CEO, Paul McGrath
"YHA is an 80-year-old brand with an international presence in the accommodation sector in Australia and highly regarded domestically and internationally. As an accommodation provider with numerous locations throughout Australia, YHA has a unique opportunity to effectively share and communicate to our guests and employees the importance of reconciliation to all Australians and the many international visitors that we accommodate every year throughout our network of properties.
Our workforce is committed to ensuring our guests have the best possible experience whist visiting our properties and the opportunity to educate, instil greater cultural awareness and provide unique cultural experiences is part of what makes YHA so special. Ultimately YHA has the opportunity to encourage the prosperity of Aboriginal and Indigenous businesses to support the ongoing sustainment of their communities through our commitment to supporting their businesses, educating our guests and our team whilst being part of a reconciliation action plan journey." - CEO Paul McGrath
YHA's Reflect RAP
We seek to build relationships between our business, Aboriginal and Torres Strait Islander peoples, and all Australians, while also increasing opportunities for Aboriginal and Torres Strait Islander peoples and communities. Our Reflect RAP outlines what we are doing now and, in the future, to work towards our goals in this area.
Our Reflect RAP enables YHA to deepen its understanding of its sphere of influence and the unique contribution it can make to lead progress across the five dimensions. Getting these first steps right will ensure the sustainability of future RAPs and reconciliation initiatives and provide meaningful impact toward Australia's reconciliation journey.
The implementation of the YHA RAP will involve employees from around Australia and cultivate active engagement through:
Understanding | YHA's Board and Executive Leadership Team are committed to developing their own personal understanding and cultural awareness. They seek to develop a common narrative and share this knowledge across the entire YHA team and with our members, suppliers and supporters.
Experiences | We are keen to provide access for the many domestic and international guests to experiences on Country that will reflect a truthful and holistic perspective of Australia that spans its entire 60,000-year history.
Training | The implementation of the YHA RAP will involve employees from around Australia, providing cultural awareness training, embedding cultural activities at each of our YHA sites with the support of local Aboriginal and Torres Strait Islander community members, and through involvement, cultivate active engagement across our team of employees.​
Reflect RAP 2022 Activities
Looking at the year ahead, we are focusing on the following key activity areas:
1. Building Relationships
Build relationships through celebrating National Reconciliation Week (NRW).
2. Respect & Understanding
Build cultural awareness across the YHA network.
Build respect for Aboriginal and Torres Strait Islander cultures and histories by celebrating NAIDOC Week.
3. Procurement & Supply Chain
Actively seek suppliers and partners who are committed to a culturally safe approach.
Improve employment outcomes by increasing Aboriginal and Torres Strait Islander recruitment, retention and professional development.
Increase Aboriginal and Torres Strait Islander supplier diversity to support improved economic and social outcomes.
4. Delivering Into the Future
Continue our reconciliation journey by developing our next RAP.
YHA acknowledges the Traditional Custodians of Country throughout Australia. We pay our respects to the elders, past and present, and the extended Aboriginal and Torres Strait Islander communities. We recognise their custodianship of the land, sea, & water for over 60,000 years.
Liddy Napanangka Walker

Dogwood Tree Dreaming

RAP Cover Artwork © Liddy Napanangka Walker/Copyright Agency, 2021.

Liddy was born in 1925 at Mt Doreen, and spent her younger years living with her family in bush camps. She regularly visited her country around Mt Theo, west of Yuendumu. She lived in Yuendumu, a remote Aboriginal community located 290 kms north-west of Alice Springs, in the NT of Australia, since it was first established and worked in the community in various pastoral care roles including cooking for the sick or the elderly.

She started painting on canvas not long after Warlukurlangu Artists Aboriginal Corporation, an Aboriginal owned and governed art centre located in Yuendumu, was established in 1985 and Liddy become one of the most important members. Liddy painted her father's Jukurrpa stories, Dreaming stories which relate directly to her land, its features and animals. These stories were passed down to her by her father and her grandfather and their parents before them for millennia.


With thanks to the: Warlukurlangu Artists Aboriginal Corporation

Artwork Providence:

This beautiful artwork is called Dogwood Tree Dreaming which is now located at Sydney Harbour YHA.

It was purchased in from the Kate Owen gallery in Rozelle NSW to celebrate the 10th anniversary of the opening of the Railway Square property where it has proudly hung from 2014-22.

Use of this image online & as RAP Cover Artwork is by © Liddy Napanangka Walker/Copyright Agency, 2021.

Indigenous Food Experiences Around Australia

Learning about bush tucker is one of the most enriching (and delicious) ways to deepen your understanding of our Indigenous culture. State by state, here are some of our favourite opportunities to taste, learn and respect these traditional foods.