From Beach To Bay - Abel Tasman Track
Nature awaits adventurers on the Abel Tasman track in new Zealand. By John Maddock
"The colour of the sea here is just like the Mediterranean," a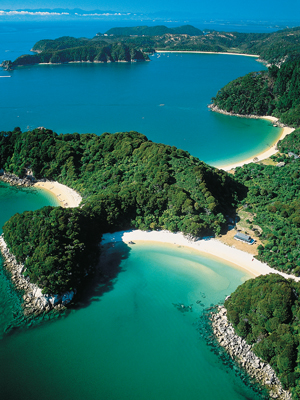 German backpacker tells me as we look out over Anapai Bay on the Abel Tasman Track. "It's such a brilliant blue and the water is so clear."
"The colour might be similar but there are more seals and dolphins around here," her boyfriend observes. "And fewer people."
I'm nearing the end of the 52 kilometre walk when I meet the German couple and I've been hiking - or 'tramping' as the Kiwis say – for the best part of five days. I started at Marahau at the southern end and intend to finish the walk at the Wainui Bay car park, where I can catch a bus.
The track is so good that I could have walked it in three days, but what slows me down is the breathtaking beauty of the pristine coastline. I just have to linger on the golden beaches and sit beside aquamarine lagoons checking out the bird life.
What's so seductive about the Abel Tasman is the position of the track itself, which runs behind and above the shoreline in the shade of deep-green bush. You are high enough to get great views of the gorgeous bays, crystal clear estuaries and spectacular beaches below you, and close enough to be tempted to go down for a swim and lie around on the white, powdery sand. Because I only need to walk for four hours at most every day, I spend a lot of time relaxing.
Most of the backpackers I meet along the way are carrying camping gear, which is a good idea in the peak times between October and May. There are numerous campsites, but I opt to carry less gear by staying in huts, which have bunks, mattresses and heating. Less gear means more freedom. And freedom is the key to this walk. Unlike treks in the Himalayas and South-East Asia, there's nothing arduous or confronting about the Abel Tasman. So I'm free to simply commune with nature.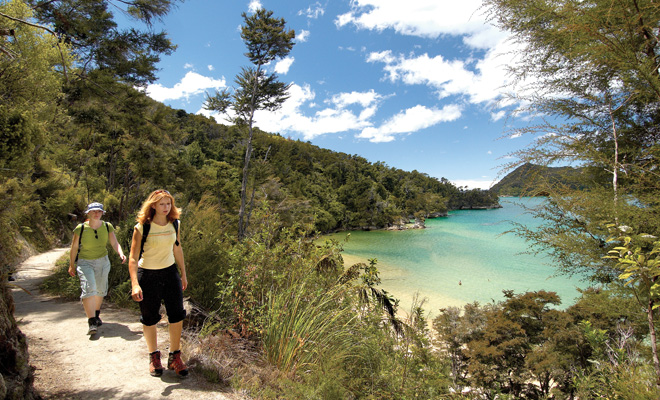 Feeling free and natural, and having said farewell to the German backpackers who are heading in the opposite direction, I find a deserted part of idyllic Anapai Bay beach and decide on a skinny dip. After swimming several hundred metres along the shore my moment in paradise is interrupted by the sound of a boat speeding around the headland. It's a water taxi dropping off campers, and it pulls in metres from where I left my backpack and clothes. It's also very bad luck, as water taxis only come to this area by special arrangement.
I suddenly discover a downside to how clear the water is here. Do I simply stride onto the beach and put my clothes on? Or do I stay in the water until the coast is clear – literally. I decide to wait in the water until the people leave.
After the campers have disappeared into bush behind the beach, the water taxi driver calls out to me and offers me a lift.
"Where to?" I ask, surprised.
"I'm going back to Marahau," he tells me. "So put some clothes on and come along for the ride if you want to."
My change of luck has me powering down the coast ten minutes later past seal colonies and pods of dolphins. It doesn't get much better than this.
New Zealand is a haven of quiet beauty - and also a paradise for thrill seekersWith a network of nearly 50 hostels in New Zealand, Hostelling International Youth Hostels offer you the most convenient comfortable and affordable accommodation for your kiwi adventures. Go diving with dolphins; take a whale watching trip; amble down long, deserted beaches; ski from July to October; visit volcanoes; soak in hot springs; drink some of the New World's best wine or plan a trek through one of New Zealand's magnificent walks.