Hong Kong's Hidden Gems
Whether it's on a brief stopover, or a trip in itself, Hong Kong offers lots to entice the budget traveller writes Deborah Dickson-Smith – including a great new YHA hostel.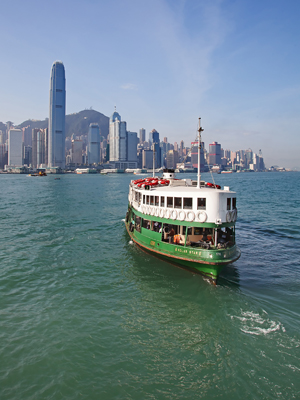 Hong Kong is world-famous for shopping and fine dining, but if you scratch beneath the surface of its rooftop cocktail bars and Michelin-hatted restaurants you'll find a fascinating culture, picturesque landscapes and plenty of cheap eats along the way.
Hong Kong is a series of islands and a chunk of Mainland China so well linked by public transport that you would be forgiven for thinking it was a single island. In fact, it's easier and faster to find your way around Hong Kong via MTR, tram and bus than it is by car or taxi. And of course it's also a lot cheaper.
One of the first things you should do on arrival is download the MTR app to help you navigate your way around, and an Octopus card. The Octopus is a rechargeable and contactless smart card which can be used on most forms of public transport including bus, minibus, ferry, peak tram, tram and MTR trains, as well as most major convenience stores, fast food restaurants and vending machines.
Top tip: Do NOT buy your Octopus card at one of those vending machines at the airport – if you have a foreign passport it is cheaper to purchase one at the special kiosk near the exit to the express train.
Here are some urban exploration ideas off the beaten tourist track in Kowloon and Hong Kong Island.
Kowloon
A good way to start your day's exploration of Kowloon is with a spot of brunch and there's no better place than one of the local Cha Chaan Teng. Here you can grab yourself a well-stewed pot of tea, whitened and sweetened with evaporated milk.
Jump on the MTR and head to the Star Ferry terminal for a wander along the promenade, take in the landscape of skyscrapers across the bay and go star-spotting. The Avenue of Stars is Hong Kong's version of Hollywood Boulevard, with tributes to the stars of Hong Kong's movie stars like Jackie Chan and Bruce Lee.
While you're here take a ride on the famous Star Ferry, which has been carrying passengers since 1950 and was rated by National Geographic as one of '50 Places of a Lifetime'. Your Octopus card will work here.
In the late afternoon take the MTR back to Jordan and wander through Temple Street Market, a local shopping extravaganza with rows of brightly lit stalls and a few local delicacies to sample. Be sure to venture into the Yau Ma Tei area at the end of the street to watch the impromptu performances and maybe get your fortune told.
The Jade Market (Corner Kansu Street and Battery Street, Yau Ma Tei) is a short stroll away and also worth checking out to practice your haggling skills before heading to Mong Kok for a bit more people-watching and window-shopping at the Ladies Market on Tung Choi Street.
Mong Kok is also where you'll find the famous Goldfish Market which actually sells all manner of tropical fish but don't be tempted – you can't take them out of Hong Kong.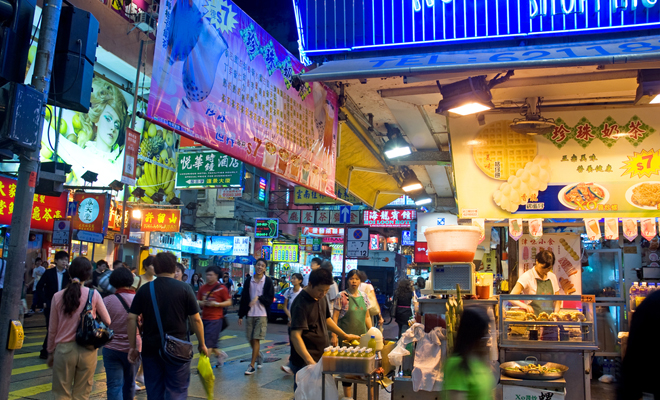 1.
YHA Mei Ho House
The brand new YHA Mei Ho House YHA, which opened in October 2013, uses innovative design to provide comfortable and ambient accommodation and common areas while showcasing the surrounding area's rich history. So old really does meet new. The building itself is a public resettlement block, built in 1954 which has been fully renovated and revitalized into a hostel with 129 rooms.

The Shek Kip Mei Resettlement blocks were built by the government in 1954 to rehouse the massive number of victims of a disastrous fire, which swept through the area, and marked the start of Hong Kong's public housing program. The launch of this program saw tremendous impacts on society, livelihood and education, laying the groundwork for Hong Kong's economic takeoff.

Mei Ho House, having stood here for half a century, has a rich heritage, which is on display in a museum housed inside the hostel. Here you are able to see how people lived in the 1950s Shek Kip Mei resettlement area with sample units, public bathing facilities and shops.

The rooms, which in the 1950s managed to house two extended families, (privacy assured by a curtain), now house twin rooms, family rooms and multi-share rooms, sleeping between two and eight guests.

WiFi is available throughout the building as well as a self-service laundry, self-catering kitchen and the Mei Ho House Fullcupcafe.
The hostel has several indoor and outdoor communal areas including a courtyard and landscaped garden - The Hideaway - outdoor garden with hammocks and bean bags. Indoor common rooms such as The Hub and The Hangout are equipped with papers, magazines, board games and computers.

Accommodation ranges in price from HKD$300 (AUD$40) per person per night for a mixed or single sex share room in the off peak season, to HKD$1900 (AUD$258) for a family room in peak season.

It's a short walk from the hostel to the closest MTR stations Sham Shui Po or Shek Kip Mei and from there, a 10 to 15 minute journey into central Hong Kong.

YHA Mei Ho House - yha.org.hk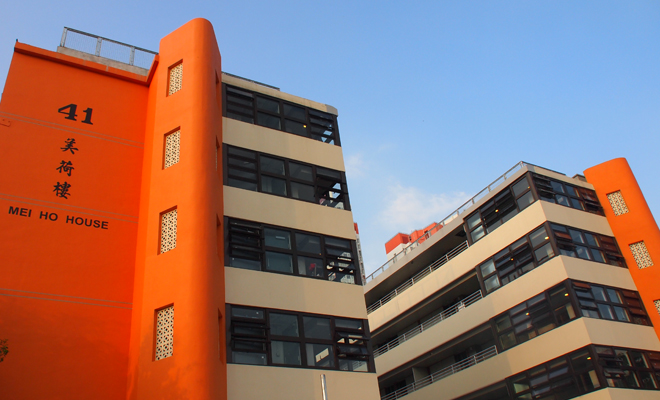 2.
Five Best Cheap Eats
1. Tsui Wah Restaurant. Definitely start your Hong Kong day at one of the local Cha Chaan Teng. There are several Tsui Wah restaurants dotted around Hong Kong, but the best-known is in Central. Grab yourself a well-stewed pot of tea and toasted buns spread with condensed milk. 15 Wellington Street, MTR Central

2. In Kowloon, the oddly named Australia Dairy Company is worth a visit to sample their famous Double Boiled Egg White Milk Dessert – a bit like a bowl of sweet custard. It's extremely popular and busy so expect to share your linoleum table with a few locals. 47-49 Parkes Street MTR Jordan

3. North Point's famous mini egg puffs, or Gaai Dan Jaai as they are known, are sweet puffs of batter perfect for a mid-afternoon or post-dinner treat. 492 King's Road, MTR North Point

4. In Wan Chai on Hong Kong Island, you'll find one of the best places in Hong Kong for Cantonese barbequed meat, or Char Sui – Joy Hing Chiu Chow Roasted Meat Shop. Shop C, 265-267 Hennessey Road, MTR Wan Chai

5. To sustain those evenings spent haggling in night markets, sample some of the delicious street food Mong Kok has to offer and be sure to try a stick of spicy fish balls and some other barbeque delights. MTR Mong Kok
3.
Five Best Day Trips
1. Tai O Fishing Village on Lantau Island. Getting to this destination is half the fun whether you opt to journey via Ngong Ping 360 cable car or hike up and over the mountain. At the top you can explore Ngong Ping village, marvel at the Big Buddha before bussing it down to picturesque Tai O Village, home to the legendary pink dolphins. MTR Tung Chung

2.Hong Kong Wetland Park. Located in the New Territories the 61 hectare Wetland Park is a birdwatcher's paradise with over 240 bird species which you can snap away at from any number of board walks and bird hides. The background of high rise apartments is incongruous and quite stunning. MTRTin Shui Wai, Exit E

3.Ocean Park. This massive theme park needs at least a full day's exploration. It boasts one of the largest aquariums in Asia, polar animals from both poles and of course Thrill Mountain for the big rides. Citybus 629 from MTR Admiralty, Exit B

4. Stanley. The labyrinthine Stanley Market in the seaside village of Stanley is great fun to explore, selling everything from bamboo bird cages to embroidered linen and cheap watches. There are also a few lovely places to eat along the waterfront. Minibus 16M from MTR Chai Wan, Exit C

5. Global Geopark. The Hong Kong Global Geopark takes in the Sai Kung Volcanic Rock Region and Northeast New Territories Sedimentary Rock Region. There are some amazing rock formations to explore, either by boat tour or on any number of easy self-guided walking trails, ranging in length from one to six kilometers.
Hong Kong Island
Hong Kong Island's most famous tourist attraction is the Peak, and it is definitely worth taking the tram ride to the top to take in the view of the Hong Kong skyline, which is spectacular.
It's not necessary to pay the extra to see the view from the observation deck though as you can get an equally good view from a much smaller little viewing platform down the pathway leading away to the left from the big complex at the top.
Hop on a tram at any point on Hong Kong Island and head down to Causeway Bay for some serious window shopping at the many department stores including the huge Times Square complex.
Take a detour under the Canal Road Flyover and reverse your bad luck or place a curse on one of your adversaries by paying a granny to hit a piece of slipper with another slipper in an old Chinese ritual called Da Siu Yan.
In North Point you'll find the only theatre in Hong Kong with regular Cantonese Opera performances as well as another local favorite hole-in-the-wall eatery. It's worthwhile taking time to visit the many antique shops along Hollywood Road in Sheung Wan. There are some gorgeous little curiosity shops to explore along the way to one of Hong Kong's most famous temples, the Man Mo Temple.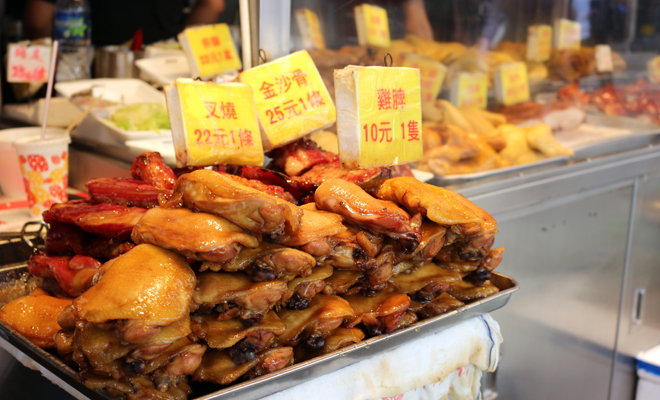 Also in Sheung Wan, the spectacle of Dried Seafood Street is worth a look-in as is the old Western Market, an Edwardian-style building that's now home to arts and craft and fabric merchants who were originally located in the old alleyways of Central.
Definitely end your day somehow in Wan Chai, with a visit to the White House on Mallory Street – an historic colonial building that now houses a cooperative of cartoonists. You can take a tour of the studio and gallery that takes you through the process of creating Manga, from initial sketches to finished artworks, models and sculptures.