Pacific Mountains Canada
Getting Swept Up In Canada's Beautiful Vancouver Island Is Easy. By Janet Mcgarry
Don't try to tell Janet McGarry that getting swept in Canada's beautiful Vancouver Island isn't amazing, you're wasting your breath.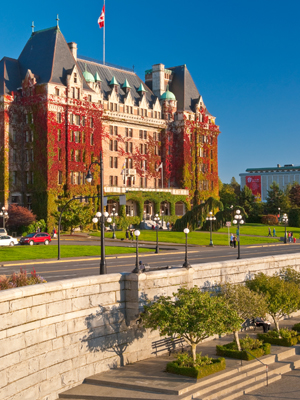 Facing Vancouver and separating it from the Pacific Ocean, Vancouver Island is the size of small country. It's bounded to the east and south by a network of smaller islands with exotic names set to entice you –the Gulf Islands, and the San Juans (US territory). Some are small and uninhabited, dotted with fir trees; but many are home to artists and alternative lifestylers, offering laidback living within easy reach of the big smoke.
450 kilometres long by 100 kilometres wide, it is very easy to misjudge Vancouver Island. Give it one or two days and think you'll have it made. Think again. This is a place that deserves at least five days to a week, and is somewhere you could easily spend much longer traveling, living and working in.
Most people get no further than the ferry trip and a brief tour of Victoria, the provincial capital in the southern tip of the island. The more adventurous, who have done their research, venture to the west coast and the trendy surfing town of Tofino. But there is more - you can ferry hop through the Gulf Islands, discover the sparkling harbour city of Nanaimo, ski Mt Washington and venture north to frontier land where national parks, small towns and wild beauty await.
Victoria is the most touristy part of the island. The main harbour is dominated by the grand Empress Hoteland the Parliament Buildings. Nearby streets are full of souvenir shops, and the harbour bustles with numerous whale watching boats. It's all a bit too civilised for my tastes.
Nanaimo, a port town on the east coast coast of Canada, is a city in the midst of change. Formally known for mining, the city centre is bustling with life – new Café and shops, a picturesque marina and foreshore. It's good for a range of adventure activities including great scuba diving. Or just chill at Canada's only floating pub, the Dinghy Dock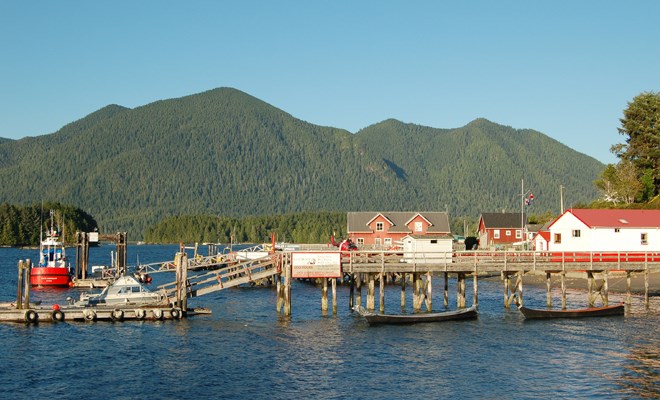 You descend to the west coast via a winding route that passes lakes and mountains. Thickly forested, this is the entry point for Pacific Rim National Park and Tofino. A narrow strip of protected land, the national park is a mix of remnant forest, natural habitat for enticing locals – think bears and wild rugged beaches.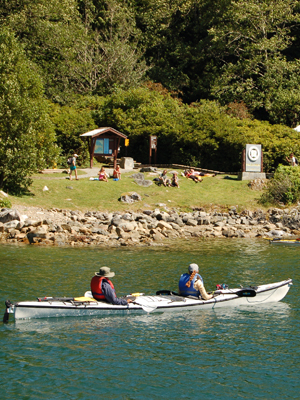 Tofino is at the end of the highway, located on a little peninsula jutting out into Clayoquot Sound. It's a land of temperate rainforests, fed by moist Pacific winds, and deep fjord inlets. A trendy tourist town, this is the place to go in summer for locals, yuppies and surfers alike and it wears its green credentials on its sleeve. Whatever else you do, here you want to get out on the water. Sea kayaking to nearby islands is one option but I opted for a zodiac trip to hot springs and whale watching.
After a recuperative soak in the springs, expectations were high as we headed across the Sound: we all wanted to see a whale and we weren't disappointed as a humpback breached in front of us. For an hour we lingered, slowly following the whale as he meandered back and forth across the bay, frequently breaching as he scooped up his dinner. It was quiet on board; there were no need for words in front of such majesty.
I hit the road on a cool misty morning and was lucky enough to spot a smallish black bear out for an early wander. He was happily ambling through the grass, unaware of his transfixed onlooker.
It was time to leave the coast and head to the Continental Divide to Jasper. Jasper is the gateway to the Icefields Parkway – Canada's North/South Rocky Mountain Highway. 230 kilometres long, this runs straight through the heart of two National Parks, parallel with the Divide.
The Icefields Parkway is billed as the world's most beautiful drive and it truthfully is an outstanding trip. In summer, this is the highway of travellers – no trucks are allowed.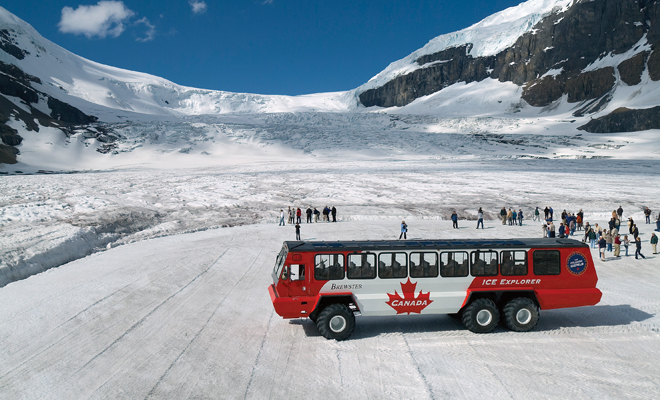 Halfway down the Parkway is the Columbia Icefield – a huge mass of glacial ice that tumbles down into the surrounding valleys like icy fingers forming seven massive glaciers. The largest, the Athabasca Glacier, has been in retreat for over a hundred years. You can join the hordes hopping on the Snocoach Tours up onto it. Yes, they drive onto the glacier. I was a little gobsmacked at this. That said, most winters the ploughed ice track is extinguished and you realize, in this at least, nature is probably bigger than man.
I opted for something more in touch with the environment – an ice walk up onto the glacier; an afternoon's stroll that skirted crevasses and mill holes and put everything in perspective. At day's end our guide pulled out a photo and showed us just how far we had climbed – a little blip on the bigger picture of the vast glacier.
Lake Louise is a small alpine village, with one of the best HI hostels that you'll find anywhere. 4kms up the road you'll find the stunning, well-photographed lake, and the faux European chateau that is the Fairmont Lake Louise hotel. This is the most visited spot in the Canadian Rockies. Nearby is Morraine Lake, another perfect lake in a narrow valley, this has more impact than Lake Louise.
From Lake Louise, it is an easy 50kms into Banff, a much larger town set in a wide valley and tourism central. HI Banff is another great mountain hostel, the perfect mix of cosy lounges, café and the Cellar Bar for partying. It's also an easy place to hook up with fellow travellers who want to go walking. And this is where you will run into the bear problem.
Bears are a Canadian fact of life. They may look cute and cuddly, but there are more than enough signs around to make you realise that they can also be dangerous. Summer time, and black bears and grizzlies are out berry hunting. They want to eat, eat, eat and protect their cubs.
The result is that some walks are restricted by Parks Canada to groups of more than six people. I walked to Sentinel Pass on a perfect day; clear, blue skies, a challenging uphill walking track uphill, and a stunning vista from the top that made it all worthwhile.
There's a moment in every trip when you realize that what you dreamt, saved, agonized over and planned for is every bit as good as what you hoped it would be. A moment when time ceases to race by and you can freeze the image in front of you as one you will always remember. At the top of Sentinel Pass, I knew I was seeing the very best of the Rocky Mountains and that I would return.