Stopover - Abu Dhabi
You don't need to be travelling on a sheikh's allowance to make the most of a stopover in Abu Dhabi. By Lee Mylne
You don't need to be travelling on a Sheikh's allowance to make the most of a stopover in Abu Dhabi. For first-timers to the Middle East, the largest of the United Arab Emirates offers a great introduction to Arabic culture – even on a budget.
It's well worth taking advantage of a stopover to check out this interesting and opulent place. While it might not have reached the excessive heights of development of neighbouring Dubai, Abu Dhabi is hurtling towards some massive changes. Go now, or wait until it is home to new branches of the Guggenheim and the Louvre, among other planned attractions, expected to open within the next five years.
For an overview of the city, jump aboard the Big Bus Tour, an open-top double-decker that runs two hop-on, hop-off routes – the city and the beach. There's an excellent recorded commentary in English. Pick up the buses, which run regularly between 9am and 5pm daily, from either Wafi City or Deira City Centre. The tour includes a stop at the Grand Mosque and free entry to some other attractions. A 24-hour ticket costs AED 201 (about $60).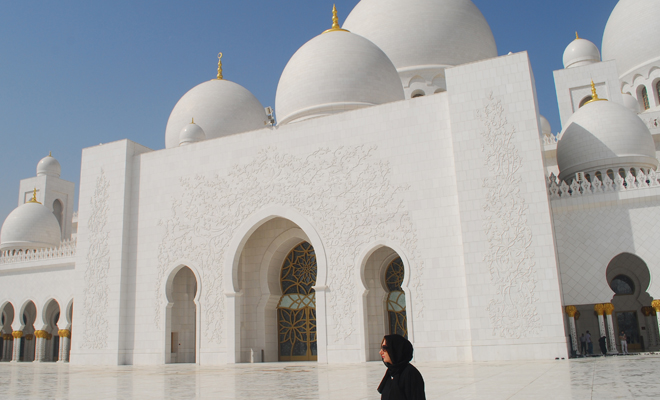 The Grand Mosque (officially the Sheikh Zayed Mosque), is a dazzling white marble landmark that is a memorial to the founder of the UAE. The mosque – the only one open to non-Muslims - is a great chance to learn more about Islam. Guided tours are free, but be prepared to don compulsory traditional garb – a black abaya and headscarf for women, and a dishdash for men – over your street clothes. With 82 domes, 1,096 columns laid with semi precious stones, hand-woven carpets, and ornate chandeliers, the mosque is as stunning inside as it is outside.
Insiders Tip
Don't Miss This

If you've got several days, it is worth taking a day trip to the desert town of Al Ain, about 90 minutes drive from Abu Dhabi City. Go early to catch the camel market, wander in the oasis of palms and visit the old adobe fort and museum. Camel races are held Thursday/Friday from October to April at the Al Wathba track, less than 30 minutes drive from Abu Dhabi city. Entry is free.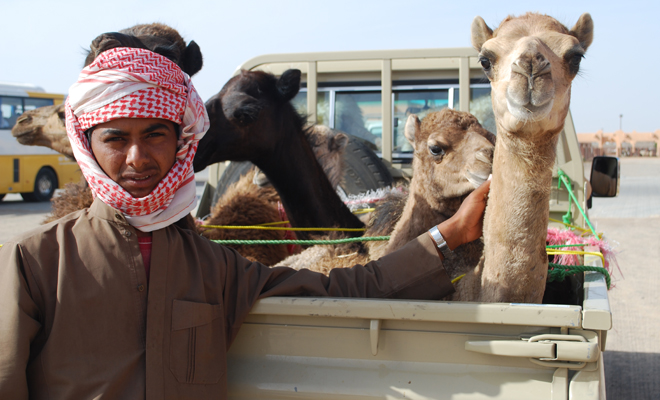 Another top attraction is the Abu Dhabi Falcon Hospital, where you can see falcons being cared for and operated on, and also don a leather glove for the chance to 'fly' one. Falconing is the ancient Bedouin sport now favoured by the wealthy, and the hospital celebrates the tradition in a small museum. It's a fascinating place, and a somewhat surreal experience to sit in the waiting room surrounded by Emirati men in traditional garb with falcons on their wrists. Entry is AED170 ($50).
Other ways of spending a day include visiting the souks – gold and carpets, or the spice markets at Al Mina and the fish market at Mina Zayed Free Port – or strolling or cycling along the Corniche. The Heritage Village, on the Corniche Breakwater, is free and gives an insight into Bedouin life.
Even if your budget doesn't stretch to staying there, head to the opulent Emirates Palace Hotel for a look at where the seriously rich hang out.
For a cheap meal, head to the Lebanese Flower at Al Khalidiya, a homely place renowned for its schwarmas. There may be a queue, but it's worth waiting for and a hearty meal can cost as little as $15 (and it's open from 7am to 3am).