Swiss Heights
Mountains, chocolate and trains; Janet Mcgarry found Switzerland had it all
Anticipation is everything. Switzerland had long been on my bucket list and expectations were of mountains, snow, trains and chocolate. Oh, and those cute dogs with little whiskey barrels on their collars. Sometimes the clichés just work.
A confession first: I am a mountain-view junkie. I'm one of those people that stops dead centre on the path to look up with an open-jawed dopey expression. I stroll with a camera in one hand and phone in the other (a girl can multi-task after all, and those photos have to hit Facebook the instant you take them for full brag value).
It's very hard to choose the single best Wow moment from our eight days in Switzerland. After a while, superlatives just didn't cut it. But I do still have a shot from the Jungfrau on my phone, which I'm showing people months later. Some places just do linger in your memory.
Our mission was simple. To cram as many walks, views, trains and chocolate stops in as we could. We mainly ditched the cities (but see below for the ones that cut the mustard) and instead spent our time in Zermatt and the Bernese Oberland (based in Interlaken).
ZERMATT
Any photo you'll ever see of Zermatt, in southern Switzerland near the Italian border, will have the Matterhorn front and centre. This impressive slab of craggy rock dominates the whole region. Snow-covered year round, its flanks change colour as the light changes during the day, wisps of cloud often linger at the top, and its slopes and nearby assorted peaks are host to many glaciers.
Down in the valley beneath is nestled the picture postcard alpine village of Zermatt. Home to skiers in winter, and outdoor enthusiasts in summer, it's easy to stroll around, has three impressive cable car/train routes up to the surrounding heights, and is a great base day and night. Oh, and the YHA has a view to kill for – dead set up the valley to the Matterhorn.
We headed out both days on an itinerary of uphill transport, walking and photo snapping. Pick of the peaks was the trip up to Gornergrat – step out of the train and you have a 360 degree vista of peaks, glaciers and lakes. The cold will take your breath away but the view is what you remember. The next day, we did our best walk. The Matterhorn Glacier trail is a three hour loop circuit through alpine meadows (the flowers were in full bloom), past turquoise blue lakes, beneath the face of the Matterhorn. It was topped off by finding a Swiss chalet housing a restaurant with killer views from its sundrenched terrace. A slice of rhubarb tart had never tasted so good!
BERNESE OBERLAND
This region is slap bang in the middle of the country and sits on the main west-east Alpine Range. Beneath towering peaks, sandwiched between two lakes sits Interlaken, a major tourist hub. To be honest, I could skip re-visiting the town itself. The YHA is terrific with great views and facilities, but getting up into the nearby alpine villages would be my goal another trip.
Interlaken is the gateway to alpine valleys, cookie cutter Swiss villages and the peaks of Jungfrau. Don't underestimate the time it takes to really explore this area. The trip up to the top of Jungfrau is by an incredibly engineered mountain railway (its goes right through the range for about 20 minutes) is a special experience. Fresh snow, a dramatic zip line ride and a piercing blue sky topped off our day.
Janet McGarry travelled with the assistance of Swiss Tourism and Swiss Rail.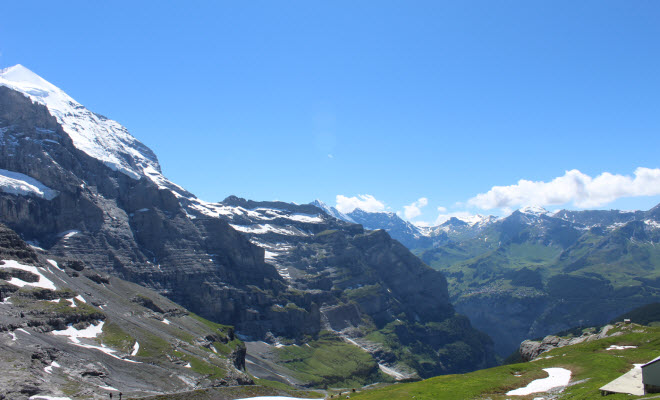 TRAINING SWITZERLAND
Online timetable and a train pass. Easy. Well, yes, Switzerland is definitely the land of rail but this puppy needs some research before you rock up and climb aboard. First off some simple facts:
There is a comprehensive network of conventional trains – run by a number of companies so expect name confusion. There are local city trains, regional, intercity and inter-country ones. A clue is in the length of the journey, the initials used to describe the train and number of stops. Don't worry, you are bound to end up on the wrong one at least once.
Trains are not just trains: Switzerland has an awesome selection of related transport and, at the risk of offending all train fanatics who will quibble they aren't really trains, these include mountain and cogwheel railways. Some are single track, many head up hill at an alarming angle, all rattle and clatter, but get on as many of them as you can.
After the trains come the gondolas. Not got a head for heights? Well, you will then miss some great journeys and views. But, remember, if the mountain above you is in cloud, then your journey will be in zero visibility. Maybe better to go and eat chocolate instead.
Essentials to know:
Print out the map on the Swiss rail site (sbb.ch) in colour and A3. Study it. Look at the names. You can't plan your route without getting your head around it.
Buy a train pass as single tickets prices are expensive. Ignore all pre-2015 information on passes as they changed them this year. A Eurail pass only gets you discounts not free travel.
Pass choices can confuse and the only way you will know if you are saving money is an excel spreadsheet. On the sbb.ch site, look up price for each leg or journey, then compare the total against the three main pass choices: Number of consecutive days, number of days in a period of time or half-fare
Mountain railways are extra! Well, actually some are included, some are half price, some are 25% off. Confused? Welcome to Swiss trains.
In the end, the choice is simple: Buy the best pass you can afford (first class is worth it in July and August when the trains are chockers with tour groups) and allow for extra for the mountain railways, but don't buy those tickets till you see the weather. You can't go to Switzerland unless you see something!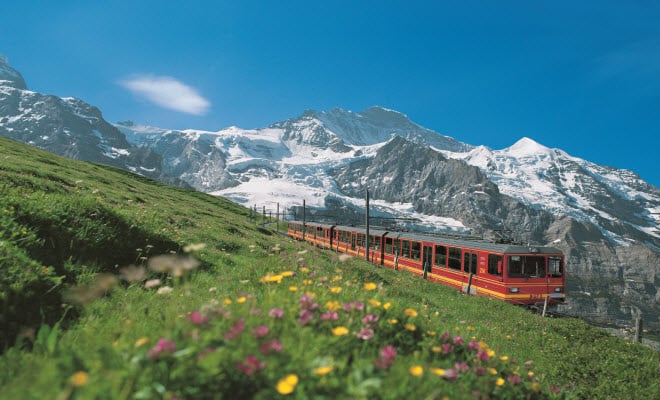 MEDIEVAL TIMES
Switzerland is more than snow and views. It is easy to add on several fine medieval cities for a dose of history and culture:
LUCERNE
Notable for its wooden Chapel Bridge with its distinctive Water Tower, the medieval heart of the old city is easily accessible from the modern centre of this lakeside city. Cobbled streets, narrow lanes with restaurants spruiking the best fondue, restored wall murals on building walls, and the restored old city walls all make for a lovely summer's evening. Mix it up on your first with a day trip to MtPilatus combining a lake ferry ride, cogwheel railway and stunning regional views at the top.
BERNE
Most famous for its Clock Tower which draws hordes of tour groups waiting for the hour to tick over and the show to begin, the heart of the Swiss capital is a maze of streets lined with small shopping arcades, a well restored streetscape, outdoor dining and a whisper quiet light rail train system. With gothic churches and top notchmusuems (including one dedicated to Einstein), Berne is more than just stuffy diplomats.
ZURICH
Switzerland's largest city is a modern, bustling place, but has made one great choice: cars are banished from the central quarter on either side of the river than transects the city. It results in a peaceful air, filled with whizzing bikes and strolling locals. It is all very, well, Swiss.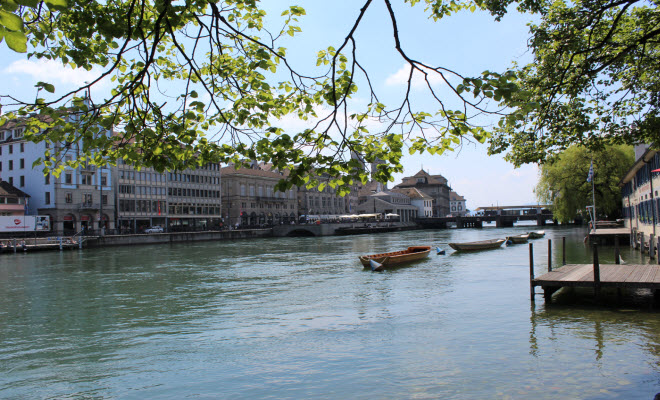 GET ADVENTUROUS
Interlaken is the Swiss equivalent of Queenstown – adventure activity central. Raft down a turbulent river, canyon a narrow gorge or zip line through the trees. Whatever gets your heart beat going, you can do. We opted for the Seilpark tree adventure – with complex courses high up in the canopy, vertical drops and more. But you can also try out the FirstFlyer (nearly 800 metres of zip line with stunning Jungfau views) or the Trotti bikes (like a Segway crossed with a mountain bike) overlooking Grindelwald, or the toboggan run at Mt Pilatus. You won't be short of choices!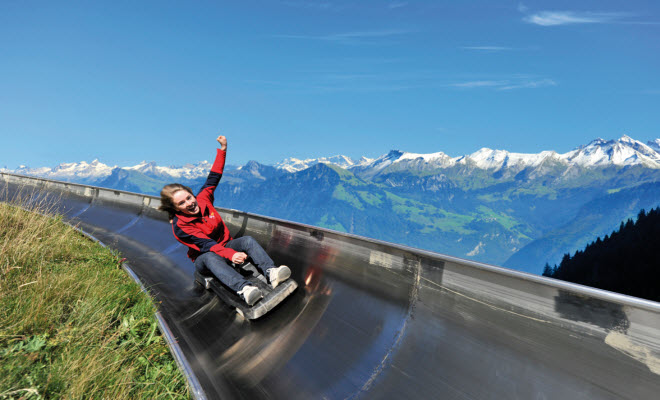 More Information: The Swiss Tourism's website will whet your appetite and get you started – myswitzerland.com
Train travel: It really is the only way to go as many villages have no car access. Start your planning here and then use the official train timetable site to fine tune your itinerary – sbb.ch
Where to stay: Swiss YHA's are super. Both Zermatt and Interlaken come highly recommended. See more and book at youthhostel.ch
This article was originally published in the October 2015 edition of Backpacker Essentials. Download the current edition now!