The Great Australian road trip
English backpacker Christine Jess jumped behind the wheel with her partner Richie, and takes us on an epic journey through South Australia..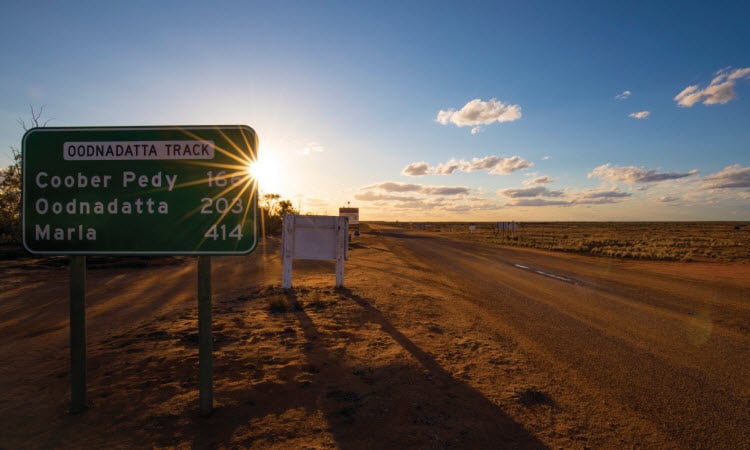 Whenever anyone talks of doing an Australian road trip, they all talk of the Great Ocean Road, so obviously when Richie and I planned ours we headed in that direction. It honestly is as 'Great' as they say, and for me it had a certain feel of home on a much more spectacular level, which only made me love it even more. Of course there is only two ways in which to do it. East, from Warrnambool to Melbourne, or west. For us, we were coming from Sydney, so we headed west making our next plan to tackle South Australia, following the Southern Ocean Drive.
Our first stop, Umpherston Sinkhole. This was pretty magical, mother nature at its best! We were very excited to be crossing another state line and this was an impressive start. We followed through Mount Gambier and along to Kingston SE where we stopped to eat some local fish and chips by the beach, overlooking their famous jetty (a very English thing to do).

Here we heard about the Coorong, the 20km white sand beach that you can drive all the way along. With that we were off again. We followed the Coorong from there heading to Cape Jervis, taking a minor detour to Coonalpyn. There was the silo art trail that I wanted to visit, in small towns around South Australia. One thing you will learn when driving your Australian road trip however is that there is in fact no such thing as a minor detour. But it was well worth the drive.
Our destination focus was Kangaroo Island, as I wanted to go to Flinders Chase National Park to get up close and personal with the seal colony there, so this entailed a night's sleep in the front of the car and a 7:30am ferry ride to the island. I'm completely honest, I would highly recommend looking into a two-day guided tour as I think it would be more beneficial.

The Remarkable Rocks really are remarkable. If you are also on a budget, and looking to enjoy some beautiful spots on the island, then I would advise going to Bales Beach for a picnic or camp up at Stokes Bay, the sunset was a perfect picture. We only stayed one night (it was enough for us), but our next stop was a little town called Port Elliot.
Here we stayed in a hostel, as we needed a night off from camping, so we stayed at the Port Elliot Beach House YHA, which was perfectly situated with a view of Horseshoe Bay, with only a 5 minute walk to there and into the quaint little town if you fancied a beer or pizza. We got pretty lucky too – we got our own room and the best room in the house, where we woke up to the most impressive sunrise.

The place was very boutiquey in design, with so much space, great service and impeccable cleanliness, it was better than some actual hotels I have paid a lot of money for. We felt so refreshed here that we stayed two nights in the end, leading to a nice stroll around a nearby town, Goolwa, where they have a lovely art museum or you can float down the river on an old vintage steam boat for lunch.
After a relaxing few days in the lovely Port Elliot, our next move was Adelaide. Back to the city. Richie loved going to the city, he is a London boy after all. Adelaide Central YHA was fully booked because of the long weekend, but we still enjoyed a lovely day trip where we explored the city centre, watched all the street acts and ate some delicious Vietnamese food found down a little alley way, along with this cute little old fashioned sweet shop. Adelaide was short but sweet, we would have loved to spend more time there.

Where to next? Port Lincoln. There are two ways in which you can get there from Adelaide, if you are driving yourself. You can either drive to Wallaroo and get the car ferry (approximately $300 each way) or you can drive going up via Port Augusta and back down the other side of the channel which takes about seven or eight hours. For us, we looked at all the options and figured that it was more cost effective to drive the long way, because it would cost over double to take the short cut, and it only really saved you two hours in time.
Firstly we visited Coffin Bay to eat oysters. We LOVE oysters. Especially Coffin Bay oysters. So we went with the intention of a fancy lunch, accept ended up at Coffin Bay Oyster Farm, where we got to pick them out of the sea, learnt how to shuck them ourselves and then eat them… fresh out of the ocean. Deeelicious!
You can swim with sea lions on Langton Island. This was high on our South Australian wish list. And we were not left disappointed. It was totally fun, exhilarating, interesting, tiring and amazing. Honestly there are not enough words to describe the experience. The sea lions are not shy and as long as you aren't either and continue to play, chase and copy them they will continue to keep you on your toes.

We had an absolute blast and it was one of the highlights of our whole Australian journey. Everyone staying in the hostel back in Port Lincoln was there for the marine wildlife, and it was a great vibe when we all got to share our excitement or previous experiences. It was yet again another great few days chilling in the hostel. Whilst there we had the time and the facilities to relax and figure out our next steps, as our great Southern Australian road trip was coming to an end.
We had been debating which way we were going to head next, were we going to go to Western Australia, up to the Northern Territory or doing a loop back inland towards Sydney. While looking at what to do next we found a pamphlet in the YHA outlining an 'Adelaide to Alice Springs' road trip, so we spent a couple of days exploring everything this pamphlet had to offer.

After a long, hot drive back up past Port Augusta – the mouth to the outback – we found ourselves in Coober Pedy, where everyone lives underground. We got to go noodling for our own opals, feed a joey in a local sanctuary who was rescued from the devils of the desert, and watch the stars shine brighter than ever on top of the mountain. It was a great way to end our South Australian adventure and an even more magical way to welcome us into what the Northern Territory may have to offer.

This journey has taught us a lot about compromise, not to exaggerate your expectations, to always be prepared and to research where you want to go. Each to their own and all, but when you organise a journey like this it is always best to do your research, whether it is through reading books, using the internet, talking with people about their previous experiences or learning from the locals.
You will learn, just as we did that, you may not get to see everything, whether it's your budget or your time frame. So do research. You can always pick up more information and make your final decisions along the way, especially at a YHA. My only piece of advice will be to always plan with regards to your budget, especially when you are doing your trip via driving. And don't forget about the cost of fuel. Fuel is expensive and everything is far away in Australia, no detour is a minor detour.
Australia is a wonderfully big country.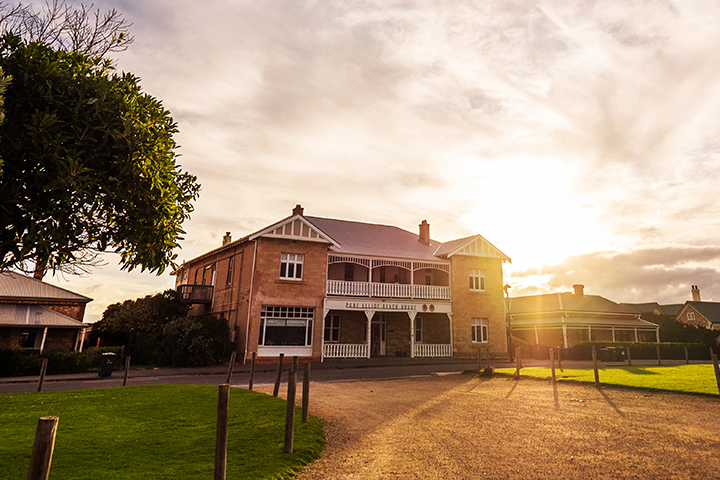 YHA Port Elliot
Located in a breezy, historic building and overlooking the calm waters of Horseshoe Bay on the Fleurieu Peninsula, YHA Port Elliot offers beautiful beach adjacent accommodation.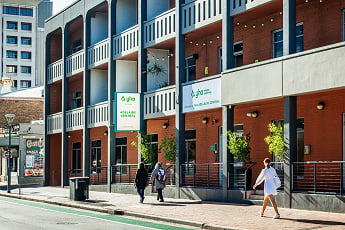 YHA Adelaide Central
Located in the heart of Adelaide, the chilled-out YHA Adelaide Central boasts spacious communal spaces & easy access to all the hotspots & events of South Australia's capital.