48 hours on K'gari (formerly known as Fraser Island)
Okay, technically it's 51 hours but that doesn't quite have the same ring to it! K'gari is the world's largest sand island, with miles of untouched beaches, hiking trails, rainforest and crystal clear turquoise lakes. Check out how to explore the Island the right way and what your adventure could look like!
There is a lot to see and no doubt, the only obstacle that stands between you and all the adventures awaiting you, is time. A day trip only lets you see the tip of the iceberg. If you want to see the real deal, and you love a great vibe and hanging out with an awesome group of like-minded people while seeing as much as possible, then our 3-day Cool Dingo K'gari tour is your tour! Enjoy 3 days of island adventure, sunrises, beaches, marine life, water holes, refreshing lake swims, badass buffets and much more!
Day one
Your adventure begins
The early bird… is not our friend. That's why Cool Dingo Tour will pick you up from Hervey Bay in the afternoon, for a 3pm check-in at the mainland ferry reception to start your K'gari journey the right way: easy and relaxed! Once you cross the big blue ocean and set foot on the sand island, your tour guide will meet you and welcome you to paradise! Relax at the Sunset Bar on Kingfisher Bay Resort's beachfront and mingle with new friends in the making over a glass of wine (or two), while you enjoy an absolutely wonderful Insta-worthy sunset. Then it's onto buffet dinner at the Dingo Bar! End the day with some games of pool, chat to other guests, or listen and dance to great tunes.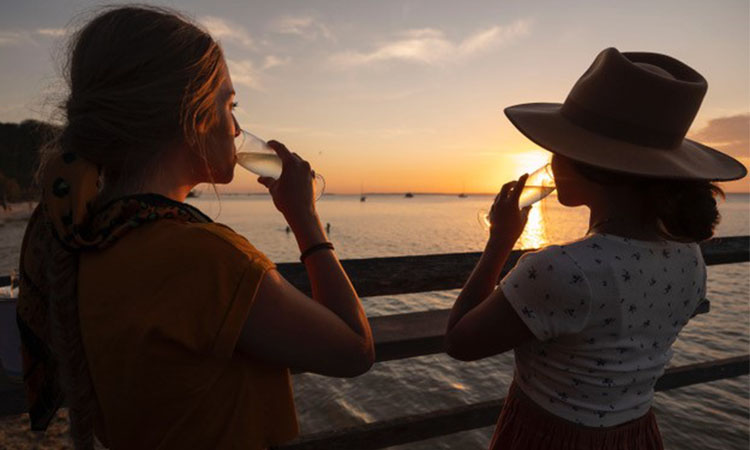 Epic sunset at Kingfisher Bay Resort's beachfront
Day two
Time to see what you really came for!
Day 2 starts as early as 6:30am with a delicious buffet breakfast at the Dingo Bar, before leaving with a full belly for a day full of adventure in paradise. And this is on Day 2's menu:
8:00am tour departure
Tour inclusions:

75 Mile Beach
Maheno Shipwreck
The Pinnacles
Champagne Pools
Indian Head, and
Eli Creek

5:30pm arrival back at the Kingfisher Bay Resort
6:00pm Aussie bush tucker experience
6:30pm buffet dinner
Find yourself on the Cool Dingo bus with your friendly group and an absolutely dedicated and skilled tour guide, who will make sure this island experience will by far exceed your expectations! Drive along 75 Mile Beach (the name speaks for itself) and witness kilometres of beach kissed by the endless ocean. Pure nature as far as your eye can see! Visit the Maheno Shipwreck, an old ocean liner with remarkable history and check out The Pinnacles Coloured Sands, a visual phenomenon showcasing the sand formations on K'gari formed over hundreds of thousands of years.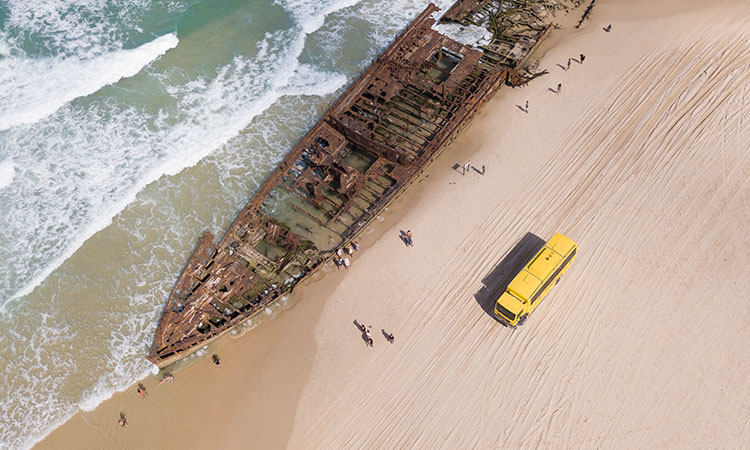 SS Maheno Shipwreck bird's-eye view alongside the Cool Dingo Tour bus
Then it's onto the Champagne Pools. – In case you might be wondering where the name comes from – Champagne Pools are naturally formed rock pools right on the edge of the ocean. Every wave renews the pool with fizzing ocean water and creates the feeling of sitting in a jacuzzi – or in a glass of champagne – Cheers!
Once you had a swim in the bubbly and refreshing water, it is time to enjoy a delightful picnic lunch – and you will, for sure, be delighted once you witness your tour guides magical meal prep skills!
Tummy full? Time to climb the headland ahead of you, called Indian Head, a popular lookout point that makes you feel like being on top of the world! Indian Head is also K'gari's most easterly point, offering spectacular views of the surrounding beaches, sand dunes and ocean. And it is also where you find all the marine life, from turtles to dolphins, sharks and whales during migration (July to October).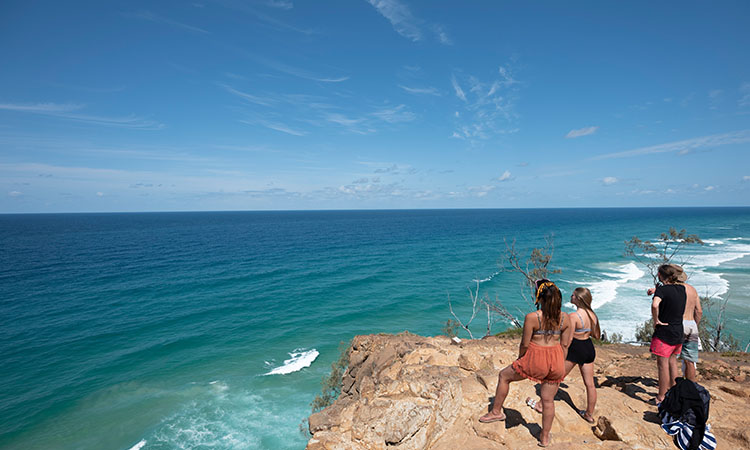 Visit Indian Head and feel on top of the world
Then it's about time to head back on 75 Mile Beach to your last stop for the day: Eli Creek – the largest creek on the eastern beach of the island, pouring up to 4 million litres of fresh water into the ocean every hour. Once you see your tour guide unpacking tubes off the bus and start blowing them up, you know you're in for a treat. There is no better way to experience Eli Creek than being surrounded by paperbark trees while chilling out in a tube and floating down the stream towards the ocean.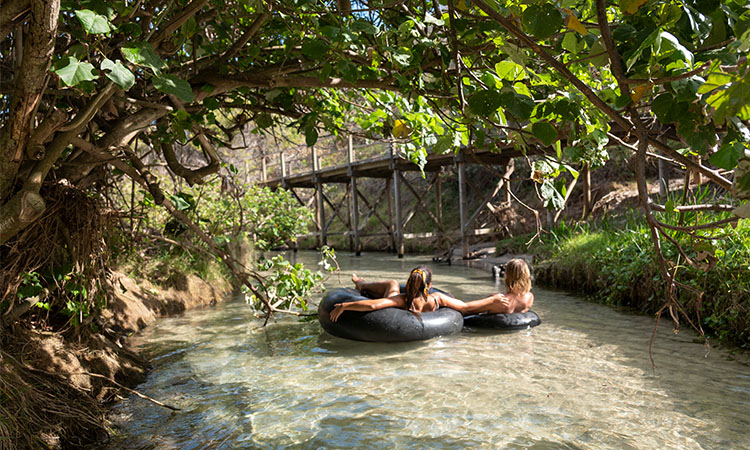 Floating along Eli Creek, K'gari's most famous freshwater stream
Time for some bush tucker!
A day of exploring comes to an end and it's about time to head back to the Dingo Bar to get ready to experience some extraordinary bush tucker, prepared for you from the chef himself. Eat berries and nuts you have never heard of before, and try some emu, crocodile and kangaroo meat – a guaranteed highlight of your tour!
Then it's onto buffet dinner at the Dingo Bar, and if you aren't tired yet from a day of island touring, hang out with likeminded people and play pool and beer pong or just dance to great vibes in the Dingo Bar.
Day three
Time to get up for another day of adventuring K'gari
After a good night's rest in the Wilderness Lodge enjoy a delicious breakfast at the Dingo Bar, before heading out for a new day of adventures on the island. And this is on today's itinerary:
6:30am buffet breakfast
8:00am tour departure
Tour inclusions:

Lake McKenzie
Central Station
Lake Wabby

5:00pm return ferry transfer back to mainland
6:30pm arrival time at River Heads
Jump on the Cool Dingo bus for another day in paradise. In the unlikely event that K'gari hasn't convinced you so far, we are sure the unreal beauty of fine white sandy beaches and turquoise waters will seal the deal – get ready for your first stop at Lake McKenzie! Interesting fact, K'gari is a sand island in the ocean but Lake McKenzie and some other lakes on the island only contain rainwater and no groundwater! A perfect place for a swim and some epic Insta shots!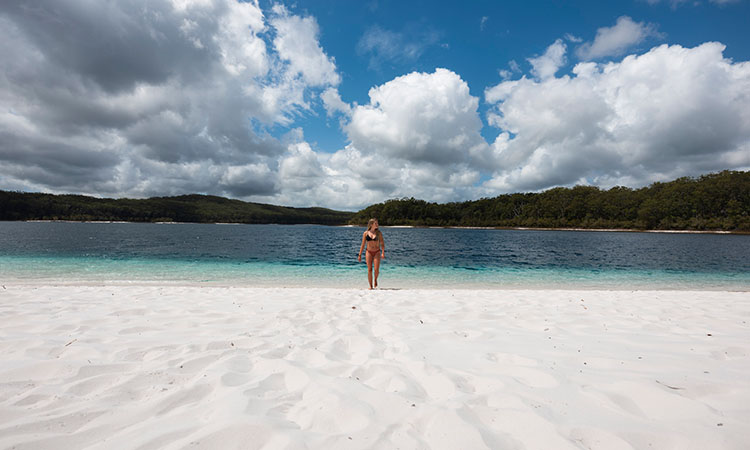 Sandy white beaches and turquoise waters at Lake McKenzie
Then your adventure continues to Central Station – thinking of Sydney's bustling train station? Nah mate, this is quite the opposite! Welcome to the jungle, baby (or…rainforest). Central Station is the heart of K'gari found along Wanggoolba Creek. Wanggoolba Creek has an important indigenous history. The area once belonged to the Butchulla women (Traditional Owners of K'gari) and was a birthing place where men were excluded. Walk through the rainforest and breathe pure fresh air - this is a perfect place to connect with Mother Earth.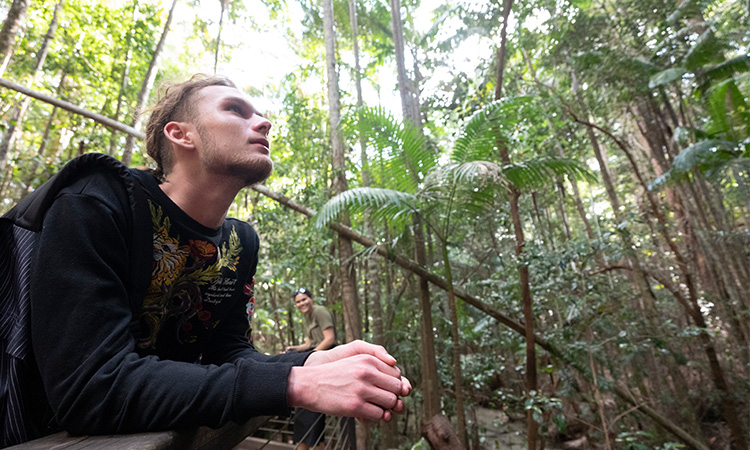 Let your trusted guide walk you through the Wanggoolba Creek boardwalk in Central Station
Time flies, but no need to say goodbye to K'gari, yet! There is still more to see. Your last - but not less awesome - stop is Lake Wabby! Walk through desert-like sand dunes and be rewarded by another amazing freshwater lake! Lake Wabby is a green lake that is home to several species of fish. The bordering giant sand dune slowly moves into the lake and one day will swallow it completely.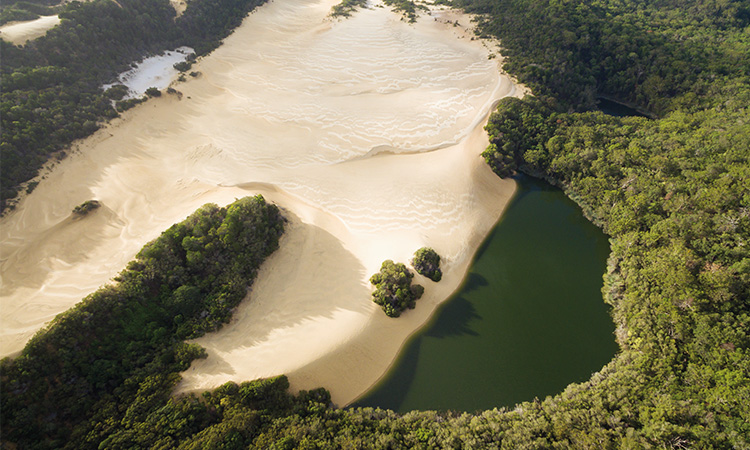 Experience the emerald green hues of Lake Wabby. Photo: Cool Dingo Tours
Time to say goodbye
By now you most likely have taken hundreds of photos and taken away a mind-blowing experience, which unfortunately comes to an end. It's about time to take the ferry back to mainland and leave this beauty of an island behind you!
It's truly amazing how diverse K'gari is. If you'd asked us about our highlight of the island, we couldn't tell you, simply because each place is so unique and beautiful!
READY TO TICK K'GARI OFF YOUR BUCKET LIST?
Book this unreal once in a lifetime adventure today!
If you're looking for a place to stay pre and post tour? Hervey Bay YHA is a nature-bound oasis in Hervey Bay and the perfect place to start and finish your K'gari trip!
YHA Hervey Bay

This multi-award winning hostel in the seaside town of Hervey Bay is conveniently located within an easy walk of nearby beaches.