Brisbane's best bars and where to find them
In Brisbane and looking for a great hang-out? Your whiskey might be sour but your night surely won't be after reading the guide below. Be a hero to your friends and show them Brisbane's bar scene at its best!
1. Lefty's Old Time Music Hall
View this post on Instagram
Located just a couple of hundred metres from YHA Brisbane City is Lefty's Old Time Music Hall, where honky-tonk saloon meets From Dusk till Dawn's Titty Twister. What looks from the outset like a Western movie bordello from 19th century deep south America, is actually one of the best places in town to enjoy live music and freshly pressed apple juice and rum - or whiskey. Your choice!
2. Brooklyn Standard
View this post on Instagram
Live music always provides great entertainment, and no one knows and does it better than Brooklyn Standard. Hidden at Eagle Lane, down a sneaky side street just off the Brisbane River, you'll find this little gem of an underground bar. Immerse yourself in that famous NYC lifestyle, check out that Brooklyn Lager people around you rave about, and snack salty pretzels, while listening to great tunes produced right in front of you!
3. Brisbane Distillery
View this post on Instagram
If you are looking for something a little bit more unique and dare we say, classy, head across the river to West End and check out Brisbane's only gin distillery. They offer free tastings and bottle sales, allowing you to take your fav delights home with you. The best bit? They have an onsite gin school where you can create your own unique bottle of gin.
4. Retro's Fortitude Valley
View this post on Instagram
Take your night to the next level and head over to the nightlife heaven that is Fortitude Valley and check out Retro's! Retro's throws you back to those carefree good old days your parents have told you so much about. The best thing about Retro's is Retro's, and the second best thing? Well, all the other clubs around! Congratulations, you arrived. Enjoy the rest of your night, and you're welcome!
5. YHA Brisbane City Rooftop Bar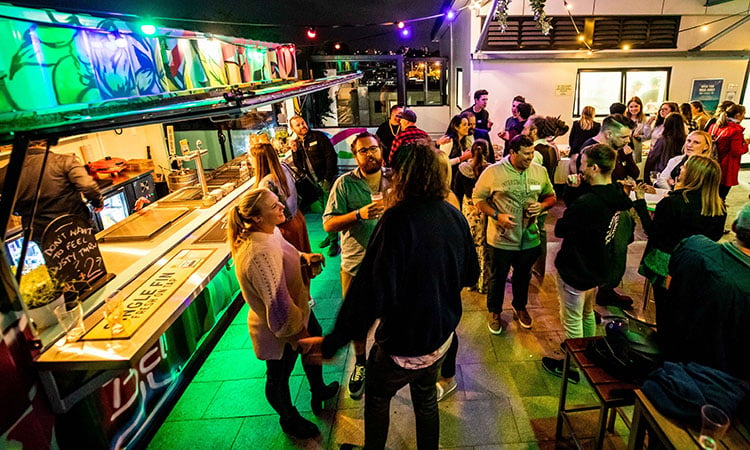 As a wise traveller once said: "Don't stay far from the bar!". Start your night right and sip your drinks with a view! YHA Brisbane City Rooftop Bar offers priceless views of the river and city skyline, and is the perfect place to meet people (if that's what your wanting) to carry on the evening with! Of course, with these delicious and budget friendly drinks and bar menu, there is hardly a need to venture any further, and it's always good to know your bed is just a few floors down.
YHA Brisbane City

Nestled in Brisbane's traveller precinct and within walking distance of Suncorp Stadium, this buzzing, diverse inner-city YHA boasts a rooftop pool and bar.