The biggest lessons YHA Australia staff learned through travel
Working for YHA Australia means you live, breathe and dream travel; and there's not a whole lot that can surprise you on the road. But, even the most well-travelled folk can be taught a things or two from the winding road of world exploration.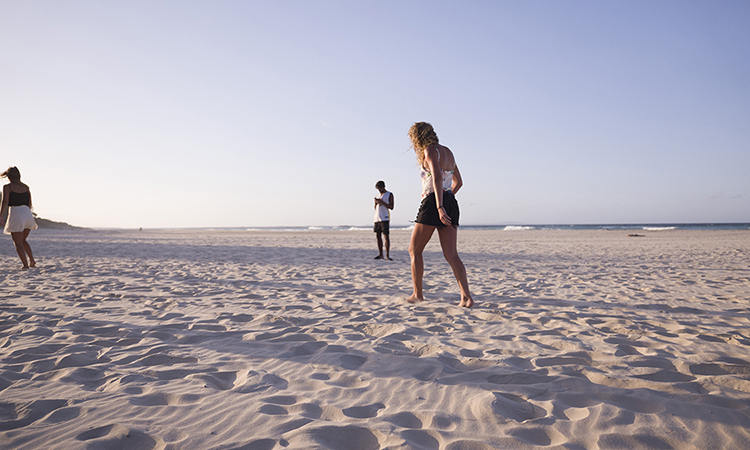 Julian, CEO
Growing up in Britain I had the opportunity as a teenager to travel independently and roam the country – first England, Wales and Scotland. Then age sixteen to Germany and the following year further afield as far as Greece, Italy and Turkey. As a student I spent two summers working casually and travelling in the US, Canada and Mexico crossing the continent four times. At age 22, after doing a proper job for 18 months, I set off on what we called the overland route through Asia taking in nearly twenty countries and arriving in Australia six months later.
I travelled every which way, very little by air, quite a lot by hitch-hiking and often alone. What I can say is that many years later I still remember vividly nearly every day of those early travels and the range of experiences and characters and cultures. Whatever I had learnt in formal studies paled into insignificance with what I found out travelling including about my own strengths and weaknesses. Trekking far from the nearest road in the Himalaya I came to respect simplicity and humanity. Travelling the backpacker way close to local communities gave me a global perspective that has stayed with me. It has been a great privilege to then work for YHA which through the device of low cost shared accommodation brings people together so that you are rarely without new friends when travelling the hostel way. It's also a heap of fun.
Akari, Digital Marketing Officer Japan
Through travelling, I increased my knowledge about my own country – Japan. Before I started travelling and living overseas, my only interest was toward the rest of the world. After travelling and meeting people and being asked about Japan, my interest toward my own country has grown a lot and I wanted to learn more so that I can teach the world about Japan.
Perrine, Senior Marketing Executive
One of the first unusual trips I did as a student was a humanitarian project in Guatemala. Our project changed at last minute as the area where we were going was unsafe. We ended up helping kids in a school that wasn't well managed and running out of everything and couldn't pay for electricity anymore. We came with lots of medical and school materials, as well as funds that we collected and went to teach the kids basic English. It was great to give them what they needed so they could keep going but it made me realise that these kids and parents seemed way happier than us even though they had nothing. They also had a great sense of community without needing any structure, they would help each other naturally. They were happy with what they had, and had this easy and natural way of communicating with each other which is often lacking in developed countries.
They have mastered how to be happy in all circumstances when we are often too concerned about ourselves, our future, what others have, etc. Sometimes we think poor countries are the ones who need help but I think they have a lot to teach us. Travelling often reminds us of the core and most simple values: be happy with what you have, enjoy the present moment and communicate/connect with each other.
Di, Marketing Manager
The biggest and best thing I've learnt through travel?
Insight and understanding of other cultures
The feeling of being in a foreign country with little or no language can be confronting and teaches great empathy for those in the same situation in Oz
Deep down – we're all the same
A smile connects everyone
The first step is the hardest
Dean, Railway Square YHA Manager
Things I have learned crossing the globe on foot a few times: there is only one planet, the sooner we wake up to this the better. All rivers flow to the Sea which is my metaphor for saying that whatever we inject in our planet sooner or later is bound to create repercussions somewhere else. There is also only one human race. We focus so much on what makes us different failing to notice what makes us the same. For example one of the easiest things to do when trying to break down barriers between people of different languages, cultural backgrounds, religions, socio economical wealth is to carry on your travels a photo of your family. No matter where you are in the world simply pointing to your brother, sister, mother, father, spouse or other extend family is without fail greeted with approving nods. Love travels and travels well. Another unifier is food…you may be eating with your hands, fork, chopstick or licking your plate we all treasure and regard the moment as special – it's when we take stock of our day and it's a time to be shared with our loved ones.
Janet, Head of Marketing
The most important thing I've learnt through travel that as much as we are all different, we are all the same. That is shown through staying in hostels in many ways – the things we all need like clean bathrooms and comfy bed – but even more so through conversations you hear in hostels – shared advice, experiences, likes and dislikes, and fun moments. Doesn't matter the nationality, age, background, many of these are the same in theme and everyone can connect with someone else in some way.
Silke, Public Affairs Manager
What I've learnt from travelling to over 50 countries is that we in the Western world need to be humble and appreciate how fortunate we are to live in a developed country where we not only have basic things other people don't always have access to (like fresh running water and flushing toilets) but we also have advanced education, health and transportation infrastructure, that we take for granted (and even whinge about!).
Leah, Marketing Coordinator
Just say yes. Saying yes opens you up to new opportunities, experiences and people. Saying yes can be intimidating and scary and of course trust your gut – if it doesn't feel right, don't do it – but saying yes will give you confidence to get outside your comfort zone and can change your trip from a great trip to an unforgettable trip.
Anna, Administration Assistant
Is to be a tourist in your own country. Whilst it is awesome to be a tourist in countries you haven't been to, you will make a better traveller when you've explored your own backyard. Now that I'm living in Australia, I make sure I get to visit different cities or tourist spots when I can so I get to tell people I meet in my travels to visit my beautiful country. Travelling overseas is not only about discovering the country you're visiting but also being a good ambassador of the place where you come from. I appreciate it a lot when travellers share about their home countries because inspires me to travel more. So why not inspire a total stranger who hasn't been to Australia to come visit?
Helen, Operations Deputy Manager
Ending up somewhere you didn't expect isn't always a bad thing.
Planning is great – it's an essential and enjoyable part of the trip but sometimes the best laid plans can go awry. Those times you just have to go with the flow and see where you end up. The unexpected friendships you make that are worth changing plans for. The place that wasn't on your radar but once you arrive you know it's the perfect place for you. The recommendation from a local that leads you to the place only the locals know about. Some of my best travelling days have been the days I got lost – even if they weren't always fun at least I managed to find myself again and that taught me something about myself and made me realise that my comfort zone was bigger than I thought.