Top 5 day trips from Cairns
From the Great Barrier Reef to the Wet Tropics we've picked our top 5 hot spots just a short drive (or ferry) from one of our favourite tropical cities.
1. Palm Cove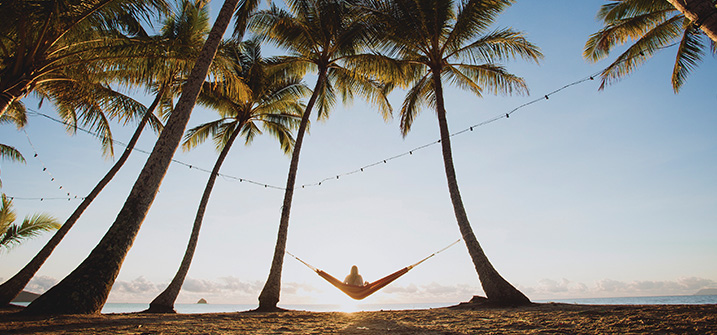 Image source: Tourism and Events QLD
If you are after some sand and sunshine add Palm Cove to your must-do list. This pretty coastal town has one of the most beautiful beaches in Queensland boasting a stunning palm tree lined esplanade with the sparkling blue ocean as the backdrop. We'd recommend setting up on the beach for the day and taking in the tropical surrounds. Make sure you grab a bite to eat at one of the many delicious cafes along the esplanade and spend some time checking out the boutique shops. Before heading back to Cairns make time to watch the sunset over the ocean, it won't disappoint.
Palm Cove is a 30 minute drive north of Cairns.
2. Kuranda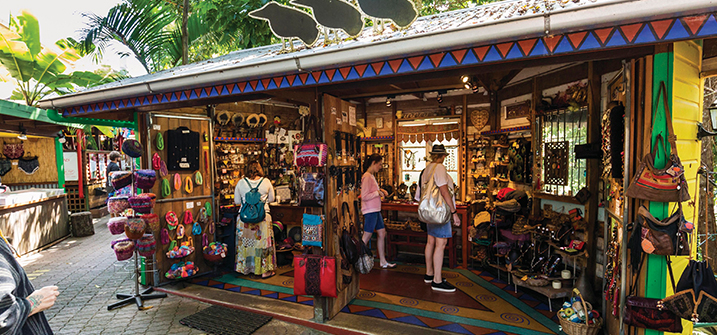 Image source: Tourism and Events Queensland
This picturesque village surrounded by World Heritage-listed rainforest is as much about the destination as the mode of transport that will get you there. The SkyRail Rainforest Cableway will take you through the tree tops in the Barron Gorge National Park, with uninterrupted views spanning from the Coral Sea to the Highlands. Once you reach Kuranda you can explore the daily markets, visit the Koala Gardens, the Australian Butterfly Sanctuary and Birdworld, and of course venture through the luscious green rainforest. To head back to Cairns why not take the Kuranda Scenic Railway for even more stunning views – look out for those waterfalls!
Skyrail is a 15 minute drive north of Cairns.
Skyrail to Kuranda takes 1.5 hours by cable car.
3. Mission Beach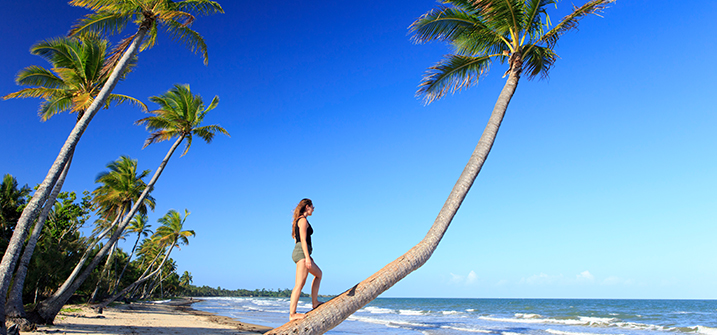 Escape the hustle and bustle of Cairns and head south to the chilled out coastal town of Mission Beach. This hidden gem is just a two hour drive from Cairns and boasts secluded beaches, delicious dining, adventure and more. Tick Skydiving off your bucket list with a spectacular view of the rainforest and reef with epic landing on Mission Beach, or take a water taxi across to Dunk Island and explore the hidden walking trails and untouched beaches. Make sure you check out the local cafes at North Mission Beach, and spot the sky divers as they land. If you have time why not head back to Cairns past the famous Paronella Park – you will feel like you have stepped into a fairy tale.
Need more time to explore? Stay the night at Mission Beach YHA.
Mission Beach is a 2 hour drive south of Cairns.
4. Port Douglas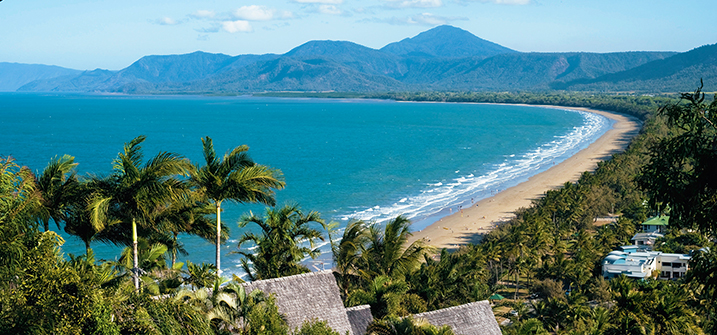 Image source: Tourism and Events Queensland
Beach, beers and those views! Port Douglas is commonly known as a resort town but there is still plenty to offer day trippers on a budget. The drive from Cairns the Port Douglas is just a small part of one of Australia's greatest coastal drives, with winding shorelines surrounded by lush rainforest and stunning oceans, it really is one of a kind. Make a pit stop at the famous Rex Lookout and be blown away by the picture perfect views of the green hills and the Coral Sea – definitely a photo opportunity not to be missed. Once in Port Douglas spend some time exploring the many beaches, including Four Mile Beach followed by a bite to each at one the main cafes on Macrossan Street. If you have time definitely add a half day reef tour to your itinerary.
Port Douglas is a 1 hour drive north of Cairns.
5. Fitzroy Island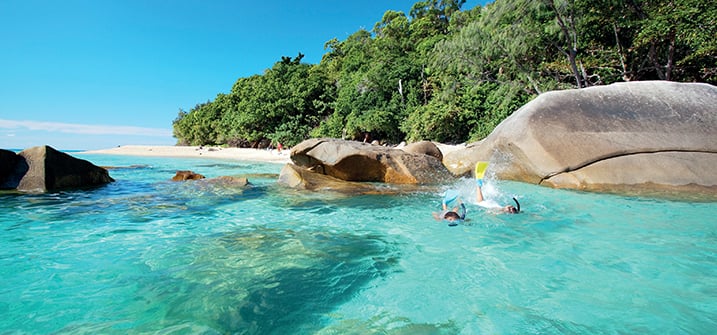 Image source: Tourism and Events QLD
Welcome to your tropical island paradise! Just a short ferry ride from Cairns this island beauty is one of the lesser known in the Great Barrier Reef but has plenty on offer. You will be instantly enticed into the clear blue waters so pack your snorkel and fins (or hire on the island) and discover the coral reefs at Welcome Bay or hike through rainforest to Nudey Beach. If you love water activities you can hire kayaks and SUPS or even take a PADI dive trip. The island's national park has loads of walking tracks through the rainforest so add these to your must-do list for the day.
Fitzroy Island is a 45 minute ferry ride from Cairns.
Ready to explore?
Book your stay at Cairns Central YHA.