Sustainable Properties Fund

What is the Sustainable Properties Fund?
The Sustainable Properties Fund (formerly known as the Sustainable Hostels Fund) is a fund dedicated to helping reduce the environmental impact of YHA Australia's properties. The goal of this initiative is to help us on the road to net zero through projects supporting energy, carbon and waste reduction, and water conservation across our network.

The Sustainable Properties Fund also helps to fund projects for our small and regional properties, to improve their economic sustainability as well as upgrading their amenities. We believe that by ensuring the future viability of these small regional properties we are investing in the communities in which we operate.
How does it work?
When you stay with YHA for the first time, your included $5 Membership Fee from your first stay will be transferred to the Sustainable Properties Fund.

You can also opt-in to make a $2 (or greater) donation to the Sustainable Properties Fund any time you book on yha.com.au in the future. The best bit? We'll match your donation to double the impact.

YHA is also committed to the growth of the Sustainable Properties Fund through the inclusion of interest earned on its cash balances and any bequests, donations or sustainability grants received from external sources.

100% of all contributions go directly to the projects and are carefully tracked, accounted for and reported to YHA members in our annual Integrated Report.
What does the Sustainable Properties Fund fund?
The fund will be applied to a broad range of sustainability projects at properties across our network, such as:
Solar hot water systems

Renewable energy, particularly photovoltaic arrays and battery storage

Water storage and

water recycling such as grey water systems

Heating, ventilation, and air conditioning (HVAC) projects

Smart building technology to dynamically manage energy usage

Improving waste management and recycling

Green infrastructure and landscaping

Energy efficient retrofits at older properties

Any necessary maintenance of existing sustainability features

The fund will also be applied to investing in our older, regional properties, so that they can continue to operate and offer quality stays for our travellers. It will fund projects that help develop these properties and their facilities, such as furnishing rooms with en suites, improving their sustainability features, or expanding capacity so that more travellers can stay at these unique destinations.

Check out the past sustainability projects that travellers like you have helped to fund through our Sustainable Properties Fund.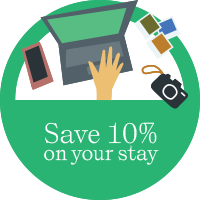 Book direct and save
By booking direct with MyYHA you'll receive our exclusive discounted rates. Sign up or login to get 10% off at select properties.