Our sustainability projects
The Sustainable Hostel Fund has provided support to hostels across the country seeking to increase their sustainability efforts and reduce their carbon footprint.
Recent sustainability projects
We're proud of how we care for our earth at YHA and are always looking for the chance to help make our hostels more sustainable at every opportunity. Through partial funding through the Sustainable Hostels Fund, we have launched hostel-specific sustainability initiatives, which has sponsored nearly $30,000 of projects across our hostel network so far.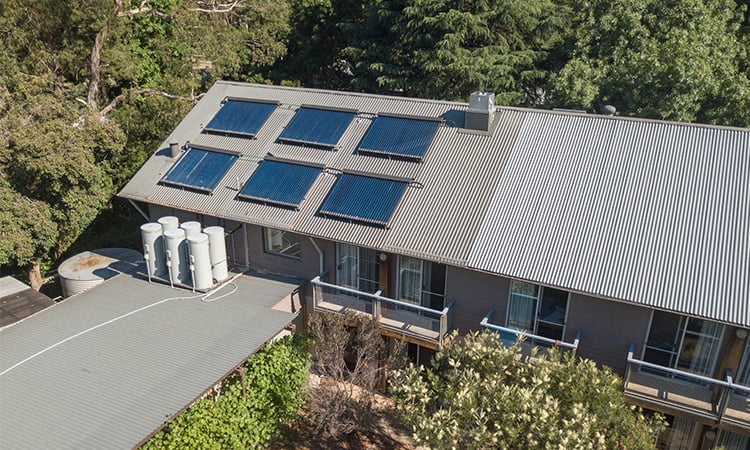 Award-winning Grampians Eco YHA now powers its hot water by sunlight, thanks to your donation to the Sustainable Hostels Fund. Combined with already established waste minimisation practices including composting and a very happy chicken family on-site, Grampians Eco YHA is paving the way forward for sustainability as they continue to work closely with the Halls Gap community to support local wildlife care, provide work experience for students interested in the tourism and travel industry, and save water across the property with drought resistant gardens.
We're invested in creating sustainable hostels for years to come and with your help we can continue to build a kinder, greener future.
Past sustainability projects
The Sustainable Hostels Fund has helped install solar hot water systems at Adelaide Central, Byron Bay, Brisbane City, Railway Square, Grampians, Cairns Central, Pittwater, and Melbourne Metro, to power your shower with sunlight!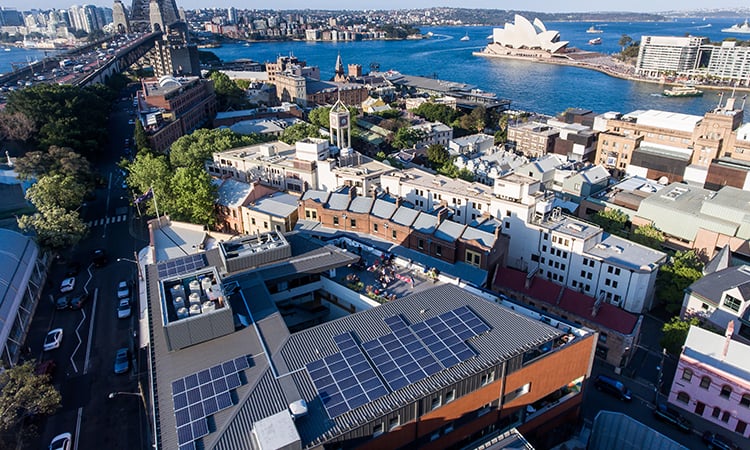 Donations to the fund have also helped install photovoltaic arrays to produce solar power in sun-baked Alice Springs (2012), Sydney Central (2018) and Perth (2014 - property now closed), reducing carbon emissions by more than 40 tonnes a year.
Sydney Harbour YHA installed a 30kW solar system in 2016 to help power the hostel, 50% funded by the Sustainable Hostels Fund. The solar panels saved almost four tonnes of carbon emissions within a month of being switched on in October!
Stradbroke Island YHA can now show off its shiny new solar panels thanks to the Sustainable Hostels Fund, soaking up the sweet energy of the Queensland Sun to provide hot water and energy to the hostel.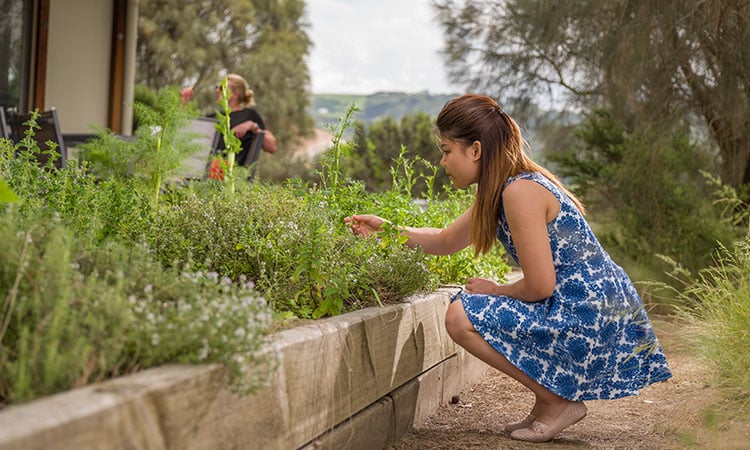 Small changes, big differences
It takes changes large and small to make a difference and across the network and we continue to support our hostels increase their sustainability. Additional to the Sustainable Hostels Fund, YHA Australia funds small hostel-specific sustainability programmes each year. These programs are led by the initiative of our YHA hostels, where teams know what they need most to help create a more sustainable future. Our most recent projects included water saving, social sustainability programs, waste minimisation and more:
Adelaide Central YHA installed water saving taps across their group accommodation rooms
Blue Mountains – Katoomba YHA worked with the local council and local businesses to craft an 'eco island' to separate waste, recycling, compost and more, and forwarding funds raised from recycling bottles and cans to local charities
Sydney Harbour YHA continues to lead the charge for sustainability, partnering with the Royal Botanic Gardens in Sydney to offer tours lead by Indigenous leaders free of charge throughout 2019-20, educating guests on the rich First Nations history of Sydney
Whether it's creating a herb garden or installing solar panels, there's much more we look forward to in years to come.