The Big Dig Venue Hire Enquiry
Venue hire for functions, meetings and conferences is available on weekends, in the evenings, and during school holidays when the centre is not reserved for The Big Dig Education Programs.
If you are interested in booking the Big Dig Education Centre and you require a learning & discovery program, please contact Sydney Learning Adventures. The below form is venue hire only.
Big Dig venue | Hire rates
Morning session | 9am - 12:30pm

One room = $130
Two rooms = $260

Afternoon session | 1:30pm - 5pm

One room = $130
Two rooms = $260

Evening session | 6pm - 9:30pm

One room = $130
Two rooms = $260

Day hire | 9am - 5pm
Full day hire | 9am - 9pm
Prices correct as at 31st March 2023
Big Dig venue | Hire information
Booking times | Please remember to include set up and pack down time as part of the overall time you book the centre.
Capacity | The centre is limited to 100 people at any one time, inclusive of presenters and organisers. The centre is able to seat 100 people in theatre style only.
Data projector | Each classroom has a drop down projection screen and a ceiling mounted data-projector. A set of cables (HDMI & VGA) and instructions will be signed out with the keys for the centre from YHA Sydney Harbour reception. Please note that you will need to bring your own laptop and that technical support is not included.
Audio | There are ceiling mounted speakers with a 6mm sound jack connector. A lectern and mic, alternatively a hand held cabled mic, can be set up on request. We do not have a wireless or
lapel mic.
Catering | Please note that self-catering is not permitted at YHA Sydney Harbour, inclusive of the Education Centre. Catering can be arranged with your Groups Coordinators.
After receiving your venue booking enquiry, we will place your booking, and forward an invoice detailing the hire charge as well as send a floorplan for you to check and approve.
YHA abides by the National Policy Principles in the collection of personal information. Personal information is not disclosed to any third party except as required by law.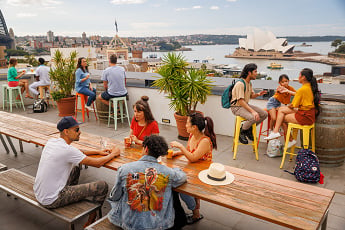 YHA Sydney Harbour
This modern, sustainable property in The Rocks draws an international crowd with its world-class harbour views of the Sydney Harbour Bridge and Opera House.