Search results
Adelaide
Adelaide is the capital of South Australia, home to more than 1.2 million people. It's an attractive coastal destination with a Mediterranean climate and a cosmopolitan, outdoor lifestyle to match. With inviting sandy white beaches to one side and the picturesque Adelaide Hills on the other, the city boasts lush green parklands, busy city squares, and a lively café scene. Taste the fresh produce at the Adelaide Central Market and Chinatown, take in the galleries and museums, bike along the River Torrens to Glenelg Beach, or see the giant pandas at the zoo.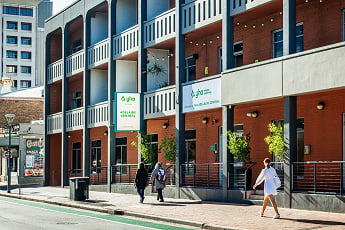 Adelaide | Kaurna Country
Located in the heart of Adelaide, the chilled-out YHA Adelaide Central boasts spacious communal spaces & easy access to all the hotspots & events of South Australia's capital.
Details