15 maps that will change the way you see the world
Because the way we perceive the planet is all about perspective...
By GDP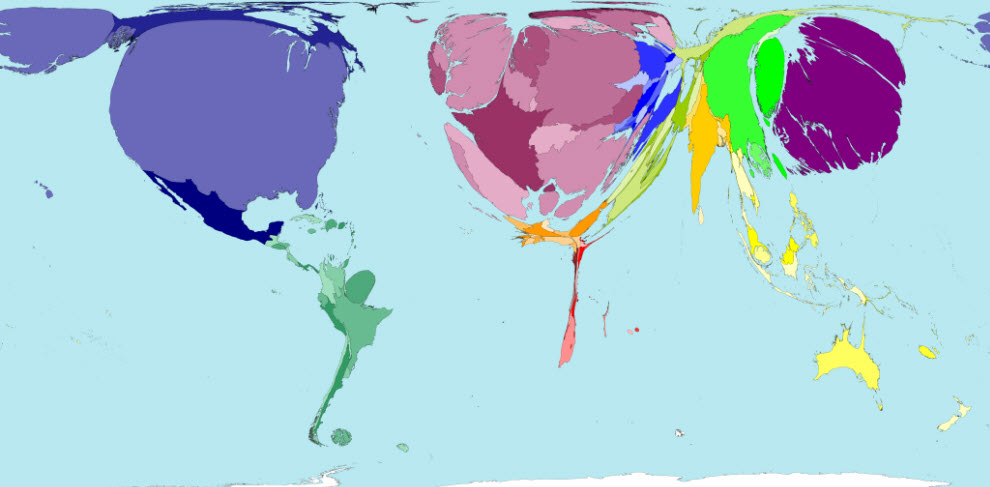 Source: World Mapper
This map shows territory size as a proportion of global wealth, where the Southern Hemisphere looks like it's getting sucked down the drain, and the Northern Hemisphere is as bloated as your fat uncle after Christmas lunch.

By population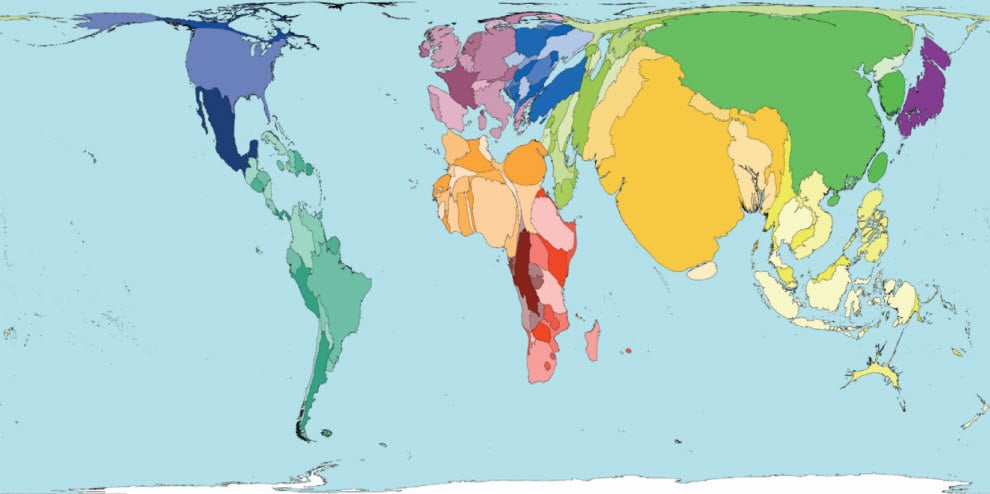 Source: World Mapper
This map, on the other hand, displays land size as a percentage of the planet's population, making China and India look like they're standing in front of one of those trick mirrors at an amusement park.

Compared to Australia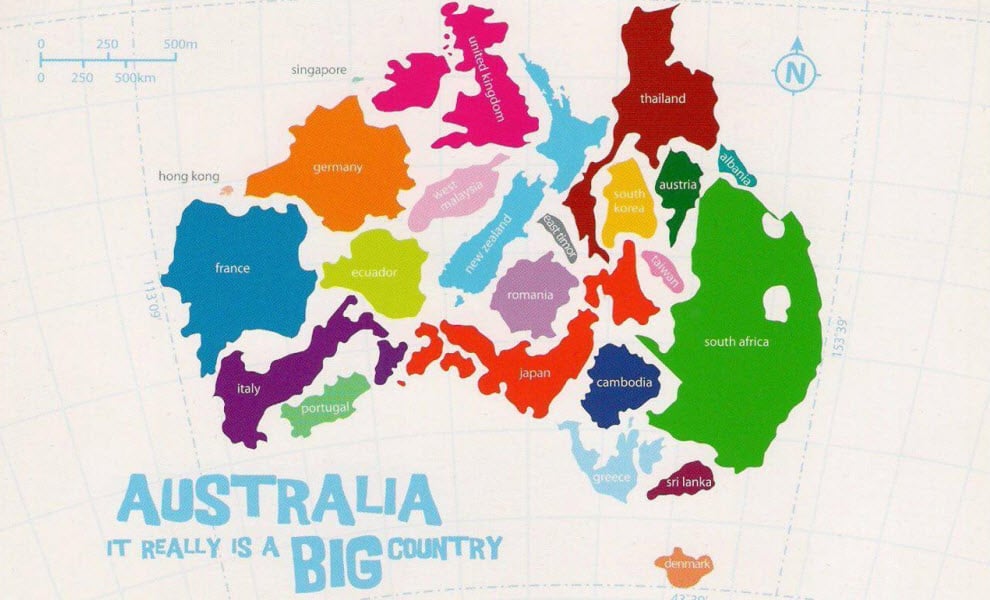 Source: Amazing Maps
We all know Australia's huge – but did you know our 7.7 million square kilometres is enough room to squeeze in France, Italy, Portugal, Germany, the UK, Ecuador, West Malaysia, Japan, New Zealand, Romania, East Timor, Thailand, South Korea, Austria, Albania, South Africa, Taiwan, Cambodia, Greece, Sri Lanka, plus Denmark filling in for Tasmania.

Population density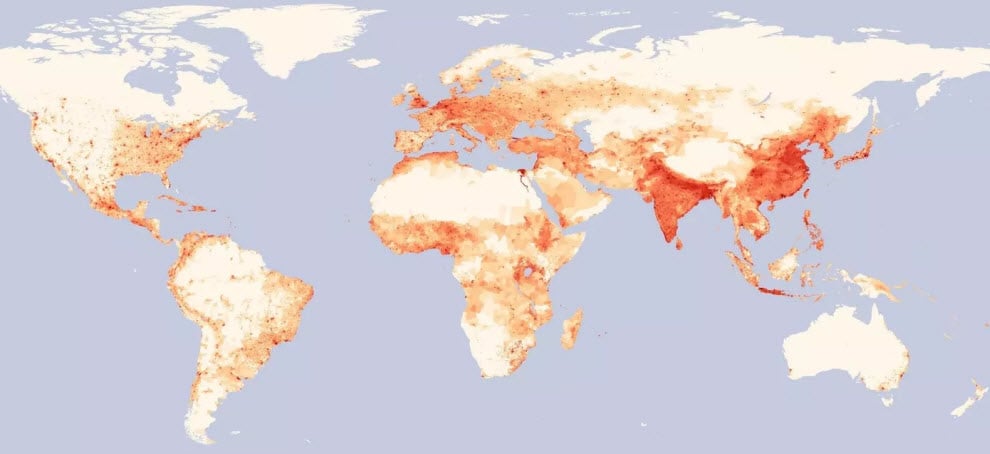 Source: NASA
NASA represents the number of people living on the planet with red dots resembling an unflattering rash, which flares particularly brightly around India and China.

The super circle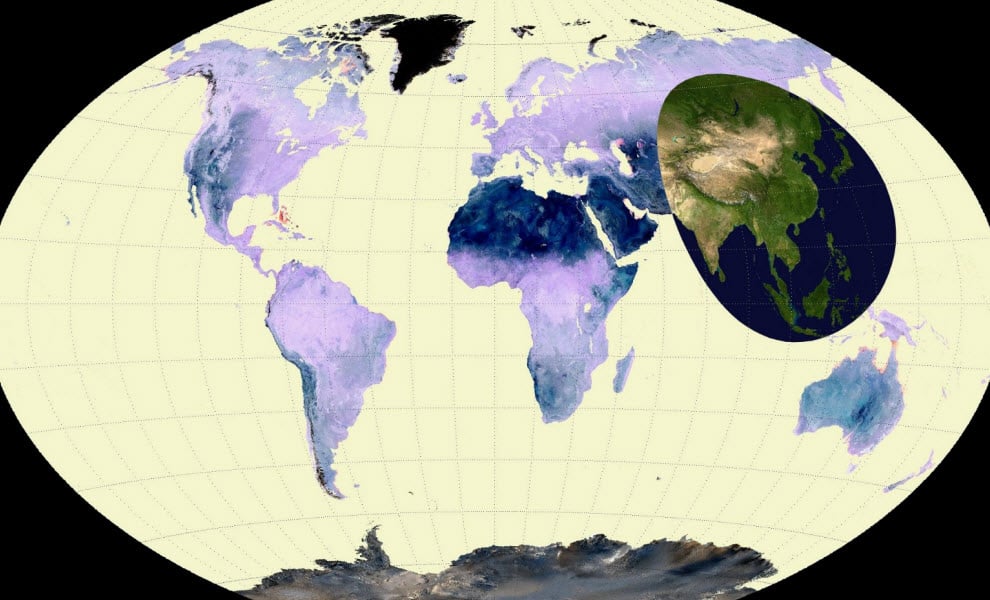 Source: BCMM (Reddit)
Wondering just how populous this part of the world is? More people live within this circle – a 4000km radius around southwest China – than outside it.

Driving side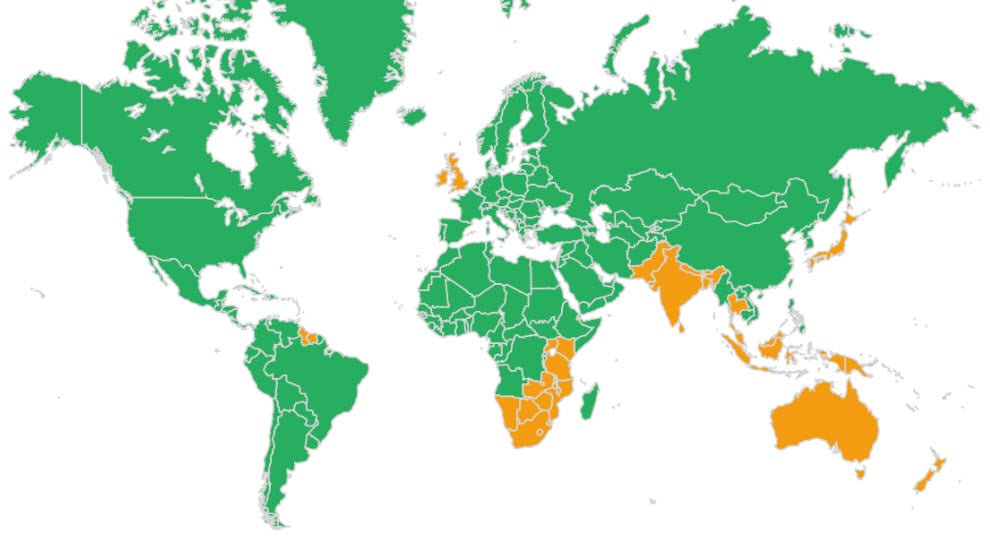 Source: World Standards
Australia doesn't have many mates driving on the left – and those that are (in gold) sketch a rough outline of the old British Empire.

Favourite sport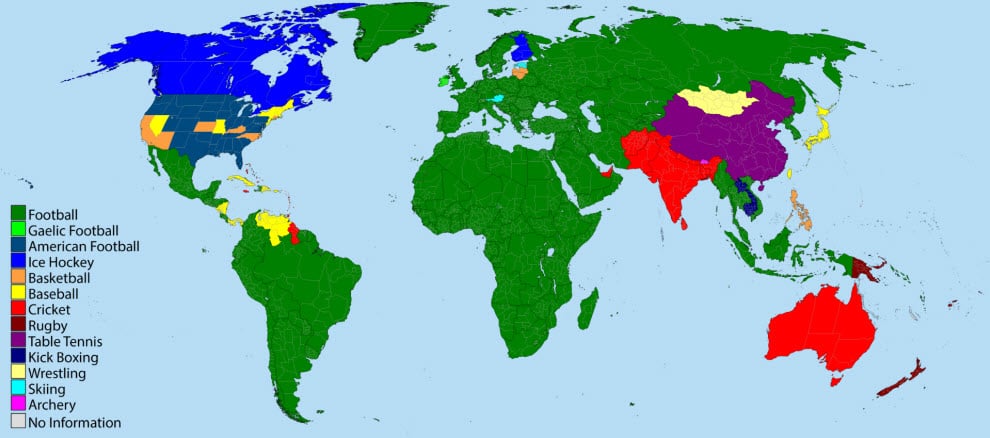 Source: droolingtortillas (Reddit)
The British influence extends a little further in the realm of sport, with most of the globe blanketed in the green of football. But with no major trophies since the era of black-and-white TV, it's just a shame England's no good at the sport they invented.

Metric vs. Imperial system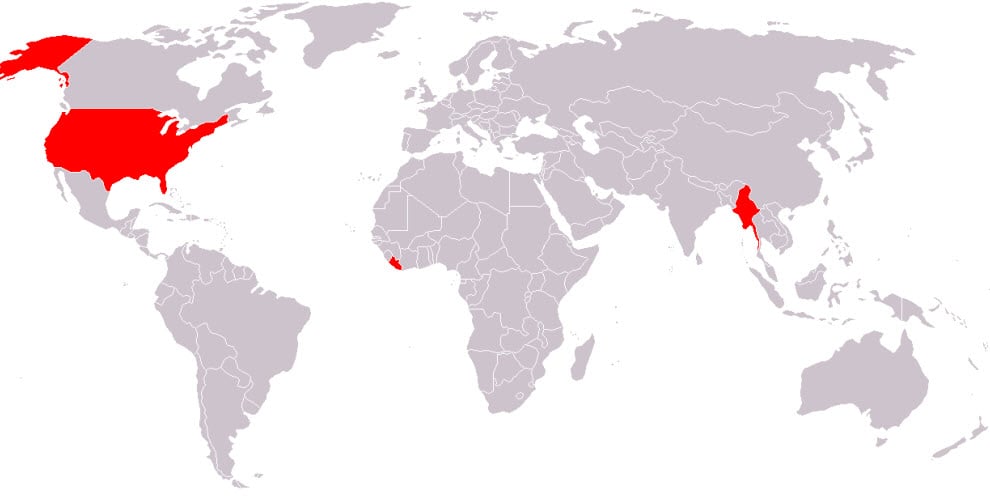 Source: ZME Science
The Brits also came up with the Imperial system but only three countries – Myanmar, Liberia, and the US – are still clinging on to inches and pounds, resisting the urge to join the rest of the planet on the Metric system.

Biggest religion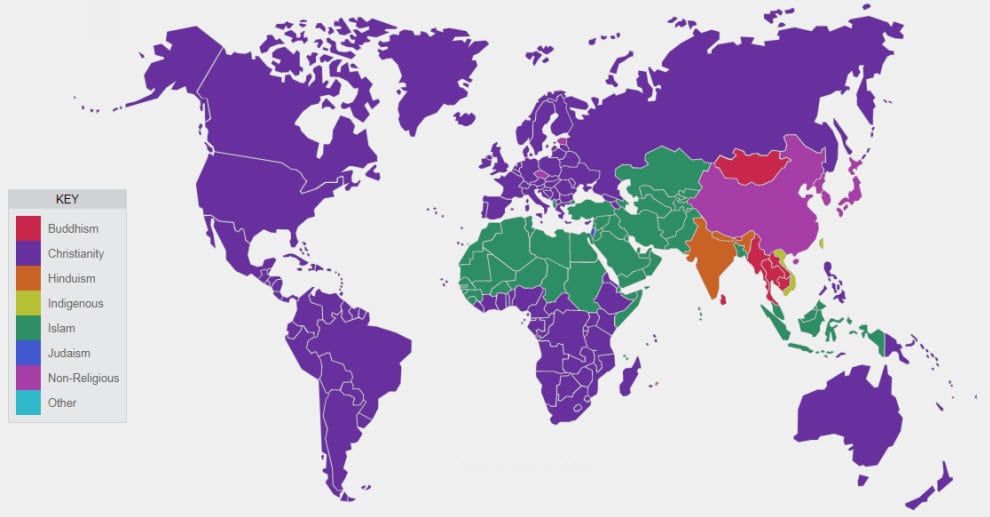 Source: PBS
George Michael once sung about how he gotta have faith, faith, faith – and we're guessing that song isn't very popular in China, Estonia, Japan, the Czech Republic, and Korea, i.e. the handful of countries whose most prevalent religious belief is 'no religion'.

Most common name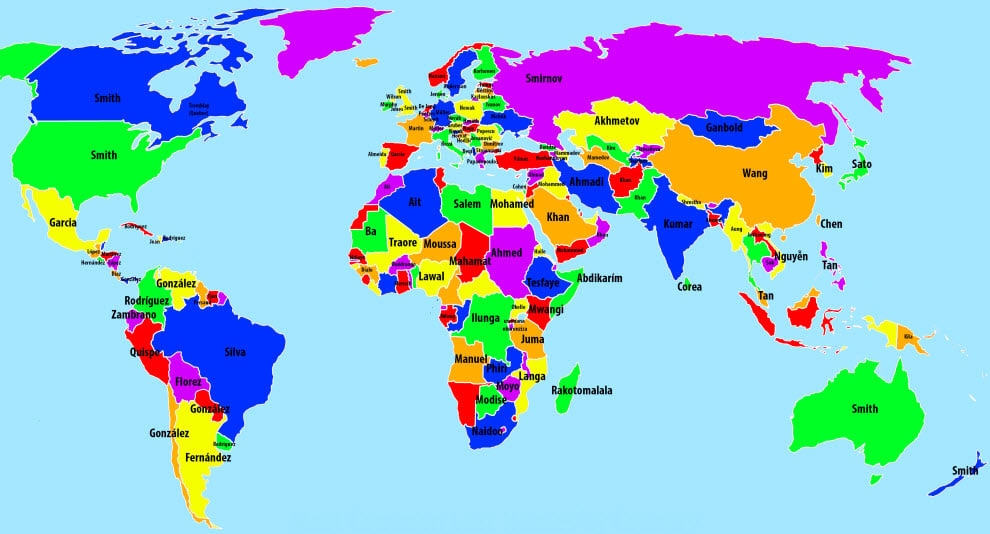 Source: Q1s2e3 (Imgur)
From Smith in Australia to Smirnov in Russia, Kumar in India to Kim in Korea, and Rodriguez in Colombia to Rakotomalala in Madagascar, these are the most popular surnames around the globe.

Alcohol consumption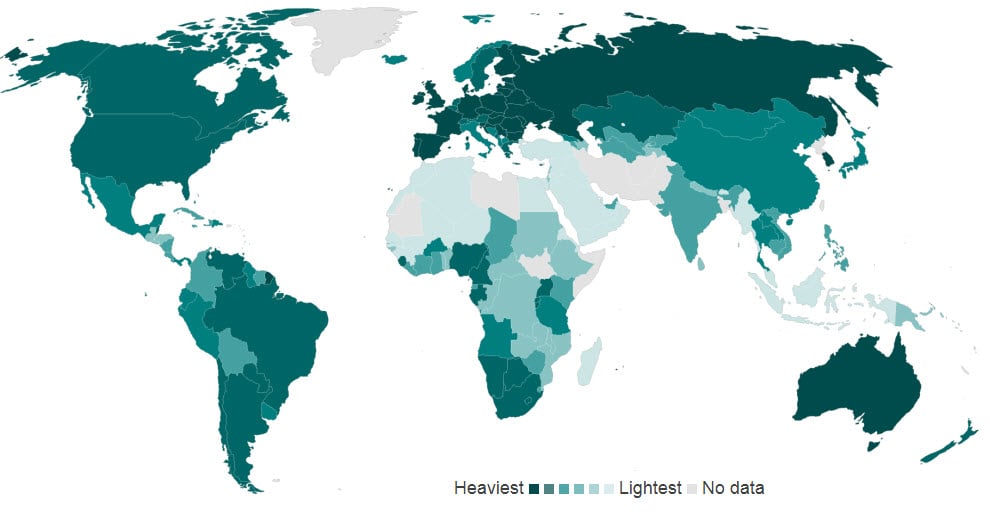 Source: BBC
In news that comes as absolutely no surprise to a country that holds Bob Hawke, Paul Hogan and Shane Warne among its most treasured national icons, Australia's as boozy as anywhere on earth.

Favourite type of alcohol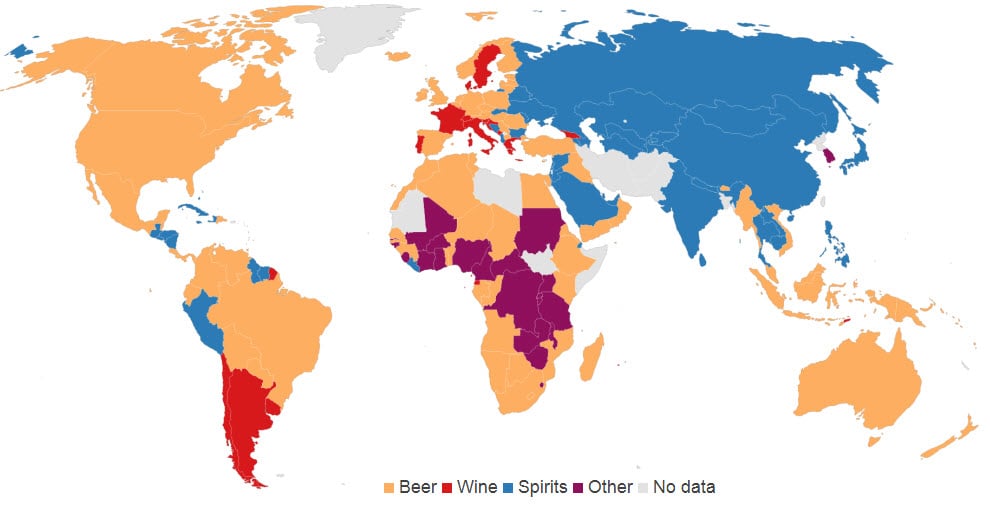 Source: BBC
The survey then asked "beer, wine, or spirits?" – and 98% of Australian respondents reportedly answered "All three, thanks".

Median age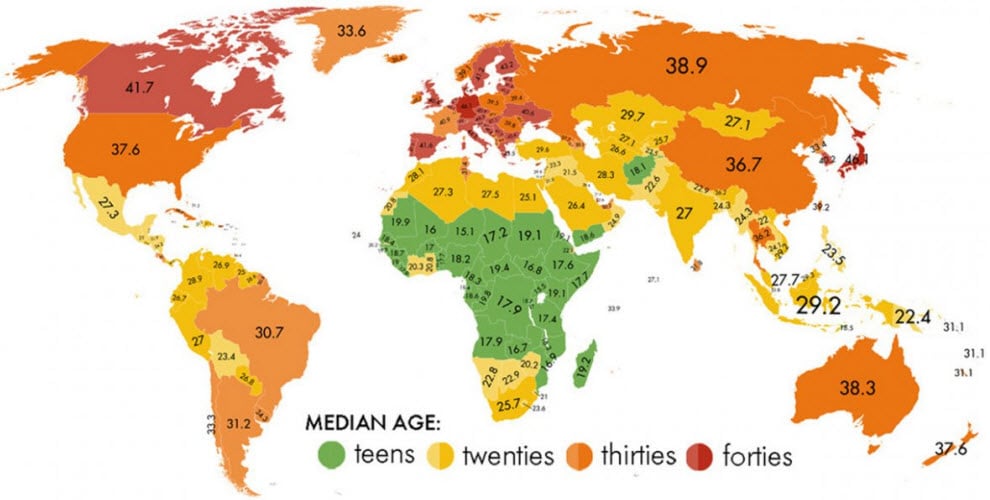 Source: Global Post
Providing an insight into the shifting demographics of the globe, Australia's a bunch of oldies and Europe is practically a retirement home, while Africa's by far the youngest region on earth.

World leaders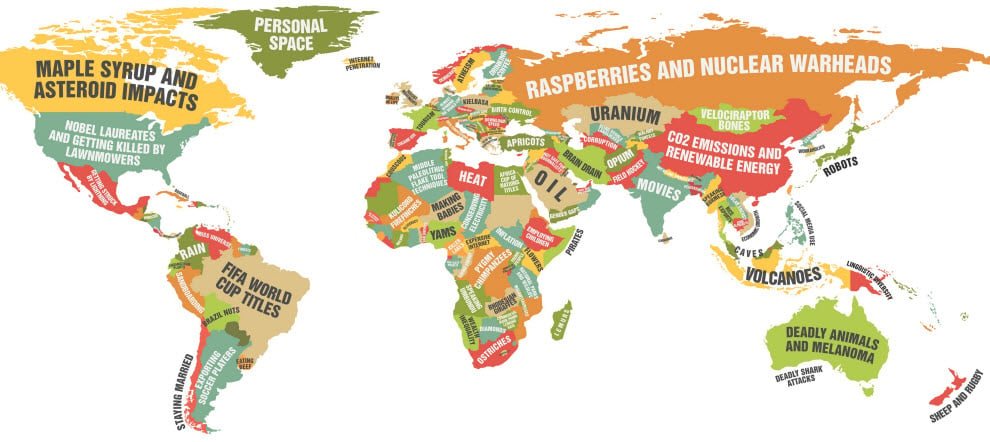 Source: Gizmodo
This map shows what each country leads the world in – and while Australia's "deadly animals and melanoma" isn't great, it sure beats the States' "getting killed by lawn-mowers", the UK's "fascist movements", and Russia's oddly juxtaposed "raspberries and nuclear warheads".

Pangea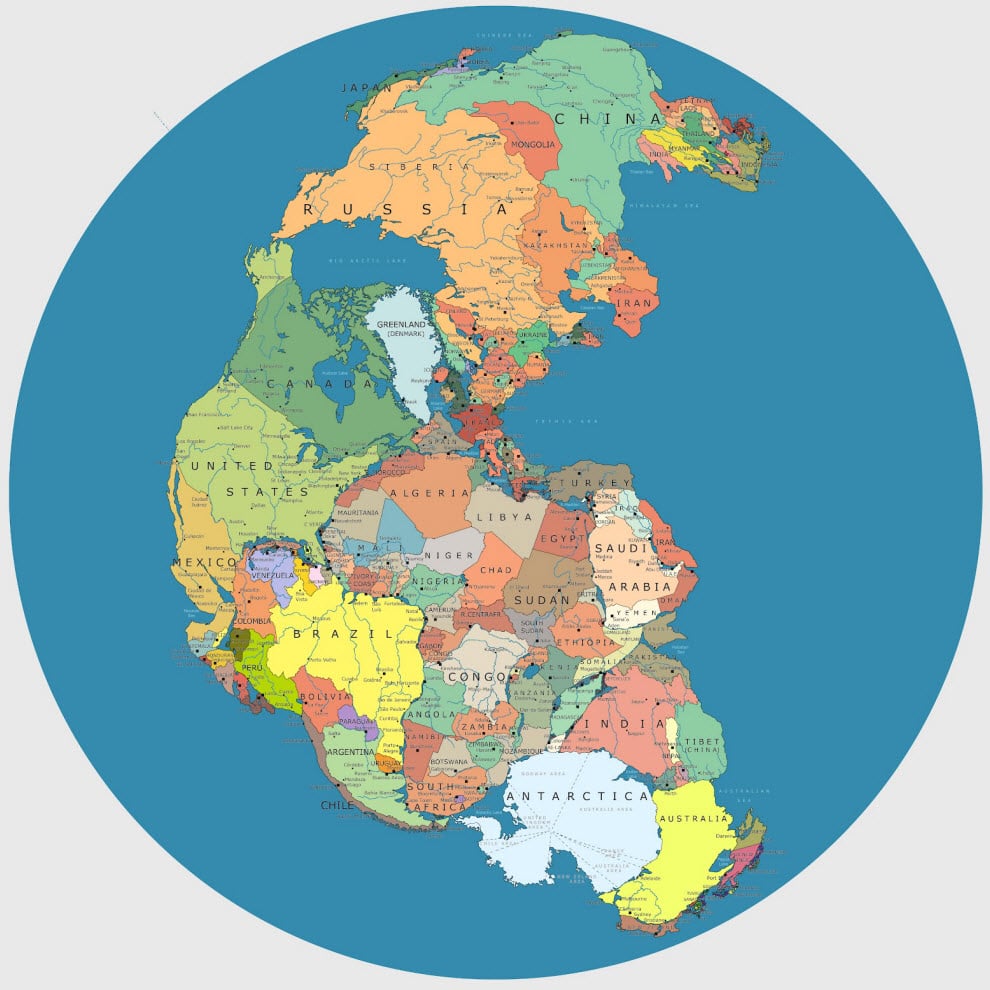 Source: OptimisticMule (Imgur)
Slot the jigsaw of the earth's landmasses back together like they sat 200 million years ago and you wind up with some unlikely neighbours and some remote strangers, like Australia and Indonesia at opposite ends of the earth. See ya later, cheap flights to Bali.