48 Hours on Kangaroo Island
A secluded slice of paradise just off the coast of South Australia, Kangaroo Island with its nature reserves, endangered wildlife and stunning vistas is simply enchanting. A day trip definitely won't do it, so instead, discover the island in 48 hours. Sunrises, hidden beaches, delectable food, and rare Aussie wildlife. Here's an itinerary for your trip to Kangaroo Island.
Take the ferry
The early bird gets the worm, so get ready to catch the bus bright and early from Adelaide Central Bus Station. If you're staying at YHA Adelaide Central, it's only a three-minute sleepy crawl from your bed to the station. From there, go to Cape Jervis SeaLink Ferry Terminal where you can take a 45-minute scenic ferry ride to Penneshaw, Kangaroo Island's main port. On the way, keep a lookout for dolphin pods, they're abundant in this area all year round.
Start at Rob's Sheep Shearing Shed
You made it to Penneshaw! If you haven't done so already, find yourself an experienced and dedicated tour guide who will be fully committed to making your Kangaroo Island experience worth every cent. Kick things off right away with one of the best attractions on Kangaroo Island, Rob's Sheep Shearing Shed. Rob Howard is a third generation sheep shearer who has been working with Merino sheep for countless years, which you won't question when you see his jaw-dropping skill in handling these beautiful creatures. You will have the chance to not only be entertained and educated by Rob, but also see him work with his well-trained and friendly sheepdogs to round up the sheep. It is a choreographed and perfected routine that you will never forget!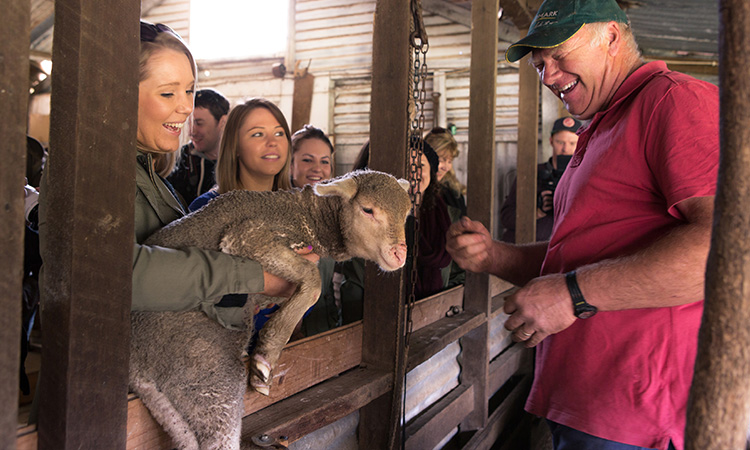 Pennington Bay
Then, it's onto Pennington Bay, a secluded bay that offers some of the best surfing on the island. It's usually not safe for swimming, but it does make for an excellent wildlife-spotting vantage point. See dolphins playing in the water, a whale if you're really lucky, and perhaps a seal lazing on the rocks. It's also one of the most photogenic spots on Kangaroo Island. The clear, aquamarine waters are guaranteed to leave you and your Instagram followers lost for words.

Image: Camille Helm
Emu Ridge Eucalyptus Distillery
Once you've got your winning shot you're in for a real treat, it's onto Emu Ridge Eucalyptus Distillery. You'll love learning about the unique and significant history of this iconic spot, an absolute treasure of Kangaroo Island. Eucalyptus oil was Australia's first true export overseas, and Emu Ridge is the only remaining commercial eucalyptus oil distillery in South Australia. After becoming a bona fide eucalyptus expert thanks to owners Bev and Larry, you're free to browse the incredible selection of eucalyptus products in the store, including oil, sweets, creams, candles, balms and much more. Stock up, because these goodies aren't easy to come by!
Seal Bay Conservation Park
Then lucky you, it's onto Kangaroo Island's most popular attraction of all, Seal Bay Conservation Park! For thousands of years, endangered Australian sea lions have called this area home, making for one of the most exceptional wildlife experiences in the world. You'll find no enclosures or cages, you'll be taken into the heart of the colony to learn everything there is to know about these beautiful mammals. There will be ample opportunity to see baby pups playing in the sand, males fighting for supremacy and mothers lazing in the sun.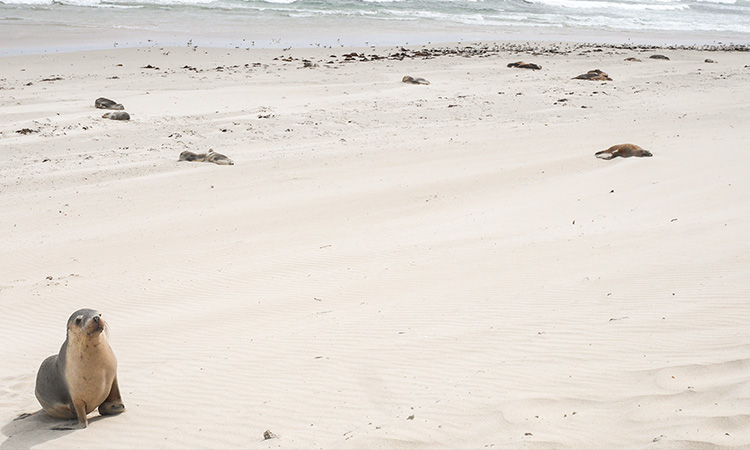 Sand dunes at Little Sahara
The fun in the sun continues, your next stop is the famously picturesque and super fun sand dunes at Little Sahara, where you can try your hand (or feet) at sandboarding. You don't have to be a skiing, surfing or skateboarding expert to get the most out of this fabulous adventure, you can feel the adrenaline coursing through your veins as you slide seamlessly down golden dunes. Wind in your hair, sun on your skin, worries a million miles away! Stack it as many times as you like, the gorgeous Kangaroo Island sand will cushion your fall perfectly. If you're still not up to standing, you can also hire a toboggan, allowing you to sit down and slide smoothly down the bottom of the dunes.

Image: Camille Helm
Stay in the middle of native bushland
No doubt you'll be pooped after this thrilling experience, so it's time to catch your breath and check in to your bed for the night. Stay right in the middle of gorgeous native bushland. Explore the sprawling, salubrious walking and bike trails spanning, or just chill on the beach. If you're still not done adventuring, you can grab a kayak and glide down the Harriet River. If you're tuckered out for the day, you might want to relax with a drink near Vivonne Bay, or simply go for a wander in your stunning surrounds.
When the sun goes down, the kangaroos and wallabies will come out to play. It's called Kangaroo Island for a reason, after all! Then, it's time to settle in for a mouth-watering Aussie BBQ, before hitting the hay ahead of another big day tomorrow.

Image: Nikki Redman
Sunrise over Vivonne Bay
It's time to command all your energy and wake up for the unmissable sunrise over Vivonne Bay. Hues of yellow, pink and purple will light up the sky and reflect onto the clear waters, making for a once-in-a-lifetime view. If you're the opposite of a morning person, you can sleep in if you want to, but you'll be sorry!

Image: Tourism Australia
Hanson Bay Wildlife Sanctuary
Start your day off on a high note, your first stop is Hanson Bay Wildlife Sanctuary. Surrounded by protected wilderness lands, Hanson Bay Wildlife Sanctuary is your best chance to see some of most prolific populations of Australian animals ever, such as goannas, echidnas, birds and of course, wallabies and kangaroos. But the definite highlight is the Koala Walk, the best place on Kangaroo Island to see these iconic marsupials. With koala numbers in decline around Australia, the Koala Walk may be your only chance to see a wild koala population this large. You won't have to work too hard to spot them, either. Not only are they everywhere, but Hanson Bay Wildlife Sanctuary is home to resident dog Maggie, a border collie cross kelpie who likes to help guests look for them!

Image: Camille Helm
Flinders Chase National Park and a BBQ lunch
Your next task is to venture right into the rugged wilderness of Flinders Chase National Park, one of the must-do attractions of Kangaroo Island. This incredible park is a sanctuary for endangered species and all sorts of geological phenomena, which you'll be able to see as soon as you're done tucking into another delicious BBQ lunch. Kangaroo Island is home to some of the finest quality food in Australia. That's why you can enjoy good old-fashioned Aussie BBQs during your trip.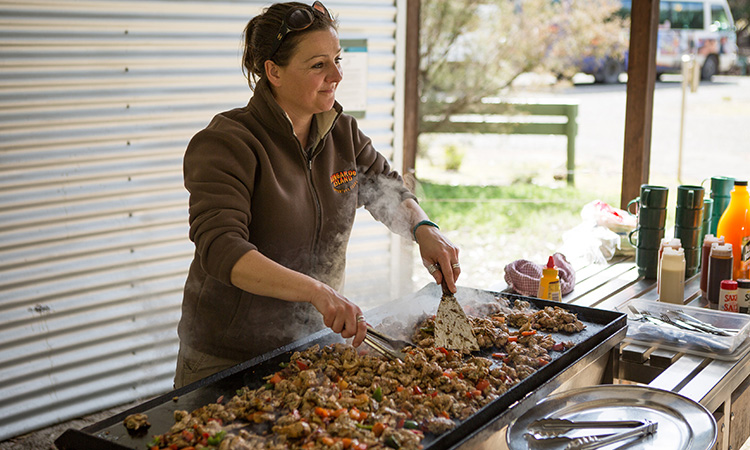 Remarkable Rocks
The next stop after lunch is a good one, you're off to the world-famous Remarkable Rocks. It took 500 million years for these stunning granite boulders to form, proving that all good things take time. Looking like they might topple off the cliff at any moment, Remarkable Rocks is truly a sight to behold. But you don't have to worry, these enormous and quirky formations aren't going anywhere in a hurry, so you can relax and weave your way through them. If you fancy yourself a photographer, the dramatic contrast of the red lichen of the rocks against the turquoise blue water makes for an extraordinary shot, guaranteed to be your pride and joy in years to come. Many people have said they didn't understand what made these unique boulders so special, until they saw them for themselves. You may even spot an echidna or two hanging around the area!

Image: Camille Helm
Admirals Arch
From Remarkable Rocks, it's just a stone's throw to the next unique attraction, Admirals Arch. It took thousands of years of erosion to create this magnificent jagged rock arch, closeby to the famous Cape du Couedic Lighthouse. You can reach the Arch by a boardwalk which is just as picturesque as the landmark itself, and once you reach the viewing platform, you'll be able to take your winning shot of the Arch. Obviously you can't wait to see more Aussie wildlife, and the viewing platform for the Arch is also an excellent spot to see the local colony of long-nosed fur seals. They spend the majority of their days lounging on the rocks, occassionally slipping off to dive for food. Remember to also keep your eyes peeled for dolphin pods, and whales if you're visiting during May to October!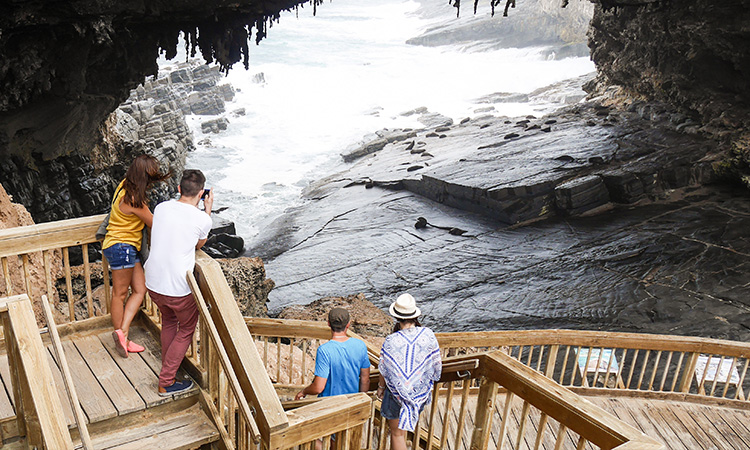 Stokes Bay
Now, your time on Kangaroo Island is slipping away, but there's still time to tick off another hidden beach from your list. Climb through a natural rock tunnel to Stokes Bay, arguably Kangaroo Island's best secluded bay of all. Wander around the crystal clear rock pools and keep an eye out for fish, crabs and water snails. Watching these little critters go about their business is quite mesmering, but don't lose track of time, there's still a whole beach left to explore. Part of Stokes Bay is protected from the surf by a natural barrier of rocks, making it an ideal spot for a quick dip, or just getting your toes wet, breathing in the salty air and taking it all in.

Image: Camille Helm
Homeward bound
All good things must come to an end, but as the sun goes down, there's still more to look forward to as you prepare to journey back to Adelaide. Relax and enjoy the scenic ride back to Penneshaw, where you can catch the ferry. There's time to grab an early dinner here, and enjoy your final indulgence of Kangaroo Island delicacies. With a full belly and a full heart, you can settle in on your SeaLink ferry and head back to Adelaide, leaving behind one last stunning sunset in your wake.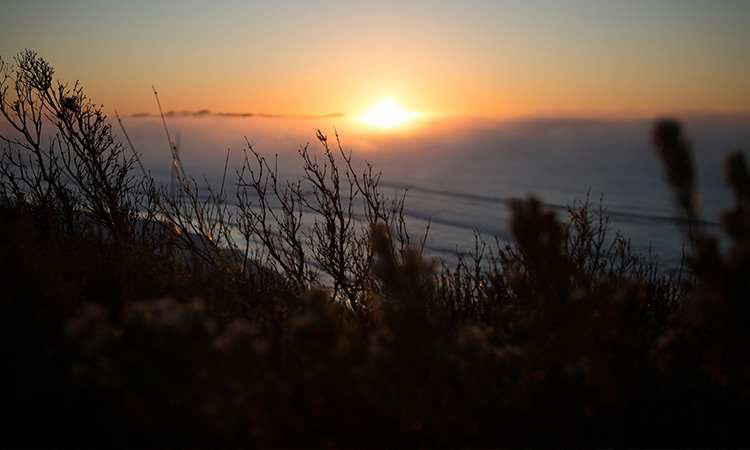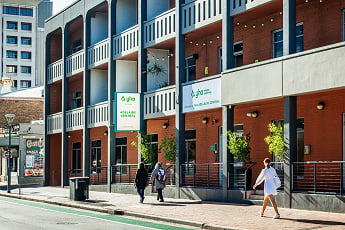 YHA Adelaide Central
Located in the heart of Adelaide, the chilled-out YHA Adelaide Central boasts spacious communal spaces & easy access to all the hotspots & events of South Australia's capital.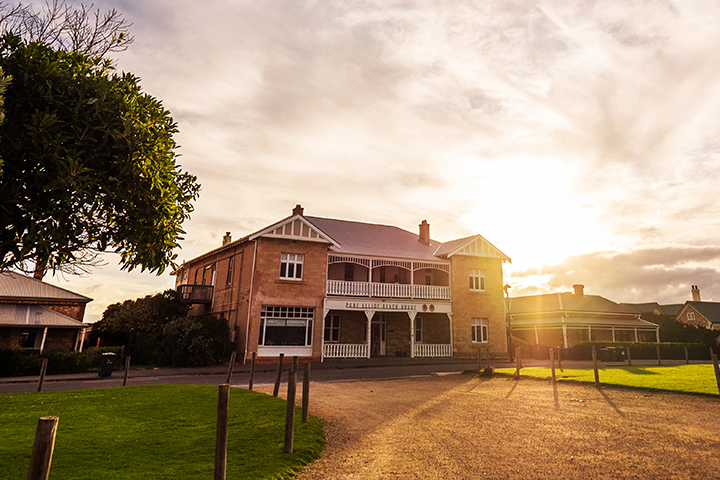 YHA Port Elliot
Located in a breezy, historic building and overlooking the calm waters of Horseshoe Bay on the Fleurieu Peninsula, YHA Port Elliot offers beautiful beach adjacent accommodation.