48 Hours in Melbourne
Planning A Whirlwind Weekend Escape? Tom Smith Discovers How To Make The Most Of Two Days In Melbourne.
DAY ONE
BREAKFAST
Start your day with a coffee at Dukes Coffee Roasters, just a 15-minute stroll down Flinders Lane from Melbourne Central YHA. Located in the community-owned Ross House, home to more than 50 small non-profits, Dukes takes sustainability as seriously as they take their coffee – the café is fitted with elegant recycled tiles and reclaimed timber, and a portion of their profits goes back to the organisations they neighbour. Seating is limited but try to snag a spot by the charming green-framed windows so you can watch the world go by with a speciality coffee in one hand and a scrumptious pastry in the other.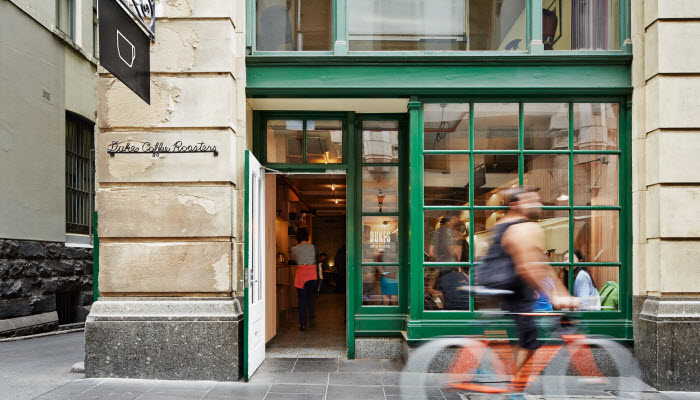 SHOP
As soon as you're caffeinated, head to two of Australia's most historic – and photogenic – shopping precincts: the Royal Arcade and the Block Arcade. Linking retail hub Bourke St Mall with Little Collins St and Elizabeth St, the Royal Arcade's Renaissance Revival style has remained virtually untouched since 1870, making it the oldest surviving arcade in the country – and don't forget to snap a pic of the mythical Gog and Magog guarding the clock at the southern entry. You'll find the Block Arcade on the other side of Little Collins St, boasting an ornate glass canopy that floods the intricate mosaic floor with light.
LUNCH
Sink your teeth into a taste of Paris at one of La Petite Crêperie's three locations across the CBD, each offering a self-proclaimed "arrogantly French" attitude. You'd be arrogant, too, if your food was this delicious – savoury galettes, fresh baguettes, classic crepes and plenty more finger-licking fare is dished up from a sit-down café in Hardware Lane and a converted newsstand on the footpath on Swanston St, a kiosk the owners describe as an "exquise crêpe bâtiment", or an exquisite crepe building. A new café in an alleyway off Gallaghers Place is also open on weekdays.
VISIT
Have your phone charged and your Instagram filters at the ready before you head to Federation Square, an eye-catching mass of geometric architecture that contrasts with the stately Flinders St Station and St Paul's Cathedral across the road. Museum buffs can pop into the Australia Centre for the Moving Image (ACMI) or the National Gallery of Victoria's Australian collection in the Ian Potter Centre – both free – while there's art of a very different kind on display in the nearby Hosier and Rutledge Lanes, dazzling outdoor galleries of street art caked in graffiti as far as the eye can see.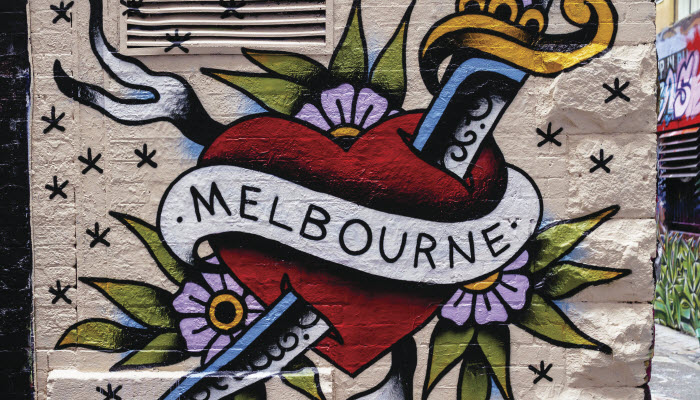 DINNER AND DRINKS
The murals of Hosier Lane are your backdrop for dinner at MoVida, the Spanish restaurant that sparked Melbourne's tapas craze when it opened in 2003. There's a long waiting list for a table but there are no bookings at its little brother MoVida Next Door, a more casual – and affordable – setting to sample the tastiest tapas this side of Madrid. After polishing off your body weight in chorizo and calamari, scale Curtin House on Swanston St for an evening of Rooftop Cinema, which screens films from December to April for those who can drag their gaze away from the lofty views of the Melbourne skyline. Fans of classic cocktails with an air of old-school refinement – think Mad Men, mahogany and Manhattans – should head north to The Everleigh in Fitzroy, voted No.25 in Drinks International Magazine's list of the World's 50 Best Bars for 2016.
THE FIVE MOST INSTAGRAMMABLE PLACES IN MELBOURNE
CENTRE PLACE
Close your eyes and imagine the quintessential Melbourne laneway – trendy locals sipping their coffees at Parisian cafes, buskers strumming their guitars for spare change, street art plastered across every spare inch of wall space – and that's Centre Place. Cross Flinders Lane for more of the same in Degraves St.
PONYFISH ISLAND
Descend the single staircase curling down from the Southbank Pedestrian Bridge to this picturesque bar floating in the middle of the Yarra River – a haven from the hustle and bustle of the city and a stunning spot for a snap with a bottle of Pony Fish Unlikely Lager in hand.
BRIGHTON BEACH
Melbourne's beaches can't compete with Bondi, Bronte or Burleigh Heads in the beauty stakes, but Brighton's bathing boxes provide just as good Instagram fodder. The 82 colourful wooden huts have stood for well over a century, retaining their original Victorian features behind a contemporary splash of colour.
STREET ART IN FITZROY
The bohemian streets of Fitzroy just ooze that unique Melburnian essence, right down to the striking murals peppered throughout city's trendiest neighbourhood. The backstreets between Brunswick and Smith Streets is particularly fertile soil for admirers of urban art.
EUREKA SKYDECK
Towering 297m above the streets of Melbourne, the Eureka Tower literally provides a bird's eye view of the Victorian capital from the 88th floor of the city's tallest building. Flash your YHA member card for 15% off entry, which starts at $20.
DAY TWO
BREAKFAST
Melbourne's famous coffee scene means you're spoilt for choice when it comes to breaky options, but the pick of the bunch might only be a 10-minute stroll from Melbourne Metro YHA in a converted warehouse in Carlton. Seven Seeds is a coffee nerd's idea of industrial-chic paradise – an on-site coffee roastery, retail space selling carefully sourced beans and cutting-edge brew gear, and specialty coffees imported from the Americas and Africa – but you don't need to know the difference between a macchiato and the fabled 'magic' to appreciate what's on the menu. Check out sister cafes Brother Baba Budan and Traveller if you need a caffeine fix in the CBD.
DO
Wander down to Queen Victoria Market – the largest open-air market in the Southern Hemisphere and a Melbourne institution since 1878 – to check out the fresh produce, gourmet food and hand-made handicrafts before heading south of the Yarra. If the sun's out, explore 38 hectares of landscaped gardens in the Royal Botanic Gardens, a tranquil green oasis in the shadow of the city's skyline. But if Melbourne turns on some of its notorious four-seasons-in-a-day weather, seek shelter in the National Gallery of Victoria– Australia's oldest, largest, most visited and cheapest (free!) museum.
LUNCH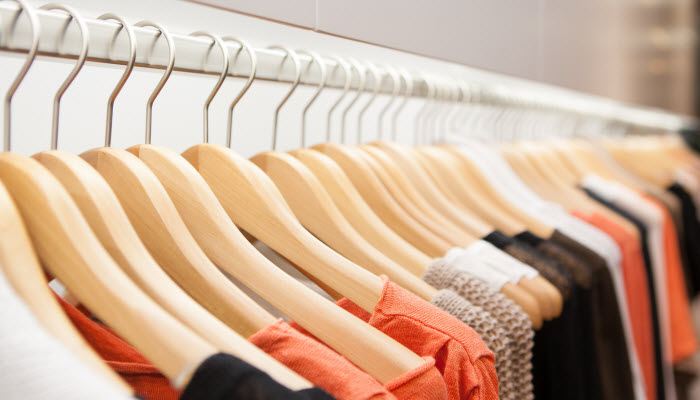 When shopaholics dream about heaven, chances are it looks a little something like Chapel St – a vibrant four-kilometre stretch of nearly 1000 shops, cafes, bars and restaurants running between South Yarra and St Kilda. There's no shortage of eateries to refuel after an afternoon of high-end boutique window shopping, but two gems are located just off Chapel St itself: the food stalls at the 120-year-old Prahran Market 200m away on Commercial Road, and Leonard's House of Love on Wilson St, which dishes up a feast of mouth-watering American-style burgers, hot dogs, chicken and vegetarian options.
VISIT
Leave room for desert, though, because St Kilda's Acland St is renowned for its cake shops – the oldest is Monarch Cakes, which has been baking traditional Eastern European sweets since 1934. Owner Nikki Laski runs the business with her brother Danny, sticking to the same recipes that made the trip from Poland to Australia 80-plus years ago – their cheesecake and gooey chocolate Kooglhoupf cake have a cult following among locals. Take your treat down to St Kilda Pier – not far along the Esplanade from Luna Park – to spot a little colony of penguins that appear 12 months a year in the breakwater after sunset.
DINNER AND DRINKS
Boasting a mammoth menu and a funky, uniquely Melbourne vibe on a street corner in the heart of St Kilda, Iddy Biddy Bar is the perfect place to end a busy day's sight-seeing with a pot of cool beer, some live music, and a parma so big it looks like it's come from an emu rather than a chicken – take your pick from inventive flavours like Mexican, tandoori and roast pumpkin. Sister establishment La Roche – an atmospheric venue with comfy leather booths surrounded by graffiti-covered exposed brick – is just a two minute walk away if you're in the mood to unwind with pizza and a monstrous milkshake, before the door-to-door No.96 tram back to Melbourne Central YHA.
FIVE SPORTING PILGRIMAGES EVERY FAN MUST MAKE TO MELBOURNE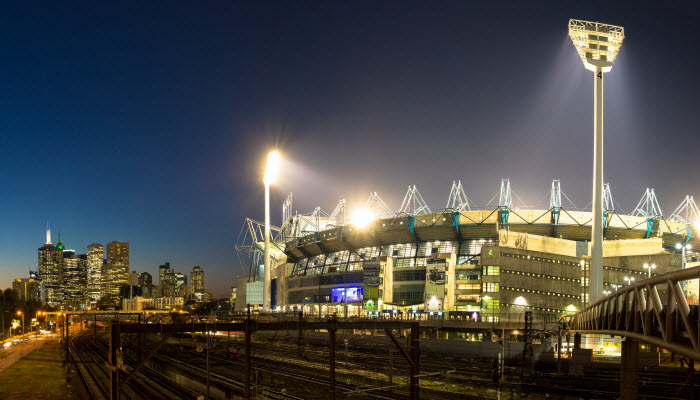 AFL
If there's one thing Melburnians take more seriously than coffee, it's football – the city's cultish sporting obsession that fills the Melbourne Cricket Ground every weekend from March to September. You'll certainly know if you're in town for a big game, when thousands of fans pour out of Flinders St Station donning the colours of their footballing tribe before worshipping at the altar of the G. afl.com.au
CRICKET
When the weather warms up it's time for cricket to move into the 100,000-seat sporting cathedral – and the biggest day of the season comes on 26 December, when Melbourne hosts the Boxing Day Test. This year Pakistan shares the stage with the Australian team, while the burgeoning Big Bash tournament and other international games will also rock the MCG's foundations. cricket.com.au
TENNIS
The eyes of the sporting world turn just next door to the G for two weeks each January when Melbourne Park holds the Australian Open, bringing a galaxy of stars to Rod Laver Arena to duke it out for their share of US$50 million prize money at what is now the richest tennis tournament on the planet. event.ausopen.com
FORMULA ONE
Melbourne comes alive with the sweet, sweet smell of burning rubber for one weekend each March as the F1 Grand Prix roars into town for the season-opening event around Albert Park Lake. In 2017, the GP takes place on 26 March, when knock-about Aussie star Daniel Ricciardo will aim to toast a win on home soil with one of his famous 'shoeys'. grandprix.com.au
SPRING RACING CARNIVAL
With all the fashion, food and frivolity that fills Flemington, Caulfield and Moonee Valley each October and November, it's easy to forget there are horses running around on the track – but the Spring Carnival in Melbourne brings together the finest thoroughbreds from around Australia and the world for the enjoyment of hundreds of thousands of punters. springracingcarnival.com.au
WHERE TO STAY
+61 3 9621 2523
+61 3 9329 8599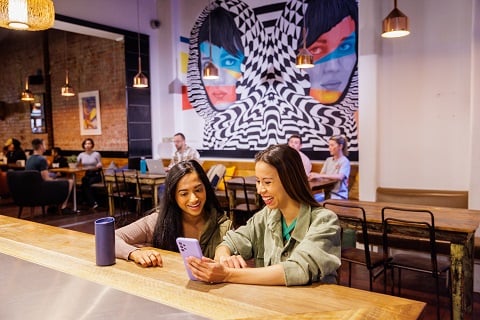 YHA Melbourne Central
Tucked between the downtown Melbourne highrises and with trams on its doorstep, this heritage-listed YHA is the perfect platform for exploring Australia's trendiest city.