5 Reasons why you should Head to the Blue Mountains
The Blue Mountains are the perfect city escape, just a train ride away from Sydney. Discover our award winning Katoomba YHA and catch a taste of the mountains arts and culture
1. CATCH UNIQUE LIVE ACTS
Rapidly becoming a home for up-and-coming artists, as well as established musicians of all kinds, mingle with creatives of all sorts in Katoomba. Known as the first 'city of the arts,' there's always a gig to be discovered in the Blue Mountains. Wander down the main street on a Friday night to stop in at an open mic night, or head to le Salon Grand for a taste of great music in an even greater location.
2. MEET THE THREE SISTERS
A must-visit for any mountain trip and a short bus ride or walk from the Katoomba town centre, head in early to catch the sunrise climbing above the mountains and morning fog. Catch the route 686 bus for a loop around all the best spots in town, or walk straight from the hostel to the sisters' to get your steps up, and save that bus money for a bevvie!
3. SUPPORT YOUR LOCAL
Our rural communities are still emerging from the affects of fire & droughts in this wide brown land. With the much of the country still in drought and with hopefully scary bushfires behind us, it's more important than ever to get off the beaten track to support our local businesses! You'll find homemade goodies at the Blue Mountains Food Co-Op, pick up a vintage bargain at the amazing op-shops around town, and use that $$$ you saved walking to pop into the Station Bar.
4. GO CHASING WATERFALLS
There's a special kind of thrill when you're bush bashing to hear the incredible sound of a waterfall. With no shortage of hidden waterfalls and natural pools around Katoomba. Even if it's too chilly to jump in for a dip, simply watching these stunning falls in action is enough to wash your worries away.
5. UNLEASH YOUR INNER ADVENTURER
If you've ever wanted to ride on the worlds steepest railway while the Indiana Jones theme song blasts over the speakers, or look down through a glass floor to a ravine nearly 270 meters below, now's your chance. Pack your best wide brimmed hat, bring along some courage, and head straight to Scenic World for views you won't find anywhere else.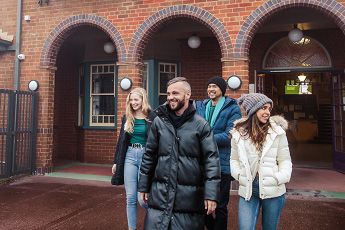 YHA Blue Mountains (Katoomba)
This historic lodge located right in the middle of Katoomba is as cosy as it is hospitable. Escape the city and make it your base for your next outdoor adventure.