5 Weekend Breaks in Brisbane
Restrictions are easing and exploring the great city of Brisbane and its beautiful surrounds is the perfect way to spend a weekend without breaking the bank. Sit back, relax, and check out our fave experiences in Brissy
1. SOAK UP THE RAYS AND SUCK ON FROSTY FRUITS AT THE SOUTHBANK PARKLANDS LAGOON
The beautiful parklands are 17 hectares of riverfront walks and natural wonders right in the heart of the city. There's cafes to warm your bones on chilly days, and BBQ's to cook up your own feast as the sun sets, even free wifi to download some great tracks to set the soundtrack of a wonderful day out.
2. GET BACK TO NATURE WITH A SCENIC HIKING TRIP, SPRINGBROOK NATIONAL PARK IS JUST A 2 HOUR DRIVE FROM BRISBANE CITY. THE BREATHTAKING SCENERY IS WORTH THE HIKE ALONE.
Okay, this isn't *quite* Brissy, but with views like these, it's worth the drive! If you're heading in from out of town, why not add this hike to your drive back... all that's waiting at home can wait an extra few hours!
3. CHECK OUT THE FREE EXHIBITIONS AT THE SCIENCENTRE OR ART SHOWS AT GOMA
They're back, they're opening, and oh my goodness we're excited to visit the amazing museums and exhibitions run for free across the city. Make sure to check the old interwebs before planning your visit, as hours change and you may need to book your visit to avoid missing out.
4. GIVE THE RAMEN A REST AND VENTURE OUT TO THE FARMERS MARKETS ACROSS THE CITY. YOUR NEW FOUND MASTERCHEF SKILLS WILL HAVE YOUR TRAVEL BUDDIES SUPER JELLY.
Our hostel kitchens are cleaned multiple times a day and have space so you can cook up a storm from a safe distance, meaning you can cook to any dietary requirement and any fave meals without any hassle. While you're at it, you may as well enjoy a rooftop meal, just head up top at Brisbane City YHA!
5. NOW THAT YOU'VE JUST FINISHED THAT WHOLE PACKET OF OREOS AND YOUR FOURTH EXTRA SHOT CARAMEL LATTE IT'S TIME TO DUST OFF YOUR SNEAKERS AND GET PEDALLING! HIRE A BRISSY CITY BIKE FOR A DAY AND EXPLORE THE CITY, AND GET FIT WHILE YOU'RE AT IT
What better way to explore a city than by bike! Get ready to discover new locations off the planned route, and follow Brisbanes network of cycleways, which you can check out here. Free workout while you go on an adventure? Sounds great to us!
Now that you've got a plan of how to spend your weekend, the question is where you'll stay! Choose between our stunning Brisbane City YHA, in the heart of Brissy, or head a little further out for an island escape at Stradbroke Island YHA.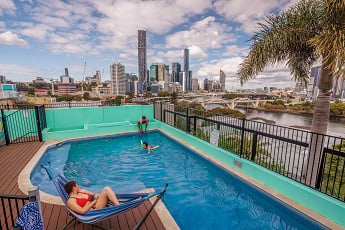 YHA Brisbane City
Nestled in Brisbane's traveller precinct and within walking distance of Suncorp Stadium, this buzzing, diverse inner-city YHA boasts a rooftop pool and bar.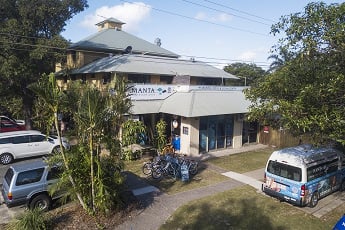 YHA Stradbroke Island | Manta Lodge & Scuba Centre
YHA Stradbroke Island is a hostel and scuba dive centre providing beachfront traveller accommodation with a friendly and relaxed atmosphere.