A Baguette For My Basket
Food in France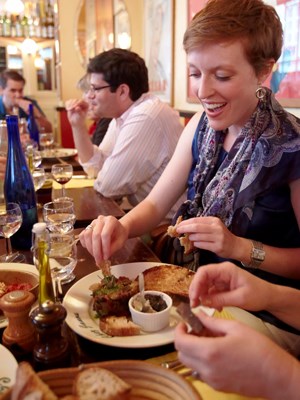 Food in France is an adventure of its own, writes Ewen Bell. You can travel the country from end to end without leaving the cheese shelf of a supermarket. Fine dining can eat into your stash of Euros very quickly however, so here's a few suggestions on keeping a lid on the budget without skimping on those divinely French flavours.
"The French paradox" is a mystery to me. Travel in France is surrounded by rich foods that are fattened for flavour, delightfully dairy or sweeter than sugar. I tell myself I won't have a big meal and hours later I'm walking out of a brasserie full to the brim. It's impossible not to eat with abandon, and then keep eating.

After 6 weeks in France I thought I'd have to buy a second seat on the plane, but instead I lost weight. Really. Long summer days and busy sight-seeing schedules might make a difference. Being an active traveller in France is certainly better for your health than sitting on a coach watching castles go by. But there's more to it than that.

Quality counts with French cuisine. A duck farmer in the Dordogne once told me, "Small is good, slow is good". Little morsels of amazing flavours are what the French adore, so washing down a bit of goose fat and rabbit terrine with a bottle of wine is something to be savoured, slowly. The French are in no hurry to enjoy their food, preferring to indulge with their time and taste. Life is too precious to waste a chance for a long meal, extended conversation and a carafe wine.

Wine is the food of conversation. Little wonder you can walk into any supermarket in Paris and buy a bottle of red for under 3€, and still enjoy drinking it.

In a restaurant that same 3€ gets you a glass instead of a bottle. A glass of wine will rarely suffice for a fully French experience, and that can make trouble for your budget long before you get to the digestif. Dining French means to sample a catalogue of wines and pop a few morsels of sustenance between each glass.

At the very least a small aperitif before eating can become quite habit forming, if only to kick start your appetite having over-eaten at lunch. Originating from Burgundy but appearing on menus all over France, the classic "Kir" is a mix of Aligoté white wine and a dash of blackcurrant liquor, crème de cassis, selling for about the same as a glass of Coke.

If fine wines are the mark of fine dining then the humble apple cider is the mark of cheap and cheerful. Crêperies all over the country serve savoury galettes for lunch and happily provide copious amounts of alcoholic cider to wash it down. Lunch specials give you a two course meal with cider for under 10€, but I was rarely satisfied with just one bowl. That's right, a bowl of cider. Swilling fermented apples from a big bowl is one of life's most sociable of hedonistic pleasures and I highly recommend it.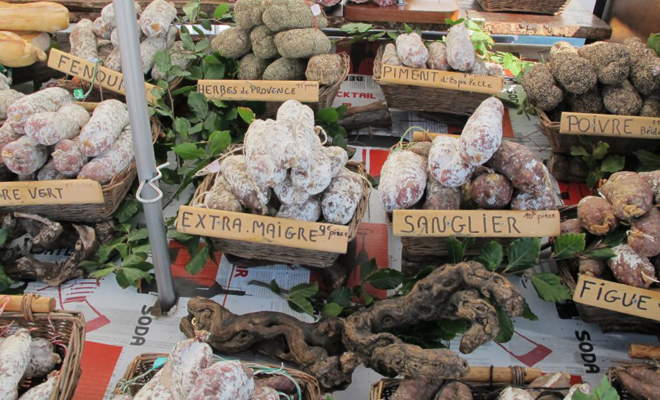 BALANCED BUDGET

Dine on 10€ a Day

The basics in France are affordable. Wine costs under 3€ a bottle at the mini-marts and a block of fresh cheese at the fromagerie is even less. Terrines are a great way to add variety and flavour to the budget baguette, from 2€ a pack, and fresh produce like berries and stone fruit are cheaper than a bag of chips on market days.

Best meals for 10€

Don't walk too fast past the lunch specials in France. 10€ in a Brasserie can get you a bucket of mussels cooked in garlic sauce, a glass of wine and a visit to the buffet section. Man cannot live on baguettes alone.

Stars in my Soup

Michelin star restaurants are something of a treat for backpackers but you'd be surprised how affordable they can be at lunch time. La Gambetta in the Loire Valley has two stars to its credit but does a 19€ three course meal to tempt the taste buds. Sample the flare and flourish of the full menu and have change left over for dinner.

WHAT'S IN THE BASKET?

The best day to fill your picnic basket is market day, when the freshest and cheapest goodies are in abundance. It's also easier than wandering around town looking for specialist vendors with similar quality.

Chevre – Goats cheese in France is a broad collection of styles, but the very young and very soft versions offer a light flavour and negate the need for butter on your bread. Imagine something between ricotta and bocconcini then add a local twist to the flavour.

Rillet – Produce markets always have a vendor selling pate, terrines and rillet. Slow roasted meat from rabbit or goose are topped with foie gras or other fatty treats then preserved in the jar. The goodness is sealed inside and eaten cold on bread.

Cider – This is not your average bottle of fruit juice, a bit bubbly from fermentation and about as much alcohol as a bottle of beer. The sweetness of apples help balance and refresh the palette after all that foie gras. Brittany makes the best cider though any crêperie or supermarket in France will have a range to choose from. Save the wine for diner.

Strawberries – Berry stalls don't just sell a range of summer fruits, they even get particular about the varieties of the strawberries. Like grapes and wine the berries are claimed to change flavour with the 'terroir' of the soil. Try before you buy and pack a punnet of your preference.

Macaroons – Patisseries in rural France are places of delicate treats, and none are more delicate than an almond and coconut Macaroon. They come in dozens of flavours ranging from fruity to indulgent. The key to a good macaroon are two perfectly shaped domes, sweet but subtle on the tongue and so light you'd think it could float on air.

WHERE TO STAY

YHA in France has a great range of hostels all over the country from ski chalets in the French Alps through to medieval buildings and castles – there are over 200 hostels to choose from to complement your culinary journey. Go to hihostels.com or fuaj.org (French site).

A little further up the culinary chain are the Brasseries. The formula is simply a meal with fries and salad and you can spend more on the drinks than the food. Croc Monsieur or a bowl of Mussels are commonly seen on the menu, but they look a lot like value when the lunchtime specials are on. Keep an eye out for deals under 10€ for main course, a glass of wine and a trip to the salad bar.

In Alsace they have more Winstubs than Brasseries, and like many things in the region it feels more German than French. Heavy wooden interiors and a cosy ambience are what you can expect inside. A typical Winstub menu is filled with fortifying dishes where potatoes, cheese and creamy sauces get more attention than the salads. The wine list is usually better value than the food, provided your preference is for Reisling or Pinot Blanc.

Travelling through Provence is the opposite of Alsace. Here they have a distinctly Mediterranean feel about their cuisine with lots of light seafood, fresh olive oil poured over anything and an obsession with outdoors dining. The best food for travellers is often found at local Auberges, or guesthouses. Serving fresh and affordable meals is a great way to get known amongst the backpacking community. For the same price as cake and a coffee in downtown Arles you can get a satisfying feast at a friendly Auberge.

Salads are a speciality, with a small mountain of greens topped with seafood and other fancy treats that will fuel your adventures for the rest of the day.

In any of the rural regions of France, or the neighbourhoods of Paris, the local markets will always offer the best value for food. Streets filled with stalls are a part of daily life for residents and a bonus for travellers. Where ever you are in France just get online and Google "marche" alongside your neighbourhood and find out which days you can shop for a picnic.

When the market comes to town they block off entire streets and let the stalls and crowds take over. Residents rely on these markets for their weekly shopping so you're getting a taste of the local culture as well as the local flavours. Most of the good stuff is fresh produce that works better in a kitchen than a picnic basket, but you'll also find lots of ready to pack items. Fresh bread from the boulangerie, cakes and sweets from a patisserie, sliced meats from the charcuterie and speciality cheeses from the fromagerie.

It's like having the entire town come to one spot so you can fill your basket. Most markets even have a macaroon vendor selling their light and bright treats much cheaper than the boutique shops around town. I met a lady selling raspberries and blackberries in one town, and two days later saw her again in another town selling a variety of strawberries and redcurrants. Her range of sweet berries depends not only on the season, but on which farms she drives past on her way to that market.

Try before you buy is the name of game, so sampling olives, berries and biscuits helps inspire an appetite before you even start the picnic. A bargain lunch for two people at a Brasserie will cost you 20€, but for the same prince you can buy a whole days worth of delights at the market. And if you don't already have a basket in the backpack you can get one for 10€ at the market as well.

In France they believe fresh is good, and with a basket full of local fare you'll believe it too.