Adelaide Festival 2020: Family Guide
Ah family outings. They are the best of times, the worst of times... thankfully we've got all you need to make your Adelaide Festival trip your best family holiday yet!
ADELAIDE FESTIVAL
The main festival that surrounds all the other festivals, get your culture hit and see some of the best artists and musicians in Aus over three weeks of incredible, immersive experiences to keep all ages entertained and excited.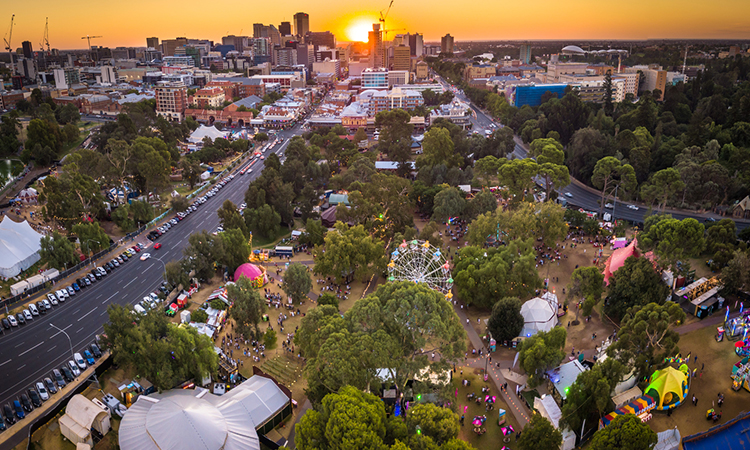 South Australian Tourism Commission, Joshua Pathon
Adelaide Festival's 60th Birthday Concert, 29 February
The Adelaide Festival Concert is back this year, with legendary Tim Minchin leading this free show. There will definitely be some naughty words coming from the kind-hearted musician, so you may want to have your hands at the ready to cover little ears, but expect a tune or two from Matlida the Musical (with songs written by Minchin,) and some laughter guaranteed.
Bring along a picnic rug and plenty of snacks to keep even the hangriest person laughing along to a hilarious night of music. This is a alcohol-free event, with plenty of space on the oval for a little boogie along to the music.
A Doll's House, 28 February – 15 March
Australia's public art elder, John Kaldor, has been forming stunning interactive artworks for decades, and he does not disappoint with this custom made doll house. Walk into a life-sized dolls house that you can touch and feel, Kaldor's interactive artworkss have been inspiring Aussies of all ages to connect with art in new ways. The exhibit is also right in the heart of Rundle Mall, so you won't need to wander far to stare in wonder in awe at this strange and surreal home.
The Lighthouse, 25 February - 7 March
Another fully immersive art installation, The Lighthouse is described as 'part installation, part scientific quest, part rave,' and that's ticking all the boxes for us! Bookings are essential as you're guided through five rooms with light installations, flickering pixels, musical performance, all created to be interacted with. Paint with light and move your body to the sound of strings all while in mall groups over a 1 hour tour.
FRINGE FESTIVAL
The funky sister to the main event, fringe is where you'll find up-and-coming artists, cheap as chips tickets, and everything strange, magical and wonderful.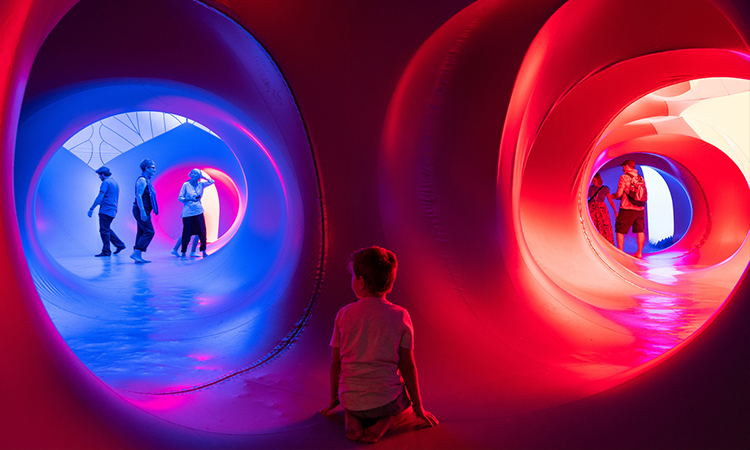 South Australian Tourism Commission, Grant Hancock
Best Of Adelaide Fringe: Kids and Family Selection
Plonk the kids down and let the team from Laughing Horse Comedy (of the Edinburgh & Brighton Fringe,) entertain with a different line-up of comdians, sketch acts, street-performers, magicians and a whole bunch more all performing for a younger audience. Selected throughout the week to perform, this tailor-made hour of fun runs from 4-5pm each Saturday, so you can head off to grab a bit right after it wraps up with no hassle at all!
Missed the Dodecalis Lumarium in Sydney Festival? Experience Adelaide's answer! The incredible inflatable dome will transport you to a place where time and colours shift and change meaning the longer you spend inside. Running the duration of the festival, the Luminarium is the perfect way to fill some spare time for a truly immersive experience.
80 Days: A Real World Adventure
A fully immersive and interactive race against time across the city, 80 Days gives you 80 minutes to solve puzzles, meet strange and exciting character, and race to meet the train before it departs with the final solution to the puzzle! If you've got some younger ones, you'll need to give them a helping hand every now and again (you need a smartphone to play.) With plenty of excitement to be found in this adventure, this all-ages adventure is too good to miss!
If you have an Concession Card (and yes that includes school student cards,) you'll get discounted tickets at this event, so make sure to have some ID on you to save that $$$ for a snack later!


WRITER'S WEEK
Just in case two festivals running at the same time wasn't enough to fill your schedule, the Adelaide Writer's Week runs from 29 February – 5 March, with a Kid's Day on 29 February. Not to get you too excited, but Andy Griffiths (of The Day my Bum Went Psycho fame) is headling with an interactive 130-Storey Treehouse session!
Andy Griffiths, The 130-Storey Treehouse, 29 February. Kicking off at 9am, giant fighting robots and marshmallow machines are taking over the Adelaide Writer's Week main stage to celebrate the absolute joy found in good Aussie kids fiction. Andy's here to take your questions, and drop some secrets about the forthcoming 130-Storey Treehouse.
Right after Andy heads off stage, Julia Donaldson and guitar-playing husband Malcolm join with their friends for a show filled with songs, dance, and storytelling. Head into the deepest darkests woods with The Gruffalo, celebrate with Zog, and get out-of-this-world with The Smeds and the Smoos!
Amie Kaufman, Space Nerds, 1 March. For older readers interested in all things young adult and science fiction, Amie's here to talk about her award winning novels - as well as geek out about how cool space is with Audrey Mason-Hyde. In her not-so-spare time, Amie is also an actor and spoken word poet, so if you're lucky, you might get to catch a performance or two during the session.
WOMADELAIDE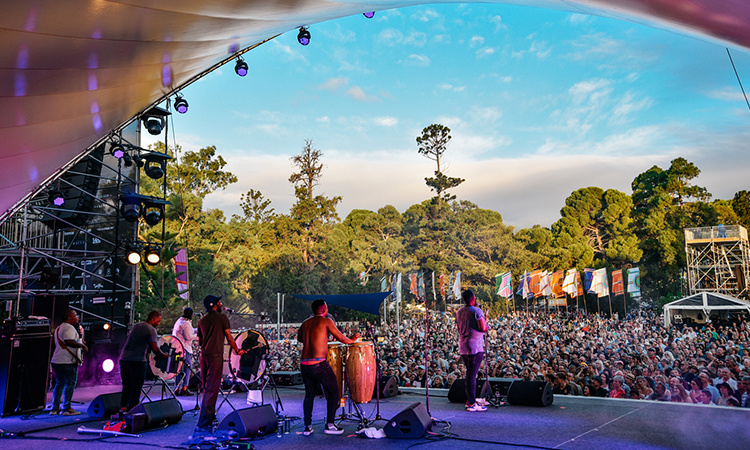 South Australian Tourism Commission, Jack Fenby
If you haven't heard of WOMADelaide, where have you been?! This iconic festival has a great line-up, as always, celebrating music arts and dance. Catch Aldous Harding, Briggs, Odette, Kate Miller-Heidke and so many more stunning acts over four stunning, inspiring days, and the best bit? There's a dedicated Kidzone where the littlies can play without needing to miss the best acts. All of this...just a short trip from our Adelaide Central YHA!
Book a private Family Room at Adelaide Central YHA for as little as $93, per person, per night, with our limited time 3 Night Special, only on sale until 15 of March. Valid until 20 December, there's plenty more to explore, so buy now and plan later!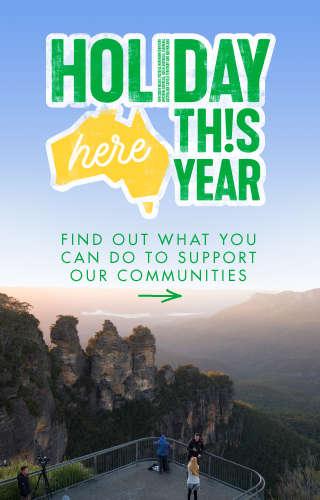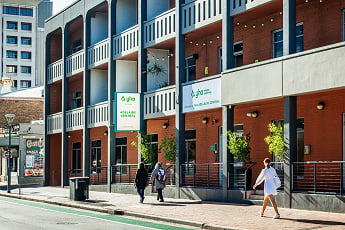 YHA Adelaide Central
Located in the heart of Adelaide, the chilled-out YHA Adelaide Central boasts spacious communal spaces & easy access to all the hotspots & events of South Australia's capital.