Africa's Eden South Africa
Uncover the truth about one of South Africa's most beautiful regions. By Shaney Hudson
The road ahead is blocked.
"Traffic problem" announces our guide, smiling. We crawl forward in single file, then stop. It's a Mexican standoff in Africa, and the rhino obstructing the path isn't going to budge.
I had to laugh. Never in my wildest dreams did I expect to get this close to the animals I'd only ever seen on the Discovery Channel. Yet during my two-hour game ride at Plettenberg Bay Game Reserve, I'd seen zebra, lions, buffalo, giraffe, crocodiles, hippo, wildebeest, antelope and a rhino with road rage. And this was a quiet day on the Garden Route: South Africa had so much more in store for me.
I can admit that before I travelled to South Africa, I had a bundle of misconceptions - that it was difficult to travel independently there, that it was expensive, that it was dangerous. Instead, I found some of the best backpacker infrastructure I've ever experienced. The hostels have excellent facilities; transport services, like the door-to-door Baz Bus, are super convenient, and it's a little known fact that the place is marvellously inexpensive.
And whilst you do have to be cautious in some areas, the beauty of the Garden Route is that it's one of the safest places to travel in South Africa. Although it officially starts at Mossel Bay, most travellers set out from Cape Town to tackle the section that stretches to Port Elizabeth.
My first destination is Nature's Valley, near the Tsitsikamma National Park. I'm staying at Wild Tongue HI, a unique farm-cum-backpackers' complete with a free range horse who wanders into the house to say hello. As well as being home to a charity set up by an ex-guest, it's central to a number of wildlife sanctuaries, which offer hands-on animal experiences.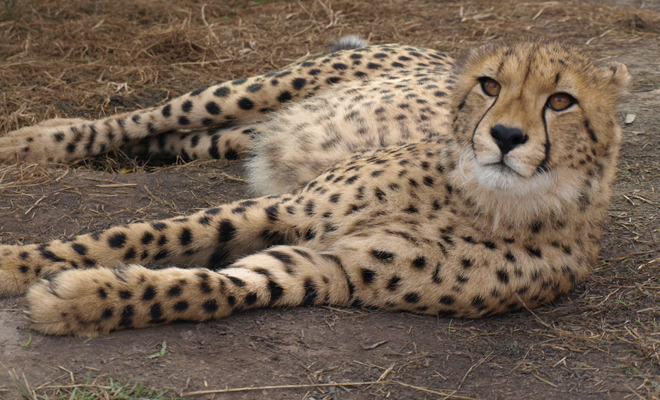 At Tenikwa Wildlife Awareness Centre, I meet Chester, a fully grown male cheetah. I'm thrilled to run my hands over his coarse, caramel fur, freckled with a cheetah's trademark black spots.
At the suggestion of his keepers, I let Chester set the boundaries for our interaction. As I scratch a spot on his chest, he begins to lick my hand. And then amazingly, he starts to suckle on my thumb. It's one of those classic experiences where I forget to even bother with the camera and simply absorb the wonder of the moment.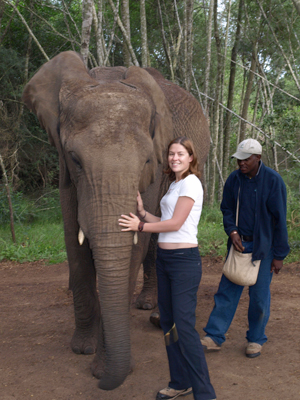 The next day I upsize my animal encounters at the nearby Elephant Sanctuary. I'm able to stroll hand-in-trunk with a fully grown elephant, but things go pear-shaped during feeding time.
Somehow, I'm the only person left in my group holding pieces of chopped apple, the elephant equivalent of fairy floss. I feel like Santa being mobbed by oversized kids as three greedy trunks jostle for their share of the loot.
Great White encounter
And just when I think the expression 'hands-on' has been pushed to the limit, I almost lose my fingertips to a Great White Shark at Gansbaai.
Clinging to a cage in freezing cold water, we hear the skipper yell "shark left" and dutifully duck under. Emerging from the murky depths, the three-metre Great White ignores the baited line and comes straight for us.
I shrink against the back of the cage as he presses up against the wire mesh. The shark's nose edges through into the cage, and he opens his mouth to reveal triangular teeth. I'm eye to eye with a Great White Shark at a distance of less than a foot. It lasts for just a second but it's an image frozen in my mind forever.
The Garden Route offers a number of other activities to get your heart (and your visa card) pumping. The best of the lot is bungee jumping at Storms River. At 216 metres, it's the world's highest commercial bungee jump.
Waddling up to the edge with my legs bound, it's hard to imagine what compelled me to want to jump off a perfectly good bridge. The crew count down from five, and I dive off, arms flailing. It's a nine second freefall and I scream every inch of the way. It's terrifying, but I come up feeling freer than I've ever felt in my life.
Keen to catch some sun, I push on to Jeffrey's Bay. After a late night arrival at Island Vibe HI, I pass on the party thumping in the bar and fall asleep to the sound of waves crashing outside. I wake to a spectacular pink sunrise and realise the hostel is actually right on the beach, with a view curving down the coast at one of the world's most revered surfing spots.
Unfortunately, the waves are closing out, so I go in search of another activity. Having had my fill of adrenalin, I pass on kite surfing, sandboarding and dune riding, and instead opt for a township tour in the Black community of Tokyo Sexwale.
Poverty is a frustrating reality in South Africa. Along the Garden Route, you'll pass Stepford-like gated communities and, a hundred metres down the road, a Black township consisting of makeshift scrap metal dwellings.
Most hostels offer a township tour in their local community. A standard tour involves a visit to a school, a meeting with a sangoma (witch doctor), and a tour of community projects, then finishes at a shebeen, or bar.
For me, taking a township tour was uncomfortable, as I had to weigh up my unease at the voyeuristic nature of visiting a Black township against my desire to understand another part of South Africa from which I was largely sheltered as a tourist.
And halfway through taking a gulp of pink, fermented homebrew, I was put on the spot. Why, some locals I was sitting with asked, did I want to visit a Township? It was a fair question. With the translation of my guide, Cas, I stammered that I wanted to better understand how all people live in South Africa.
"And" I cheekily added, "I heard the homebrew tasted good".
Whilst facing such stark poverty is difficult, it's satisfying to know that your backpacking dollars make a difference. Most YHAs in South Africa support their local communities by funding schools and drop-in centres, facilitating volunteers in local projects, being fair trade accredited, or by simply organising soccer matches between backpackers and local kids.
After a few days I head back down the Cape, breaking up my trip at Stellenbosch, a Dutch colonial town with a thriving night scene. Roughly the same distance from the main airport as Cape Town, it's the best place to sample the country's world-renowned wine.
I book an Easy Rider wine tour through the aptly named Stumble Inn HI and visit some of the quirkiest wineries I've ever seen (think goats in castles, eagle rehabilitation centres on site, and very overweight cats), quaffing quality wine along the way. We devour delicious springbok stew for lunch, the Australian rugby faithfuls amongst us noting that this would be the standard practice come next test between the two nations.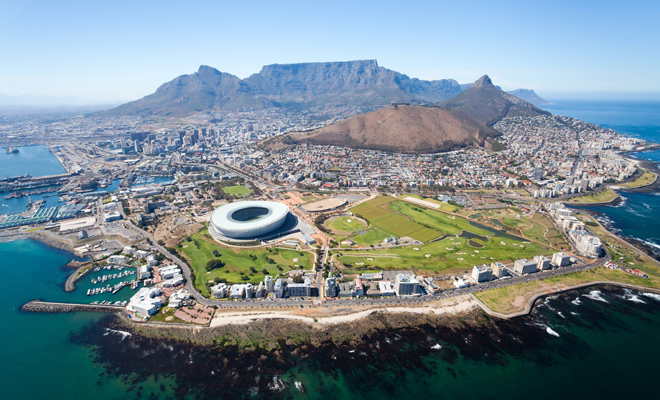 With time running out, I head back to Cape Town and settle in at The Backpack, a classy HI in the centre of town. Unfortunately the weather has beaten me, ruling out planned trips to Table Mountain and Robben Island.
Instead, I spend my last day bushwalking at the Cape of Good Hope, where I'm almost swept away by the legendary winds. Zebra graze on the plains, seals play in the water, and penguins waddle past us just metres away. I'm fairly satisfied with my day, but South Africa has one last surprise in store.
As dusk falls, our driver pulls over. Piling out of the van and dodging four lanes of traffic, we run to the water's edge. Just fifty metres offshore, two Southern Right Whales are circling with their baby. The first whales of the season, they've migrated all the way from Antarctica.
A small group of strangers has gathered together to watch the spectacle, and we all laugh and share binoculars and small talk.
"It's a long way to come, all the way to South Africa", I overhear someone say.
Smiling to myself, I think 'It's worth it'.