Art Deco Dazzle
New Zealand
Fashionable folk turn out in hundreds driving vintage cars and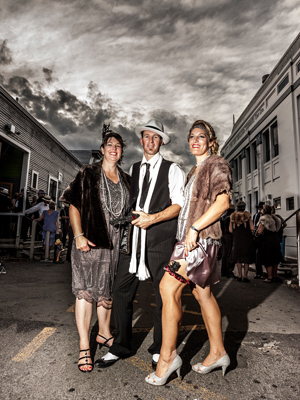 pedalling penny farthing bicycles. The ladies stroll along Tennyson Street in fox-fur stoles and feather boas. Revellers sip Hawke's Bay wines amidst the buildings' ice-cream coloured façades of a bygone era.
This is the beating heart of New Zealand's Art Deco scene—Napier—and I'm in perfect character for the annual Art Deco Weekend. I've long had a love affair with this small North Island town's architectural throwback to the 1930s. This was a time when our forebears faced hardship, a Depression and social change with a brave face while listening to jazz, watching Hollywood musicals and celebrating life. And the festival brings it back into full colour.
Following a devastating 7.8 earthquake in 1931, Napier was rebuilt and recreated. I'm grateful the 'new' buildings were built in the architectural styles of the times as I too stroll Tennyson Street through a fusion of sights and sounds: guys in waistcoats and trousers, gals in ankle-length frocks and pavement vocalists competing with brass bands on each street corner.
I slip away from the bustle and join an Art Deco city tour. Our group begins at the Municipal Theatre. Stepping inside there's a fête of leaping nymph panels, chrome speed lines and neon lamps. The decor overwhelms me.
The Daily Telegraph building is Napier's most flamboyant and we study its sunbursts, zigzags, fountains and ziggurats like the tiered towers of the Babylonians. After dark I am drawn to the Colonnade, Sound Shell, Fountain and Pania of the Reef statue, which is an illuminated fantasy world.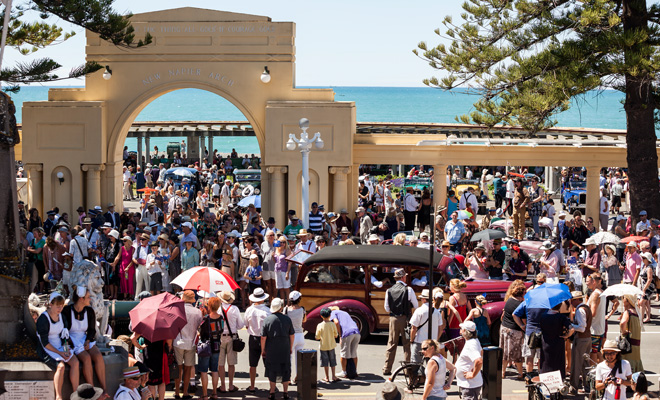 Inside Napier's three city blocks – from Marine Parade to Clive Square, Tennyson, Emerson and Hastings streets – are 140 well-preserved buildings that stand tall beside Manhattan and Miami Beach as the best commercial Art Deco precincts in the world.
While Napier is the Art Deco capital of New Zealand (and some say the world), there are countless other Art Deco buildings tucked down lanes and peacocking on street corners, old buildings given new purposes in many of New Zealand's cities and towns.
I pack my waistcoat and striped blazer back into my suitcase because the Napier festival only whets my appetite. I embark on an exploration of all things Art Deco. My next stop? Auckland.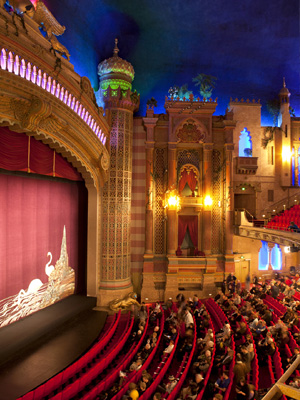 The Civic Theatre is elaborate and lavish. It hosts musicals, concerts, comedy, theatre and films most weeks of the year. It was purpose-built for the newfangled 'talkies' that had just appeared in New Zealand. I arrive early for my show to absorb the Indian temple-inspired foyer, statues and jazzy motifs. I sit spellbound in the Arabian Nights-themed main theatre, its domed ceiling decorated with needle-sharp stars representing the New Zealand night sky in April.
My next stop sees me swept along by the lunchtime crowd after setting out from the curvaceous Oriental Bay Band Rotunda in Wellington. Wellington's compact CBD is ideal for walking tours and I follow the Art Deco Heritage trail that takes me past the faded opulence of the old James Smiths and Free Ambulance (now St Johns) buildings to the City Art Gallery (originally the Wellington City Library). Back on Lambton Quay, I'm the only one in the crowd looking up at the streamlined, V-shaped facade of the MLC building which has had numerous incarnations including a Presbyterian church and a hotel. I walk with a destination in mind — the city's best known Art Deco landmark: the Railway Station. About forty thousand travellers and commuters hurry through the station's grand entrance and between the eight Doric columns every day.
The last stop on my tour bears similarities to my first. Just as Napier was reborn following the earthquake in 1931, Christchurch on the South Island is now experiencing its own rebirth following earthquakes between 2010 and 2011. Many heritage buildings were damaged. Some are being saved, others demolished to make way for new, modern architecture.
It is New Regent Street that draws me. Dissected by a tramline and lined with pastel-hued shops, the pedestrian street was built in the Art Deco Spanish Mission style. The street and shops were closed for over two years after the earthquakes, but have since been repaired, strengthened, reopened and reborn.
I enjoy a coffee alfresco on New Regent Street and I think about this living history. These buildings were built during a time when people were worn down from hard times but still dancing the Charleston. Eighty years later, New Regent Street was restored to its 30s glory, propelled on by Cantabrians who were earthquake weary but who refused to walk away. Recognising this past and present connection makes my coffee taste all the better.
South Island
Ranfurly moved from sheep to chic when the town pushed for refurbishment of 40 of their Art Deco gems in 1999. A highlight is the Centennial Milk Bar which was once earmarked for demolition but now houses an Art Deco museum. Ranfurly is a beacon of rural reincarnation in the heartland's tussock landscape.
The West Coast town of Westport seems an unlikely spot to find building styles born in Europe and America, but the Buller County Chambers has a classic Art Deco facade that was featured on a postage stamp in 1999.
Dunedin shows less evidence of Art Deco design as the city's significant buildings date from the 1860's gold boom. But the Toitu-Otago Settlers Museum http://www.toituosm.com/, once the old Bus Services Depot, betrays its Art Deco roots with quaint exterior designs and horizontal embossed lines.
North Island
The Hawke's Bay region is known for its wine and is home to the twin cities of Napier and Hastings – Art Deco hotspots. Hastings' Spanish Mission style buildings have the distinctive look of Mexican haciendas, though there are no deserts or cacti in sight.
History of Art Deco in New Zealand
New Zealand is a young country with a range of architectural styles. We followed European trends and got caught up with the early 20th century fascination with power, speed and technology.
The new Ford Model T automobiles were driven by dapper gentlemen and comely flappers over mud-caked gravel roads at an eye-watering 72kph. The new motor cars boasted 20 horsepower.
Building concepts had to be simple and inexpensive during the the Great Depression, so designers thought up zany motifs to brighten plain concrete facades.
The arrival of Art Deco in New Zealand heralded a massive change from the ornate Gothic, Victorian and Edwardian styles. It was pure coincidence that the Napier earthquake and a fire in Ranfurly that razed public buildings occurred when the new decorative style was in vogue.
As a result travellers are able to trip down memory lane and visualise the heady days of the Charleston, jazz and jitterbug.