Auckland Adventure
Auckland is New Zealand's cultural capital.
Perched between the Pacific Ocean and the Tasman Sea, Auckland is New Zealand's "Big Smoke". It's a city in renaissance, an emerging mecca of culture, cafés, art and fashion, reflecting and embracing the flavours, colours and experiences of its Pacific Rim heritage.
Known as the City of Sails, Auckland sprawls across three harbours. The city is built on a volcano, surrounded by water and framed by mountain ranges, the perfect geological pedigree for visitors on the lookout for a little outdoor adventure.
Despite its ongoing evolution, its ever-changing skyline and teeming waterfront industriousness, Auckland has managed to retain its character. It beautifully embodies vibrancy and change, all the while exuding a kind of laid back confidence – due, at least in part, to its multi-cultural make up and strong Polynesian influences.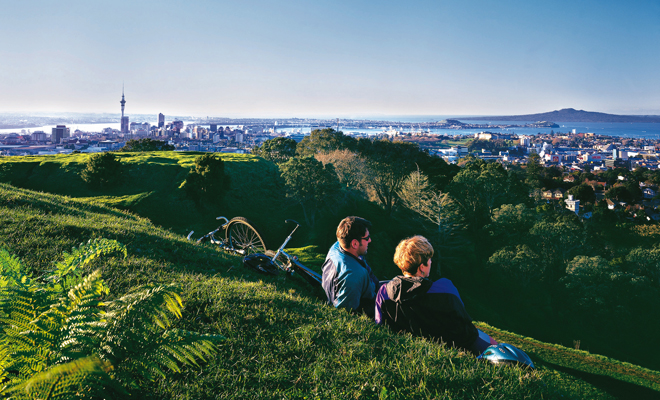 As a destination in itself, Auckland will easily take three action-packed days of your itinerary. The best way to see a city renowned for its harbours is to climb on board a boat. The perfect induction to Auckland is the Hauraki Discovery Cruise, which will give you a 360 degree panorama of the city and its harbours. The cruise also allows you a glimpse of some of the islands nestled within the Hauraki Gulf, amongst them native bird sanctuaries, fiery-red Pohutukawa reserves, lava-laced volcanoes, sea caves, vineyards and idyllic island retreats.
Bungy and Bridges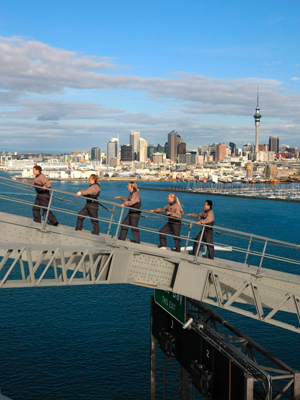 You'll be wowed by the super yachts in the Viaduct basin and will occasionally get to watch someone throw themselves off the Auckland Harbour Bridge - they will of course be attached to a bungy jumping cord. Speaking of bridges and bungy jumping, the Auckland Harbour Bridge climb is yet another means of getting your bearings in the city. You will of course need a head for heights and a reasonable level of fitness. For those who don't want to climb down, there's always the bungy jump option – it's the quintessential kiwi experience and offers a view of the city that few ever get to experience.
YHA operates two hostels in Auckland, the Auckland International and the Auckland City Hostel. Both are situated in the heart of the busy cityscape and offer complete travel, information and adventure booking services.
As a gateway, Auckland is the perfect jumping-off point for visiting North Island icons like Rotorua, Waitomo, and the beautiful Bay of Islands. Grab an Intercity Flexipass, which allows you 25 hours of transport time –plenty of time to get you from coast to coast, up and down and back to Auckland again.
WHERE TO STAY

There are 45 YHA Hostels throughout New Zealand, check out yha.co.nz for details, tariffs and on-line bookings.

YHA Auckland International offers luxury backpacking in the heart of the central city. It guarantees you the very best in cleanliness, comfort and service. The hostel is staffed 24/7 and offers a range of amenities and services, including a large fully equipped kitchen, secure storage, lots of great chill-out areas, TV room and DVD library and a great book exchange.

YHA Auckland City is an ideal start and finish point for your New Zealand adventure. It's a safe, secure and central hostel, located at the top of Queen Street. As a former hotel, YHA Auckland City offers mainly twin & double rooms, though there are some multi-share rooms available. Wake up to a kiwi cooked breakfast at the in-house café, and don't forget to use the knowledge and expertise of the staff for all your ongoing travel, YHA accommodation and adventure bookings.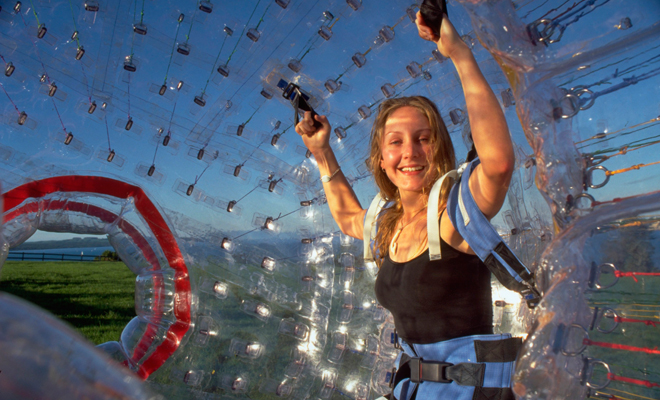 Rotorua
First stop, Rotorua, the cultural capital of New Zealand, at least in tourist terms. Everyone knows about the bubbling mud pools and aromatic sulphur, but there's a newer, cooler thing to do in Rotorua. It started in New Zealand and it's called zorbing.
If you don't mind being strapped inside an enormous clear plastic, air-cushioned ball and then being pushed off the top of a steep slope and flying hell-for-leather downhill, then zorbing is for you. 'Zorbonauts' rave about the zero-gravity buzz and the free-falling, topsy-turvy views along the way. There's also a wet version of zorbing, which is apparently the coolest adventure option on a hot Rotorua day.
Waitomo
A little further up the road is a sleepy little village called Waitomo, world famous in New Zealand for its serpentine network of underground caves. The Legendary Black Water Rafting Company will happily dangle you on a string down a 35-metre shaft to enable you to reach the departure lounge for their underground rafting expedition. The in-float entertainment includes careering down darkened rock passageways, tipping over a black abyss and being carried to the underground river below on an unseen waterfall. It helps if you like the dark and don't mind being scared witless. And as is often the case with New Zealand adventures, you will get wet.