A beginner's guide to buying Aboriginal art while travelling
Buying Aboriginal art when you travel to Australia can be a great way to support Indigenous artists and communities, helping to preserve their culture and heritage. Just make sure the art you purchase is authentic and ethically-sourced.
What is Aboriginal art?
Image: Tourism Australia
Although there are more than 250 Aboriginal languages in Australia, for the most part they are rarely written. Instead, symbols, dance, storytelling and song are used to pass down important information and traditions through the generations.

Art created by Aboriginal people is often encoded with this meaning. Many artworks tell stories of the Dreamtime – the foundation of Aboriginal spirituality – understood as a period of creation, when ancestral spirits created the land and people, sacred sites, totems and hunting tools. Different clan groups, or 'mobs', around Australia also have distinct Dreamtime stories and beliefs, and this is one of the reasons Aboriginal artwork in one region (known as Country) has its own particular style.

Aboriginal art comprises many different forms, both contemporary and traditional. On your travels through Australia, you'll find woven, sculpted or carved works of incredible talent and beauty, but by far the most common and popular artform is painting.
Image: Tourism Australia
Many desert paintings use an aerial perspective, where the land is seen from above as if painting a map. Different regions have their own styles, with ideas and techniques shared across generations of families through art.

A 'U' shape usually represents a person sitting cross-legged on the ground, while the tools and other items next to a depiction of a person might define whether they are male or female (spear and yidaki, or bowl and digging stick, for example). Circles can represent a meeting place or waterhole, wavy lines typically mean water or rain and animal tracks may represent emus, kangaroos and other animals of significance.

Colour palettes are traditionally constrained by what could be made from the earth, rocks and plants in the surrounding natural environment. One people's art could easily be discerned from another's based on the style and colours used, but these days paintings are often created using more widely available acrylic paint in a wider variety of colours (though one art-making community might favour more muted tones or a more limited colour palette to another).
The history of dot paintings
Image: Tourism Australia
If you're browsing a gallery or market in Australia, the Aboriginal art you see is likely to feature a whole lot of dots. Although dots were long used in body painting, rock art and sand drawings, it wasn't until the 1970s that dot painting on conventional art mediums (boards or canvas) really became a thing.

Dot painting emerged out of Papunya, a remote Aboriginal settlement about 240km west of Alice Springs. A non-Indigenous art teacher working in the area encouraged school children and local artists to transfer the images they'd been accustomed to creating in the sand and on bodies to walls, boards and canvas using paint. The idea took hold, but when artists started to become concerned about their work being shared to a wider audience than they'd like, dots were used as a way to hide secret parts of stories in plain sight.

The dot art technique spread through the central and western desert areas of Australia, and during the 1980s this style came to dominate the Aboriginal art movement. Since then, contemporary Indigenous art has evolved to incorporate a wide variety of techniques, but the dot painting style is still popular – and remains among the best selling.
Buying Aboriginal art with care
Image: Tourism Australia
It's important to make sure every piece of art you consider taking home is legit. There are a growing number of dodgy dealers making fake art that does nothing to benefit Aboriginal artists, and even disrespects their culture by sharing stories that aren't meant to be shared. First Nations artists aren't allowed to paint stories that don't belong to them through their family lineage, so not only do imitations disenfranchise local artists, they can be deeply disrespectful in their sharing of sacred knowledge.
Buying authentic, ethical Aboriginal art, on the other hand, does a whole lot of good. As well as keeping younger generations engaged in their culture, art has a way of cultivating a sense of pride and identity in communities and helps bridge the gap between First Nations and non-Aboriginal people.

Art creates a connection between the artist and the viewer. However, this connection is undermined by some of the shadier practices carried out in the name of profit. If an artist isn't being ethically treated, paid fairly or even aware their artwork is being sold, there's something going badly wrong.
Image: Tourism Australia


Here's some tips to make sure your Aboriginal art purchase is authentic and ethical:
ALWAYS ask yourself: who created the artwork? While gallery purchases may come with a certificate of authenticity, genuine Aboriginal art should come with a community certificate of authenticity, stating the artist's name, language group, community and usually story behind the artwork. The biggest red flag concerning the authenticity of an artwork is a lack of information about it.
Find out where and when the work was made. Is it contemporary? Is it a historic artefact? Is it part of a collection of similar pieces done at the same time?
Find out if the artist being fairly compensated. What percentage of the sale of the artwork goes to the artist? If you can't get a straight answer to this question, walk the other way.
When looking for an artwork to buy, pick an organisation like Boomali, Japingka Aboriginal Art, Yarn Gallery or Art Ark, which partners with local community art centres to ensure artists are being fairly treated, and invests profits back into the community. This is a great way to know for sure that your purchase is ethically sound.
Want to go one better? Consider buying directly from the artist. While it may require more legwork, many artists have websites, social media or shopfronts where they can be contacted to purchase their art, while others regularly attend art fairs and markets to sell directly to the public. Do your research!


Words: Jo Tovia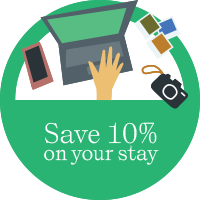 Book direct and save
By booking direct with MyYHA you'll receive our exclusive discounted rates. Sign up or login to get 10% off at select properties.