Best mountain biking trails in Queensland
Queensland is not traditionally thought of as one of the main places to head for quality mountain biking, but the state is massive, and with enthusiasts all up its coastlines and in various pockets inland, a pretty solid catalogue of locations has emerged in the last decade. We just hope you don't mind a bit of sweat trickling out from under your helmet, because biking in Queensland can get HOT.

Image: Tourism & Events Queensland
Hidden Vale Adventure Park (Easy/Intermediate)
With its 110km of purpose-made trails, Hidden Vale Adventure Park just south-west of Ipswich is a behemoth of a mountain biking spot. The degree of difficulty here is relatively low, so it feels like a bit of a playground (a good thing in our books), in which beginners and kids can cut their teeth on near-endless swathes of singletrack. The scenery is, frankly, bland - but if you're only concerned with finding quality trails that the whole family can enjoy, Hidden Vale is a no brainer.
Smithfield Mountain Bike Park (Intermediate/Expert)
For riders looking for hair-raising downhill and all mountain action in a truly tropical environment (come on, raise your hand), Smithfield will be a treat. Located just north of Cairns, the park held Australia's first world championship and continues to host international competitions across a variety of hardcore disciplines. This place is not for the faint of heart, but its spectacular rainforest trails with dramatic elevation changes will tickle the fancy of more experienced riders quite a bit.
Atherton Forest Mountain Bike Park (Easy/Intermediate)
The vast network of trails at Atherton straddle Mount Baldy, a hilariously named peak which nonetheless delivers in terms of MTB action. Rugged, interesting terrain coupled with swooping berms make Atherton a premier destination in the state, though the trails seem to be a bit less well looked after recently. For Atherton, Smithfield or any of the many other riding spots in the area, YHA Cairns Central should be your first choice of where to stay.
Gladstone Mountain Bike Park (Easy/Intermediate)
First opened in 2015, Gladstone Mountain Bike Park is a great option for pedal powered action in the Central Queensland region. The park's trails are a combination of hand built and machine-cut singletrack, and though the park allows hikers and horse riders too, they have their own trails and don't share with bikers. There are some black (expert-level) runs here to compliment the lower-key cross country fare, but they're not in the same ballpark of scariness as somewhere like Smithfield.

Douglas Mountain Bike Reserve (All abilities)
Douglas Mountain Bike Reserve is a 40km-long labrinth of zigzagging cross country rides on the edge of Townsville. Locals with carpentry skills and access to excavators have worked their magic and the trails are creatively adorned with fun technical features and obstacles. The relatively short trails can be linked up into much longer loops, so you'll be kept busy – plus the panoramic vistas of the surrounding countryside are a bonus.
Nerang National Park (Intermediate/Expert)
Located on the Gold Coast, not far from Surfers Paradise, Nerang National Park features a mix of singletrack and fire track style trails suitable for riders with at least some experience. Its 100km+ of riding (60km if you ignore the fire trails) is mostly of a rugged nature, and can be disorientating with its inconsistent signage. Nevertheless, the park is loved by hardcore and oldschool riders, who just might not mind if newbies are turned off.
Honourable Mentions:
Daisy Hill, Toogoom, Victory Heights, Port Douglas, Mt Coot-tha
Be prepared!
Make sure you know how to tweak your seat, handlebars etc, and make basic repairs to the bike. Always bring a pump and mini repair kit.
Bring plenty of food and water, as well as some emergency cash. You may well be out of mobile range, so make sure you have what you need to take care of yourself.
You're in Australia - don't let it put you off, but there's a good chance you'll encounter snakes somewhere in the bushland you'll be riding in. Know the types to look out for in the area, and make sure you have an evacuation plan just in case!
Useful links:
This website is an absolute goldmine for finding places to ride anywhere in Australia, with community reviews and condition reports.

Check out our other articles featuring outdoor adventures you can have down under!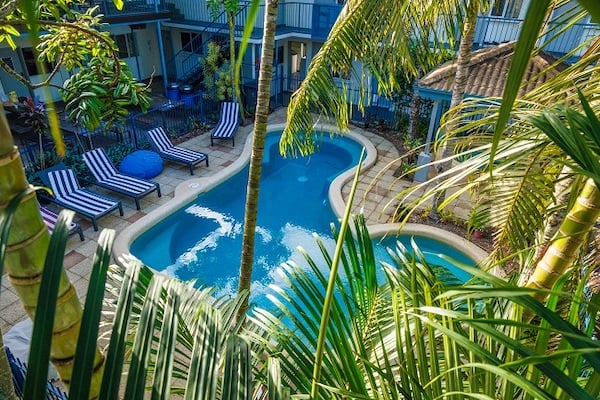 YHA Cairns Central
Centrally located in Cairns, this relaxed YHA offers a warm community feel, great outdoor living spaces and lush tropical surrounds.