Best mountain biking trails in South Australia
To quote an avid rider based in South Australia, "The best thing about mountain biking in SA is that rest of Australia doesn't know about it". It's with this mindset that many of the state's best trails are fairly well-kept secrets outside of local knowledge. That said, research pays off, and there's some quite excellent experiences to be had on two wheels in the hills and valleys surrounding Adelaide. Once you've done your homework, one of the state's biggest advantages as a destination for mountain biking becomes apparent: many of the best places to ride are little more than a short car ride from the centre of the capital, with many accessible by public transport!

Image: Tourism South Australia
Mitcham Trails (All Abilities)
Located just South of Adelaide's CBD, Mitcham Trails is a network of earthy singletrack with some interesting elevation changes and flow. There's a few jumps for the daring, though there isn't too much in the way of purpose-built features. Nevertheless, there's huge amounts of fun to be had on some of the more challenging bits.
Belair National Park (Easy/Intermediate)
Hidden in the highlands just beyond the City of Churches, Belair National Park is another of the area's scenic gems. The main draw here is the the Adventure Loop, which though at times rocky and steep, will take you on a nice 12.5km round trip through some pretty countryside. There's a couple of easier and shorter trails as well if you don't want to bite off more than you can chew.
Eagle MTB Park (Intermediate/Expert)
Not far from the centre of Adelaide, Eagle MTB Park is a bit of a mixed bag. On the positive side, it's very convenient to get to and has a ton of challenging runs. On the other hand, it suffers from neglect between competition seasons, has very dry terrain and can be a bit too gnarly to newcomers. It does have the honour of being Australia's first official mountain biking park, but its age might be showing.

Sturt Gorge Recreation Park (Easy/Intermediate)
The riding at Sturt Gorge is excellent, with a big range of trail types within its 40km network. Berm-filled flow tracks and winding singletrack abound, with some great natural rock features. The area has some significance geologically, and can be quite aesthetically pleasing - just be careful if it's been raining, as the mud can build up. As for many of the nearby spots, YHA Adelaide Central is a great launchpad for your expedition.
Prospect Hill (Intermediate)
A little further south of Adelaide, near the McLaren Vale wine region, Prospect Hill features a lovely network of flowing trails weaving through pine trees. The terrain is pretty friendly, but you'll want good command of your bike to negotiate the faster downhill sections to avoid smacking into a tree. The trails aren't marked, so either bring a map or just be happy to explore wherever the bike takes you.
Pewsey Vale/Mt Crawford (All Abilities)
Sandwiched between the famous Barossa Valley and Eden Valley wine regions of the state, Pewsey Vale serves up a glut of around 50 different tracks and trails ranging from chilled-out cross country rides suitable for families, to hectic downhill plunges with gaps and drops. This one is among the least talked about, but most highly rated among riders, so definitely check it out if you can.

Image: Tourism South Australia
Honourable Mentions:
Melrose, Cobbler Creek, O'Halloran Hill, Fox Creek (currently closed due to fires as of Jan 2021, but under reconstruction)
Be Prepared!
Make sure you know how to tweak your seat, handlebars etc, and make basic repairs to the bike. Always bring a pump and mini repair kit.
Bring plenty of food and water, as well as some emergency cash. You may well be out of mobile range, so make sure you have what you need to take care of yourself.
You're in Australia - don't let it put you off, but there's a good chance you'll encounter snakes somewhere in the bushland you'll be riding in. Know the types to look out for in the area, and make sure you have an evacuation plan just in case!
Useful Links:
This website is an absolute goldmine for finding places to ride anywhere in Australia, with community reviews and condition reports.

Check out our other articles featuring outdoor adventures you can have down under!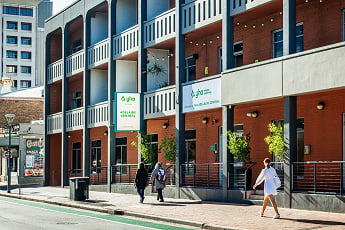 YHA Adelaide Central
Located in the heart of Adelaide, the chilled-out YHA Adelaide Central boasts spacious communal spaces & easy access to all the hotspots & events of South Australia's capital.