Cape Escape
South Africa

Highly recommended, the AWOL City Cycle Tour starts and finishes at the Victoria & Albert Waterfront, a huge working harbour-cum-leisure and retail development comprising atmospheric docks, souvenir-packed malls, seafood restaurants, vintage warehouses and photogenic statues (including one of a certain Nelson Mandela).

Navigating a mix of tranquil bike paths and traffic-thronged streets, we soak up Cape Town's bounty of exotic sights, sounds and smells, and pull in at several points of interest, where our Capetonian guide Sally de Jager regales some intriguing nuggets about the 'Mother City'. Founded by the Dutch East India Company in 1652, it's now the most-visited destination in the 'Rainbow Nation' (the moniker given to post-Apartheid South Africa, a proudly multi-cultural country where English is one of 11 official languages).

We pause at the Company's Gardens (a delightful oasis in the bustling CBD, where the first Dutch settlers grew fruit and veg), the Bo-Kaap (a peaceful Muslim quarter renowned for its brightly-painted houses and spicy 'Cape Malay' dishes), and Green Point (one of the epicentres of the 2010 FIFA World Cup and a leafy gateway to the city's postcard-perfect Atlantic coastline).

Appetite whetted, post-tour I continue my explorations on foot and come to the conclusion that I could quite happily live in Cape Town. On top of its movie-star looks, there's a funky cafe scene, cosmopolitan cuisine and heaps of artistic flair, especially in Woodstock, an inner-city neighbourhood with boutique stores and galleries, foodie markets and creative murals. This year is a particularly exciting time to visit, as a calendar of eye-opening events and festivals are marking Cape Town's stint as the 2014 World Design Capital.
And with a favourable exchange rate, Australian travellers get fantastic bang for their buck.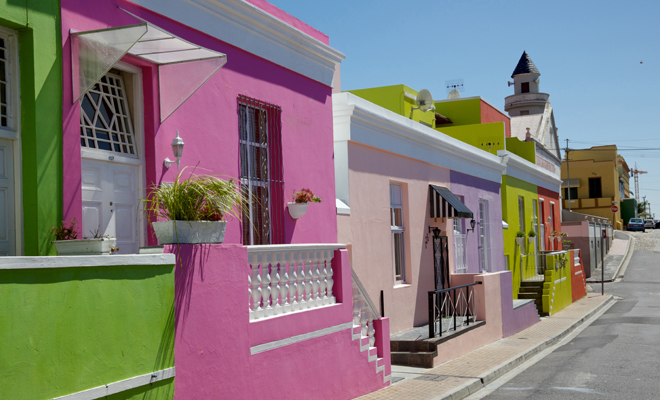 Garden Route
Cape Town is addictive, but you must leave (eventually). First up, there's the side-tripping possibilities: the Cape Winelands (where you'll savour top-quality reds and whites), the Cape Peninsula (a craggy, beach-strewn promontory upon which baboons and penguins frolic) and, of course, Robben Island, where Nelson Mandela was imprisoned for 18 years.

However, arguably the most tantalising of all out-of-town options is the Garden Route. Technically, it runs from Mossel Bay - 390km east of Cape Town - to Storms River - 170km west of Port Elizabeth (PE). But to most travellers, it basically means Cape Town to PE. You'll need a week to appreciate this enchanting region (more if possible), plus lots of memory space on your camera.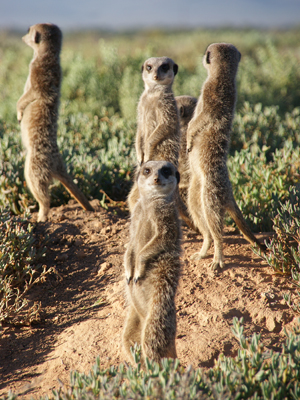 The scenery is frequently breath-taking: the endless sandy beaches of Wilderness and surf-tastic Jeffreys Bay, the birdlife-rich lagoons around Knysna and Plettenberg Bay, and the lush mountainous forests, waterfalls and ravines of Tsitsikamma National Park, where adrenaline-fuelled activities abound, from kayaking and kloofing (canyoning) to tubing and bungee jumping (the 216m Bloukrans River Bridge is the world's highest commercial bridge bungee). After something more leisurely? Hire mountain bikes and Segways from super-chilled Tsitsikamma Backpackers.
Those seeking memorable animal encounters won't be disappointed. Game reserves and sanctuaries dot the Garden Route, including Tenikwa Awareness Centre, where you'll come face to face with wild cats, such as cheetahs and caracals.

Off the sleepy seaside town of Gansbei, you can go nose to nose with Great Whites. Daredevils go cage-diving with them, though it's possible to observe this fascinating interaction between man and shark from the boat deck.
Another unforgettable experience is watching meerkats - those cute-looking mongooses - emerge from their underground hovels for some early-morning sun- baking.
One of the most popular tours is from Oudtshoorn, a town dubbed the 'Ostrich Capital of the World'. You can feed and ride these flightless birds at the Cango Ostrich Farm, and, later, if you're so inclined, you can sample one. Ostrich kebabs and sausages feature in the nightly braais (barbecues) at Oudtshoorn's aptly-named Backpackers Paradise.
GETTING FROM A TO B

1. Baz Bus. If you're travelling solo, or don't fancy driving, the Baz Bus is a good option, with a door-to-door shuttle service to over 180 hostels on the popular Cape Town-Port Elizabeth-Durban-Johannesburg backpacking route.

2. Coach. Greyhound, Translux and Intercape are the best 'deluxe' companies connecting South Africa's major towns and cities. Fares are usually cheaper than the Baz Bus, but you'll have to get taxis to and from bus stations, so costs will add up.

3. Car. Travelling as a couple or with friends? Hire a car. Rates and petrol prices are reasonable - it'll cost about $300 to tour the Garden Route - and having your own wheels offers great flexibility.

4. Train. South Africa's rail service is limited, but some routes are worth considering, notably the Shosholoza Meyl tourist train between Johannesburg and Cape Town (26 hours). Sleeper tickets are priced from $60, but sell out fast during peak periods.

5. Air. In a rush? Budget airlines Mango and Kulula fly between major South African cities. Book in advance and Cape Town-Johannesburg flights can be had for under $100.

WHERE TO STAY

HI South Africa has a growing network of independent hostels under the HI umbrella. You can find out more at hisouthafrica.com but here are the ones covered in this feature:

The Backpack – Cape Town

Hostel Coffee Bay - Coffee Shack

Backpackers Paradise – Oudtshoorn
Tsitsikamma Backpackers
Buccaneers Lodge – Chintsa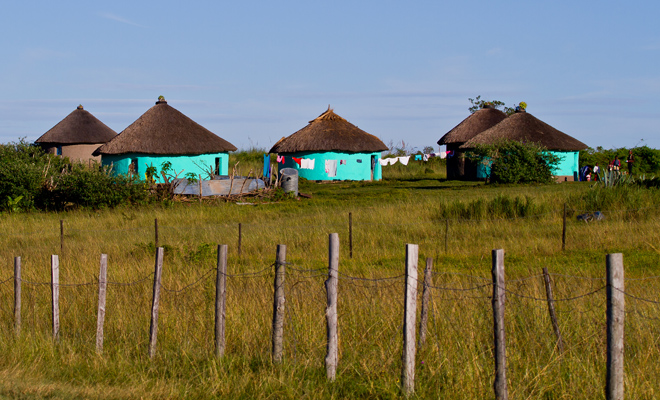 The Wild Coast

As gorgeous as it is, some travellers reckon the Garden Route doesn't feel like 'the real Africa' (or at least the Africa of their imaginations), and instead resembles a fusion of western Europe and coastal New South Wales. This is not something you could ever say about the Wild Coast.
Starting 300km east of Port Elizabeth, this beguilingly rustic region was the birth - and burial - place of Nelson Mandela, and is dominated by the affable Xhosa-speaking people, whose humble rondavels (round mud-brick, thatched-roof homes) cluster the rolling green hills that overlook a chain of wondrously picturesque coves and beaches.

Mostly accessible by cattle-strewn roads, the Wild Coast's clutch of Fair Trade-certified seaside hostels are not only fun places to stay, they're heavily involved with the local communities; financing and coordinating uplifting projects to boost education, healthcare and grassroots businesses.

You'll gain a deeper insight by joining the hostels' absorbing village tours. Visit schools (whose adorably smiley pupils will steal your heart), learn snippets of Xhosa language and culture and enjoy traditional dances, meals and mystical rituals that will long stay in the memory.

The Wild Coast is perfect for outdoorsy types. I enjoy some 'beach-and-bush' horse riding from Chintsa's excellent Buccaneers Lodge & Backpackers, and embark on many invigorating hikes, including a three-hour jaunt from the hip-and-happening Coffee Shack in Coffee Bay to the uber-mellow hamlet of Mdumbi, where surfers gravitate to tackle a classic point break. I'm happy to relax and receive a soothing massage from Mdumbi masseuse Lindeka, before joining a friendly bunch of South African and foreign travellers for cool beers and a fish braai at Mdumbi backpackers' cafe. The Wild Coast, we all agree, will be a wrench to leave.