Ten Christmas traditions only Aussies will recognise
The Northern Hemisphere can keep its mulled wine and plum pudding – we'll take backyard cricket, pool toy pressies and boozy relatives any day. Welcome to an Aussie-style Christmas.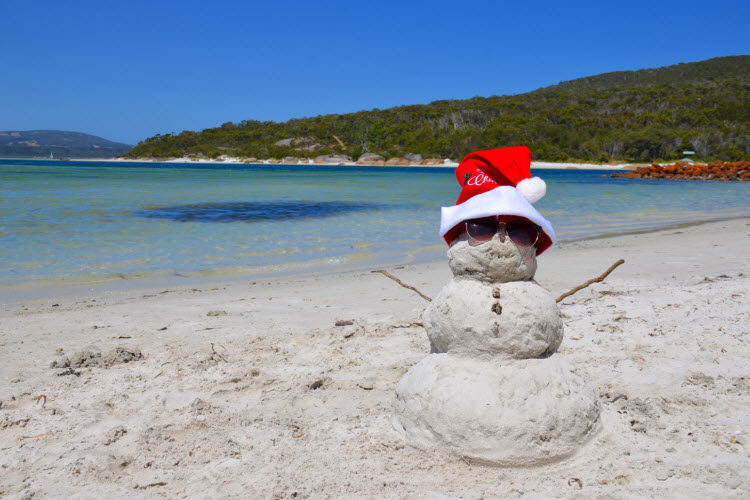 Sledging Carols by Candlelight
Don't get us wrong, carols are great – it wouldn't feel like the holidays without hearing a rendition of Mariah Carey's 'All I Want for Christmas Is You' for the 189th time. But it's a time-honoured Australian tradition to sit around the TV on Christmas Eve and rip into the calibre of 'celebrity' that appears at Carols by Candlelight ('Didn't they come eighth on Australian Idol back in the day?', your mum will say more than once).
Leaving a beer out for Santa
Everyone around the world knows that the big fella loves to ho-ho-ho into a plate of cookies while his reindeers nibble on carrots… but Aussie kids know that delivering pressies is thirsty work, and a hard-earned thirst needs a big cold beer. Let's just hope there are no reindeer-powered RBTs up there in the sky.
Playing with brand new pool toys
The midsummer Yuletide means that Santa always leaves some inflatable pressies under the tree, forcing dads around the nation to spend Christmas morning risking oxygen deprivation by blowing them all up. Those summer vibes also guarantees that a fresh collection of beach towels finds its way into the linen closet every December 25.
Suffering through a Christmas Eve hangover
If you spent December 24 on the grog with your mates rather than ripping into the Carols by Candlelight celebs at home, there's only one solution on Christmas Day: a few glasses of hair of the dog with your loose auntie who's on a one-woman mission to demolish a box of cask wine.
View this post on Instagram

Loving awful Christmas cracker jokes a little too much
There's not a Chrissy barbecue in the whole of Australia that doesn't feature an elderly relative wearing a flimsy paper crown who thinks the height of comedic sophistication is 'What do you get when you cross Santa with a duck? A Christmas quacker' or 'Who is Santa's favourite singer? Elf-is Presley'.
Slipping into a food coma
An ocean of prawns, fields full of mangoes and cherries, Pavlovas crumbling under the weight of cream and fruit on top, more ham than a C-grade actor… yeah, there's no chance you're making it past four o'clock without suffering an epic after-dinner dip. Park yourself in the comfy recliner before your uncle crashes there to nurse his fourteenth tinny of the afternoon, and unplug the fairy lights to add that much-needed third oscillating fan to the lounge room.
Persisting with Northern Hemisphere traditions
Wearing a thick Santa hat is positively hazardous in the sweltering summer heat, your tree looks a little browner than the lush green ones they have in American movies, and there are few foods you'd less rather tuck into than a roasting hot turkey straight out of the oven… but, hey, it's Christmas. Stiff upper lip.
Eating ham for days
Boxing Day brekky? Ham on toast. Boxing Day lunch? Ham sandwich. Boxing Day dinner? Ham and cheese toastie, with a side of ham, plus ham for dessert. Proceed to repeat for days. If you're not still polishing off the last of your leftovers well into the New Year, you didn't prepare enough ham on December 25.
Watching the Boxing Day Test
Eating your body weight in leftover ham isn't Australia's only beloved pastime on December 26: there's also a whole day of cricket to feast on. The hum of a packed-out MCG is the perfect soundtrack for a day spent nursing that lobster-red sunburn and playing with all the goodies that Santa stuffed your stocking with the day before.
View this post on Instagram
Playing backyard cricket
Speaking of cricket, it wouldn't be a Chrissy get-together without a hit in the backyard that's every bit as fiercely contested as the Boxing Day Test match. These backyard battles normally come to an abrupt end when you hit the last of your tennis balls into the neighbour's pool, or your hot-headed cousin cracks it when someone dints the brand new Gray-Nicolls that Santa brought him.