Discovering Darwin: What to do in NT's capital
Darwin is a laidback paradise for lovers of the outdoor lifestyle – a tropical city buzzing with atmosphere and the promise of adventure. Spend a few days and you'll discover this unique Top End treasure has more than a few stories to tell, and plenty to offer visitors... if you know where to look.

Image: Liam Neal
Before visiting Darwin for the first time, it's easy to imagine a dusty red ghost town. But if that was your impression, you'll pretty quickly realise that you owe Darwin an apology. This cool northern outpost exceeds all expectations; anything but dull, Darwin is a laid-back paradise for lovers of the outdoor lifestyle. It's a tropical city buzzing with atmosphere and the promise of adventure.

Owing to its proximity to Asia, and its enthusiastic population of expats and travellers, many cultures come together in Darwin. And you know what that means? Food. One of the best (and most budget-friendly) ways to experience the exotic flavours of this city is at the legendary Mindil Beach Sunset Markets. The rows of 60 food stalls offer up everything from Aussie burgers to Indonesian, Greek, Malay and Chinese cuisines. There are health-conscious natural treats alongside the likes of crepes, oysters and smoothies.

Held every Thursday and Sunday during the Dry Season, the beachfront markets are humming with people and you won't want to miss it. BYO is encouraged and there is often live music and entertainment. As the sun starts to dip below the horizon people gravitate toward the sand to watch its fiery show and you can almost hear a collective sigh of relief as the balmy heat of the day cools slightly. Of course, the markets aren't home to only food, with 130 other stalls selling locally made jewellery, homewares, Indigenous art and other curious items like whips and animal bones.

Image: Tourism Australia
For more markets, try the Saturday morning Parap Village Markets. Hosting food stalls, art, clothing and jewellery, plus fresh produce, these markets have more of a local feel. Parap is a nice neighbourhood to check out regardless, with small art galleries, boutiques and cafes, including popular corner spot, Laneway Specialty Coffee. It's nailed the industrial vibe with its combination of exposed brick, polished concrete and dark metal. Hanging vines drape over a big welcoming window, the staff are friendly and the food delicious.

Not far from Parap is Fannie Bay. For a donation, history buffs or fans of creepy colonial prisons can see cells where lepers and criminals were once held at Fannie Bay Gaol, which closed in 1979. Also on the bay, with a view of the turquoise sea and rocky coastline is the impressive – and free – Art Gallery and Museum of NT. First up, meet Sweetheart, an enormous five-metre long, 780-kilogram stuffed saltwater crocodile that terrorised fishermen in the '70s. The Cyclone Tracy exhibit puts the disaster into perspective with photographs and displays. And you can stand inside a small, pitch-black room that plays an actual recording of the roaring sounds of the cyclone's destruction. The gallery's Indigenous art collection is awesome, housing woven objects, carvings and painting of many styles. A highlight is the hangar-sized maritime gallery filled with actual boats from Top End islands, Indonesia and beyond. Walking around them for a close-up look, and accompanied by their stories, is fantastic. Among the collection are pearling luggers, incredible sea gypsy vessels and a Vietnamese refugee boat.

Image: Tourism Australia
A trip to Darwin wouldn't be complete without seeing at least one croc. There are more than 80,000 saltwater crocodiles gliding through the waterways of northern Australia. Venture about an hour from Darwin to Adelaide River to see them leap from the murky brown water. Did you know that if you enter the water, a croc could sense your heartbeat up to a kilometre away? Keen to cool off without a reptile leering at you? Darwin's Waterfront has a swimming lagoon and wave pool, free from sharks, jellyfish and crocs.

Image: Tourism Australia
The options for going out in Darwin are diverse. Mitchell Street is always happening and the city's many waterfront spots show off Darwin's love of the outdoor lifestyle. Lola's Pergola at Cullen Bay Marina is a carnaval-esque bar with a fun feel and a prime position on the wharf. Another favourite spot is De La Plage, a laidback cafe on Casuarina beach where you can lounge about on colourful beanbags spread out on green lawn by the beach. The atmosphere is even more vibrant on Sundays when there's live music, and visit on Friday nights for street food.

A magical experience for a balmy tropical Darwin evening is a movie under the stars at the Deckchair Cinema. Located at the southern end of the Darwin Waterfront, chill out on striped deck chairs in a clearing surrounded by tropical gardens. Bring your own food or choose from the kiosk where local restaurants take it in turns serving dinner, including the pricey but delicious Hanuman.

So when it comes time to plan your next winter escape, don't look past Darwin (like so many do). This unique destination has so much to offer, and is right in our own backyard.

Image: Tourism Australia
Darwin Day Trips
One of Darwin's major drawcards is that it's a launching point for adventures into the wilds of the NT. Top options include:

1. Litchfield National Park is only about an hour from Darwin. Imagine living in a city like Darwin with this at your doorstep?! Scattered throughout the park are stunning waterfalls, rock formations, 4WD tracks and bush to explore. Check out popular and easily accessible Florence Falls, impressive Tolmer Falls and the Buley Rockhole with its pretty cascades and rockpools.

2. Almost two hours from Darwin is the famous World Heritage-listed Kakadu. This incredible swathe of national park is teeming with wildlife and steps it up a notch with incredible rock art, waterfalls and hikes.

3. Developed for troops during World War 2, Berry Springs is about an hour away from the city. It's a crystal-clear spring with three swimming pools surrounded by pretty palms and bush. For hot springs, try the Douglas Hot Springs or, closer to Katherine than Darwin, Mataranka has prettier, blue thermal pools.
Where To Stay
YHA Darwin (MoM Darwin) is located in the heart of Darwin's nightlife hub, Mitchell St, with not one but two pools, a licensed bar, and a massive sundeck.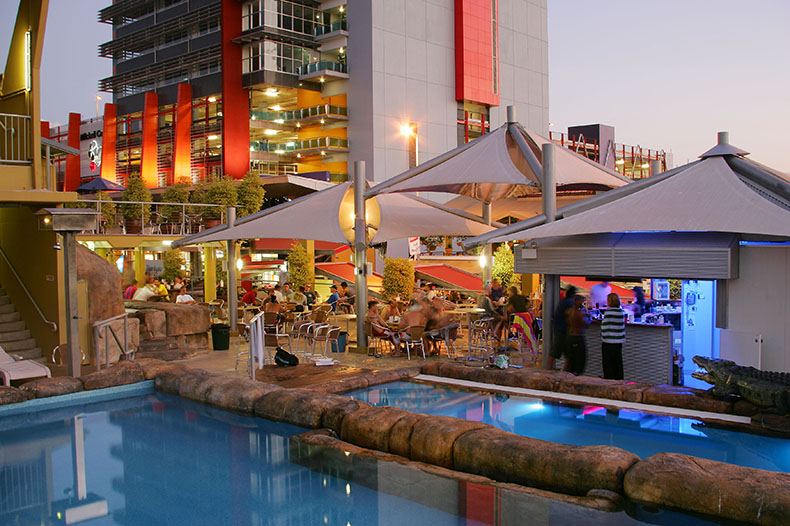 Words: Emma Wheaton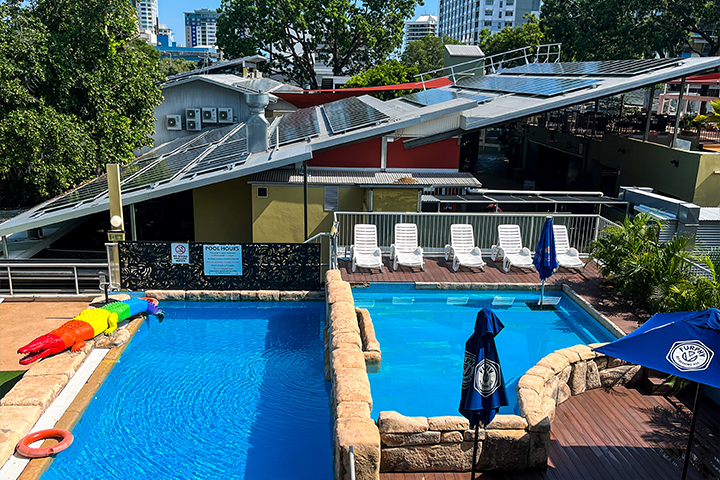 YHA Darwin | MoM Darwin
Vibrant, modern and social YHA Darwin | MoM Darwin is located in the middle of the Darwin CBD and boasts a massive sun deck, pools & private and co-living rooms.