Europe's Street Art
Art lovers have traditionally flocked to the Old Continent to peruse the famous galleries: the likes of the Uffizi, the Louvre and the State Hermitage. Long queues still snake into these cultural juggernauts, but thought-provoking art is increasingly flooding out onto the streets. Across Europe, you'll see a feast of eye-catching open-air murals and sculptures from both up-and-coming artists and established names, with a kaleidoscope of themes and issues explored, from the hard-hitting and political to the satirical and light-hearted. Here are some of the best places in which to get your street-art fix (and some amazing travel snaps).

BRISTOL

Banksy, arguably the world's most renowned 'guerrilla' artist, hails from this buzzing port city, which touts itself as 'The Street Art Capital of the UK'. Led by creative souls, the Bristol Street Art tour traces Banksy's Bristolian roots and points out some of his local calling cards (including his iconic 'Mild Mild West' mural; which features a teddy bear throwing a Molotov cocktail at three riot policemen). You'll also see how artists from Bristol and beyond have helped breathe new life into formerly run-down parts of town. Billed as the country's most ambitious permanent street art scheme, the See No Evil project on Nelson Street flaunts a colourful array of murals alongside a cluster of trendy bars, cafes and social hangouts.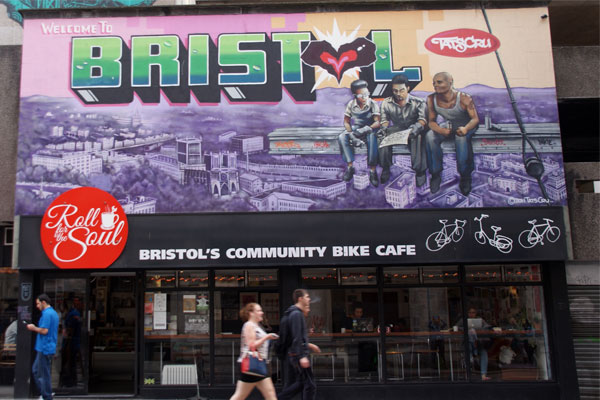 BERLIN

The East Side Gallery is high on the list of 'must-see' sights for many Berlin-bound travellers. Stretching 1.3km, it's the longest remaining part of the barrier that once divided the German capital; with over 100 artists from 21 different countries daubing a vivid montage of surreal images, political statements and graffiti tags. Some find the wall too 'touristy' these days., though, and prefer getting lost amid the constantly changing, street-art-splattered district of Friedrichshain-Kreuzberg, a hip and happening enclave where artistic types love to tread. For expert guidance, Alternative Berlin arranges guided street art walks, plus workshops that give you a chance to learn - and try out - spray-painting and stencilling techniques.

VALENCIA

Madrid may have Spain's leading art museums - not least the magnificent Prado - while Barcelona has spawned the mesmerising talents of Antoni Gaudi and Joan Miro, but the country's third largest city isn't short of artistic prowess. Valencia's much-heralded street art scene is concentrated around the labyrinth-like alleys of Barrio del Carmen, a bohemian neighbourhood just west of the city's increasingly-polished ancient core. You'll struggle to turn a corner without seeing a cartoonish medley, with displays celebrating the delights of paella - Valencia is the birthplace of this iconic dish - and fiery slogans castigating government policies. The Valencia province was one of the hardest hit by Spain's lingering recession, with a spike in youth unemployment contributing to the rise in graffiti merchants.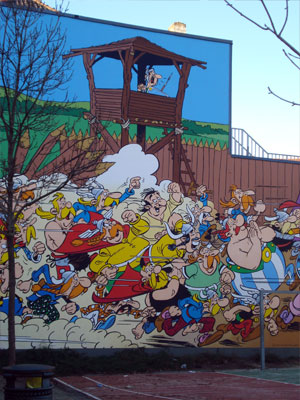 PORTO
Tumbling down to the Douro River - upon whose banks stand a raft of Port wine warehouses - is one of Europe's most atmospheric old quarters. Ambling through this hilly warren of cobbled streets, you'll see laundry fluttering from wrought-iron balconies, mosaics of azulejos (painted tiles) clinging to crumbling apartments and churches, and an assortment of characters going about their daily business (think: old ladies sweeping outside their front doors, kids in Cristiano Ronaldo jerseys booting footballs around, and, increasingly, artists decorating walls, abandoned buildings and shop shutters). Porto's greatest collection of graffiti, however, can be found a 15-minute stroll inland, on Rua Miguel Bombarda - a cool stretch lined with second-hand shops, fashion boutiques, bookstores and bars.

BRATISLAVA

Peeping out from a manhole cover on a bustling pedestrian street in Bratislava's quaint old town, the smirking figure of Cumil is the most photographed in a string of bronze sculptures peppered across the Slovakian capital. Local folklore says it is good luck to rub the ball on the top of Cumil's hat. An 80-minute train ride from Vienna, Bratislava also boasts an impressive array of open-air murals, including a batch painted by artists who attended the 2014 Bratislava Street Art festival. Prolific Italian spray-painter Alice Pasquini is among those to have left their mark on Tovarenska Street - just outside the old town, 500m from the River Danube.

BRUSSELS

Once you've finished marvelling at the Grand Place - one of Europe's most opulent central squares - delve into the gritty inner-city backstreets of Brussels, where the adventures of Asterix, Tintin and other cartoon characters are told in vivid fashion on over 50 walls and gables. On the self-guided Comic Strip Trail you'll pass the Belgian Comic Strip Center, which chronicles the history of pioneering Belgian comics in an Art Nouveau-style building. In recent years, Brussels' comic frescoes have been complemented by funky murals concocted by the likes of Bonom, whose painted skeletons and animals (such as foxes, octopuses, giant spiders, whales and buffaloes) will have you clicking away with glee.

Five other street art hotspots

1. LONDON. The ever-evolving East End is the epicentre of the British capital's cutting-edge street art scene, with the borough of Hackney awash with colourful murals.
2. PARIS. Edgy graffiti is dispersed across the City of Love's 20 arrondissements, especially in the districts of Menilmontant, Belleville and Oberkampf.
3. FLORENCE. Away from the gems of Renaissance Florence, you'll find a plethora of quirky art, most notably street signs that have been modified with cheeky stickers.
4. GRANADA. The sublime Alhambra palace hogs travellers' attention, but Granada has heaps of surreal modern murals which sport witty Spanish aphorisms.
5. BELFAST. The giant murals sprinkled across the Northern Ireland capital illustrate 'the Troubles', which dominated the city's turbulent 20th century.