Tasmania for families: The best things to see and do
From spotting seals along the coastline to riding a heritage train deep into ancient rainforest, Tasmania is packed with family-friendly things to see and do. If you're pondering an adventure to untamed Tassie and you've got kids in tow, read on...

Image:

Tasmania Parks and Wildlife Service
Blessed with a wealth of forests, mountains, rivers and waterfalls, Tasmania is a prime destination for a family adventure. But nature's riches aren't the only thing that makes Tassie a family favourite. Look a little closer and you'll find lively markets, farm-fresh foods, heritage railways and interactive arts experiences too.

Planning a trip to Tassie? Here's a range of experiences to put at the top of your family's agenda.
Find fun in Freycinet National Park

Image: Tourism Australia

If you're keen to lure your kids away from their screens, then Freycinet National Park is the perfect place to unplug. Spending your time outside in the fresh air is easily done as you're surrounded by beauty everywhere you look in this pristine corner of Tasmania. Using picturesque Coles Bay as a base, spend your days finding and comparing the best views from different vantage points. There are incredible coastal views of Freycinet National Park along the Cape Tourville Circuit, stunning vistas of deep blue water at Sleepy Bay and picture-postcard scenes at the famous Wineglass Bay Lookout. For another perspective, take your family out on a kayak to burn some energy and experience the scenic coastline from the water.
Fall for Bicheno's penguins

Image: Tourism Australia
The small, east coast town of Bicheno has less than 1000 residents but has a drawcard that delights visitors, young and old: the opportunity to see penguins in the wild. Running every night except Sunday, Bicheno's penguin tour will enable you to see the local colony of adorable Fairy (also called Little) Penguins make their way across the sand to a protected rookery. Through decades of careful rehabilitation, this precious penguin colony has been brought back from the brink, with the population swelling from 40 to 600. Seeing the aquatic flightless birds waddle along the sand is a special experience your family will remember for years to come!
Have it all in Hobart

Image: Tourism Australia
With cultural, culinary, historical and wildlife experiences all on your doorstep – families can truly have it in all in Tassie's compact capital (minus the stress that comes with navigating bigger, busier cities).

Kids and adults alike will love exploring the 14 hectares of cool-climate gardens within the Royal Tasmanian Botanical Gardens. Lace up your sneakers, walk 25 minutes north of the city centre and you'll hit the Queens Domain where the gardens were started in the 1800s. Inside you'll find an impressive Tasmanian plant collection as well as a Japanese Garden, Chinese Garden, Sub Antarctic Garden and community food garden which produces four tonnes of produce each year – most of which is given to local families in need. Don't forget to visit Sprout for a sweet treat made by local business, Valhalla Ice Cream.

Looking for something to do on a rainy day? The family-friendly Tasmanian Museum and Art Gallery has plenty of interactive programs to keep kids entertained.

Image:

City of Hobart/Alastair Bett
On Saturdays, the award-winning Salamanca Market is the place to be. Located at Battery Point, skip breakfast and spend your morning tasting your way around the stalls and food trucks instead. From French crepes to just-baked strudel, gourmet seafood pies and punnets of fresh berries, there's something for even the fussiest of eaters at this market. Buskers and other entertainers liven up the atmosphere to elevate it above your usual weekend market.

If you've got a car, the half-hour drive to Bonorong Wildlife Sanctuary is well worth it. Home to Eastern quolls, tawny frogmouths, ringtail possums and Tasmanian devils, kids of all ages will enjoy seeing some of Australia's most unique native animals all in one place. Pro tip: Book an animal encounter ahead of time to enjoy a guided tour where you'll get to handfeed some of the sanctuary's resident mammals.
Hit the Huon Valley

Image:

Tahune Adventures - Eagle Hang Gliding
Half an hour is all it takes to drive from Hobart to the gateway of the bucolic Huon Valley. An epicentre of apple production, the valley's small towns have bucketloads of charm to share with visitors. Have fun driving from town-to-town, stopping to drink local cider and eat handmade baked goods in cute cafes. If you're a family of thrill-seekers, then blast your way along the Huon River on the only white water jetboat ride in Australia or take to the sky on an eagle hang-gliding adventure across the river instead.

For a slow-paced activity the whole family will love, explore the otherworldly dolomite cave system at Hastings Caves State Reserve – you'll feel like you've been transported into an enchanting fantasy movie.
Be blown away by Bruny Island

Image:

Tourism Tasmania/Andrew Wilson
Home to incredible landscapes and an abundance of native species, wildlife-obsessed families will fall in love with the astounding beauty of Bruny Island. One of the best ways to experience the island is on the water. Book a day tour from Hobart to be whisked away to Bruny Island for an action-packed day including a wildlife cruise. While cruising the coast you'll get to marvel at towering sea cliffs, spot seals and dolphins playing in the waves, and if the time is right, you might encounter migrating whales too. Prefer to stay on dry land? Book a guided birdwatching tour to spot rare species like the endangered Forty-spotted Pardalote, a pretty little bird you won't find anywhere else in the world but Tasmania.
Experience the best of the west

Image:

Tourism Tasmania/Rob Burnett
The wild, windswept west coast might not get as many visitors as other areas of Tasmania but that's a part of its charm. A road trip through this sparse corner of Tassie will provide city kids with an experience far removed from the busy streets and skyscrapers they're accustomed to. A 4.5-hour drive from Hobart, Strahan sits between Macquarie Harbour and the UNESCO Tasmanian Wilderness World Heritage Area. A standout way to experience the ancient landscapes of this region is riding the West Coast Wilderness Railway. A four-hour return journey will take your family from the harbour deep into the mountainous rainforest aboard a heritage locomotive – an unforgettable journey you'll all be talking about for years to come.


Need somewhere to stay? YHA Hobart Central is located right in the centre of Tasmania's capital and perfect for families on a budget!
Words: Jo Stewart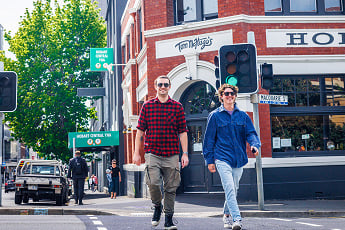 YHA Hobart Central
A perfect gateway to Hobart and the rest of Tasmania, this friendly, centrally-located property is barely two blocks from the waterfront and the city's best cultural attractions.