Fear Factor - Port Lincoln Style
Mysterious, vast, and untamed, the ocean has always sparked our sense of adventure and for those who love a survivor tale a trip to Port Lincoln on South Australia's Eyre Peninsula, to cage dive with great white sharks, will have you waxing lyrical back on land. 
The crisp seas of the Southern Ocean set the scene for a remarkable voyage, and I took the plunge on trip with Calypso Star Charters, who start the motor running with a 6am pickup. Along for the ride were a group of slightly terrified adventure seekers. We all joked nervously as our boat neared the diving site, "I think I'll poop myself" Kate from Boston squealed, "I better call me Dad to say goodbye" exclaimed Natalie from London, "Can't wait for some one-on-one time" I lied.
The three hour cruise concludes at the Neptune Islands, a breeding ground of the protected New Zealand Fur Seal (a preferred snack of the great white), which are located at the mouth of the Spencer Gulf. The islands are a Conservation Park and the pristine location makes it arguably the best site in the world for shark cage diving. It's highly untouched; visibility is up to 20 meters and doesn't vary year round.
When we arrived at the islands our skipper, Andrew Wright, set straight to attracting the sharks, dumping tuna blood and gills into the ocean. Andrew has been working in the shark business for 10 years and he still loves his job, "No day is the same, you never know what you will see, and I've seen sharks jump four metres clear of the water". He tells me the biggest he's seen was the best part of six and a half metres and "no one is more excited to see the first shark than me."
Within 10 minutes we spotted a shark gliding in and out of view. By drawing bait on a wire towards the cage he lured the shark back to the boat. After edging ever so slowly, closer and closer, it charged from below and clamped its colossal jaws around the bait, swallowing a chunk of meat the size of a poodle in one effortless gulp, as we watched on in awe.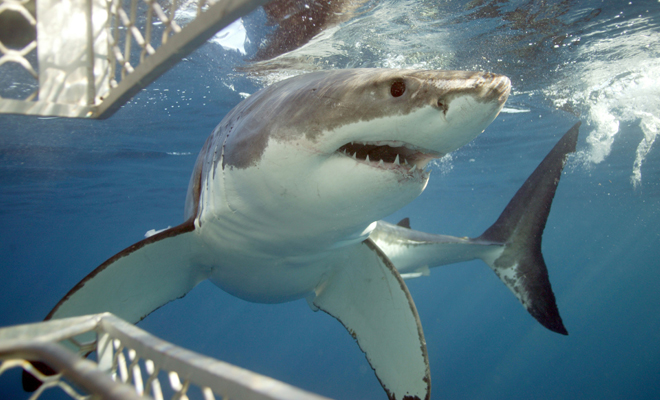 WHAT ELSE TO DO
Situated on a dramatic harbour, twice the size of Sydney's, the bustling seaside town of Port Lincoln beckons thrill seekers to its doorstep for matchless encounters with the world's most revered predator. There are many other attractions in town including feeding and swimming with tuna - all year round, if you visit in summer swim with the sea lions, and anytime spend some time in Cockle Bay and Port Lincoln National Parks, both an easy drive from town.
QUICK FACTS
Port Lincoln is 650 kilometres by road (7 hours by car and 10 by bus) or 45 minutes by air from Adelaide (Qantas and REX), South Australia's capital.
Two seasons for the sharks Summer (November-February) Winter (June till October).
Water temperature between 14°C and 22°C – visibility of over 20 meters can be experienced.
sharkcagediving.com.au Shark Cage diving, + 61 8 8682 3939 Calypso Star Charters, AUD $495 Adult, $247.50 Child – Members receive a complimentary package including DVD and photo highlights of the day.
swimwiththetuna.com.au +61 8 8682 6010 $90 Adult $75 Concession $60 Child (or $20 when added on to a shark dive tour).
Then Andrew invited us into the cage. Once we geared up in wetsuits and goggles he attached weights to sink us to the bottom of the cage. Hopping in the cage is like being asked to walk the plank. All your fears realised as you climb down the ladder and the lid is shut behind you. Breathing from a regulator, you can't talk, you can only listen to the voice in your head and the rhythmic bashing of the waves on the boat. With five other divers, I bobbed in unity, up and down like an egg on the boil, careful not to let even a pinky finger poke out of the cage; the anticipation was gripping.
Five metres above, Andrew spilled a bucket of blood directly beside the cage, it slowly washed over the group like a cloud of smoke, turning the water a crimson red, heightening the anticipation. You can't expect what you will see next, as a nose emerges from the blood stained water, materialsing silently like a ghost, majestic and powerful it appears a metre at a time. First the head with jet black eyes, then the ash grey body with white underbelly from which they get their name; unmistakable fins. Within a heartbeat, the colossus is completed by a tail the size of a ute.
As it swoops past, an arm length from the cage, I noticed a little pupil within the blackness of its eyes, staring right back at me. The oldest fossils of a great white are over 16 million years old and as those old eyes seemed to invite me to touch its pristine scales, as they brushed past a metre away, the curiosity was intoxicating.
Then almost as quickly as it appeared the shark sailed off into the blue, head vanishing, and then body; last the swaggering tail.
Back on deck Andrew explains that they are still greatly misunderstood, and his crew keeps records of the day's activities to assist scientific studies into their behavior. Many scientists now believe that great white sharks are intelligent, highly inquisitive creatures and for adventurers, a certain pull of the attraction is exactly that great unknown. No one has ever seen them give birth and the reason for their migrations and their way of life remains a mystery.
Cage diving with great whites in South Australia is without comparison, these magnificent sharks are truly special - and seeing them eye-to-eye only makes you appreciate them more.
If you ever wanted to experience the terror and the anticipation of being live bait then the deceivingly quiet seafaring town of Port Lincoln will have you hooked.