Fiji For Backpackers
Fiji isn't just for couples. Find out what one single (and ready to mingle) backpacker discovered in Fiji. By Ben Groundwater
Toting only a backpack, Ben Groundwater discovered Bula-Time in Fiji.
This was a mistake. Even the cab driver in Sydney knows it. "Fiji, eh?" he says, glancing in the rear view mirror. "By yourself? Isn't that the land of couples and families?"

The land of couples and families. Not backpackers. The check-in line at the airport confirms it. And the flight is something to behold, as what sounds like hundreds of babies scream the entire time in 5.1 surround sound.

Everyone knows Fiji is the perfect destination for honeymooners, lovebirds, and those with offspring in tow. It's all about package deals to all-inclusive beach resorts, of kid's club and long walks on the beach, of buffet meals and basket weaving. In short, Fiji is not the sort of place a single traveller with a backpack would want to go.

Except, it is. And it only takes four days to be proved wrong.

Day one, the truth starts to seep through. I arrive to a steaming afternoon in Nadi and bid farewell to my screaming, miniature, fellow passengers, catching a ride to the Coral Coast on the opposite side of Viti Levu. On the main island's ring road we cruise past resort after resort with enough stars to make up a constellation, but also pass numerous small villages, some no more than a few shacks and a set of rugby posts.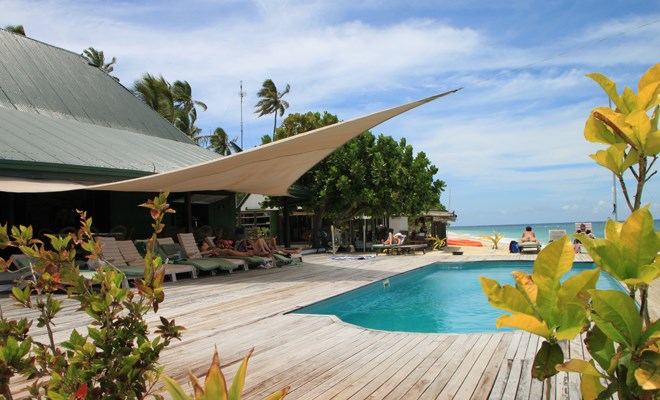 Finally the bus deposits me at the Beach House, the sort of Fijian resort people go to when they know they're going to hate Fijian resorts. It's a chilled out little hostel populated by backpackers who look like they've been there for weeks rather than days; it's not an easy place to leave once you're used to the pool, the beach, the cheap beers and the ready access to the island's activities.

All right, you think, settling back with a Fiji Bitter to watch the storms rage over the reef break on the horizon – I could get used to this.

Day two, and Fiji peels off another layer. I'm heading to the town of Sigatoka to do a 'river safari', a day trip to the heart of Fiji – a remote riverside village – via the fun of a jet boat. It's a shot of adrenalin with a chaser of culture.

Our boat's skipper, who calls himself 'Captain Blackjack', stops a few times on the way up to talk about the local area. Kids around here, he says, get to school by inner tube. They jump in the river, float down a few hundred metres then paddle in to shore, stick on their school uniforms and hit the classroom. Sure beats a bus.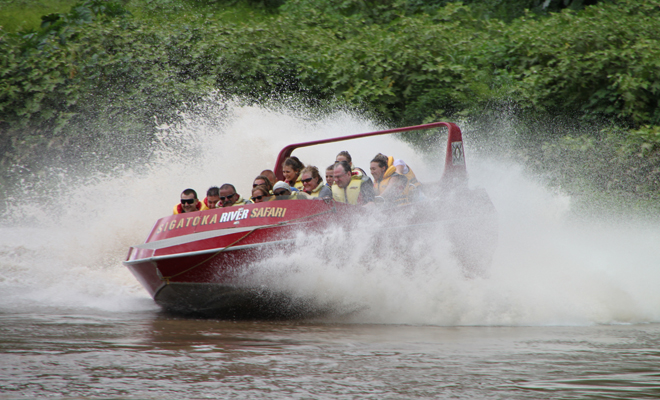 There's also Fiji's cannibal past to discuss. "In the old days here," Blackjack says, "if someone disrespected us, we'd chop them up and eat them. We believed it made us stronger. But," he grins, "we stopped doing that last week."

Finally the jet boat pulls up to a river bank and Captain Blackjack announces we've arrived. "Bula!" There's a cry from the jungle as a Fijian in a flowery shirt and sarong emerges grinning from the undergrowth. "Welcome to Nalebaleba!"

The guy's name is Matthew, and he's playing host today, showing off the way of life in a typical Fijian village. It's nothing special on the eye – a few houses scattered at random in a jungle clearing, a large community hall and the inevitable church in this deeply Christian land. Nalebaleba is actually close to where one of the first Methodist missionaries to Fiji, Thomas Baker, met his untimely death in 1867 – slaughtered and eaten by a local tribe. Future missionaries apparently received a warmer reception.

As a form of welcome we're ushered into a small room where the village's elders are gathered cross-legged on woven mats, and told to sit facing them, men to the front. The Fijians then sing, voices rumbling with rich timbre, before mixing up a bowl of kava, the traditional drink brewed from a tree root, and passing the cup around to their visitors. "This is your home," says Matthew. "You are welcome."

This, you realise, is real. As real as the kids who keep peering around the door and darting off, giggling, when they're sprung by one of the older folk. This doesn't feel cheesy, like a long-forgotten ceremony performed as a vaudeville act. It feels like a daily ritual.
The visit is rounded out with lunch in the village hall, the simple meal of chicken, fish and vegetables eaten on the floor to the soundtrack of 10 men running through the Nalebaleba songbook. Again, it doesn't seem forced. You get the feeling these guys would be sitting and eating and singing regardless of the presence of the guests in their midst.

People travel across whole continents for experiences like this. They seek out far-flung African villages for slices of a life much simpler, led the same way it has been for centuries. And yet this is just a short boat ride from those resorts with all their stars.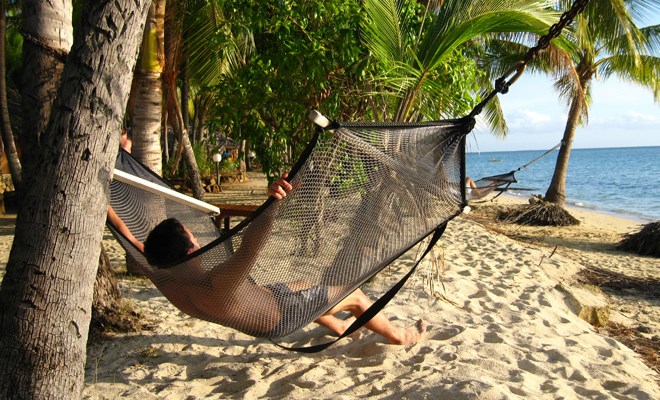 Day three, and Fiji is seeping into the bones. Things don't happen when you expect them to here. Some call it 'Fiji time' or 'bula time' – whatever, things don't get done when you think they will. They get done when they get done. But it doesn't seem to matter.
I've moved to Bounty Island, the budget travellers' version of the Fijian island resort experience. There are no jet skis out the front or parasailers cruising past – just a beachside shack that acts as a restaurant, and a pool surrounded by board-shorted and bikinied backpackers. The sun's out, life is good, and the dive shop is on bula time.
"Maybe we can do a scuba dive tomorrow," Romano, the dive master, shrugs. "There is one other girl here who might want to dive, so if she decides to go, then we can dive."
"Oh, so when will we know?"
"When she decides."

That's the way things work around here – they don't, really. You just take it as it comes. One hour into my stay on Bounty and I've ditched my watch. Two hours in and I've forgotten what day it is. After three hours I've stopped wearing shoes. Even thongs feel too formal.

Tonight we sit around the wooden tables in the restaurant and eat buffet food while the island's manager, Suka – another huge Fijian in a flowery shirt – leads the staff through more traditional songs. Again, nothing feels too forced. They'd be doing exactly this if the island was empty.

Day four. Today is the day. Fiji has gradually been making more and more sense, revealing layers that go far deeper than sand, sun and surf. It's a place of culture, of traditions and rituals observed the same way today as they were long before those first missionaries became food.

Breakfast is the usual, a buffet eaten by the beach, travellers discussing their plans for the day. ("Just hanging around the pool, maybe going for a snorkel," is the consensus.) I'm about to do the same when Suka, the elder of the island, summons me. "Mister Ben, you come with me," he says.

We walk around the beach to a small clearing in the palms where a woven mat has been laid out on the sand. A tanoa – the wooden bowl used to mix kava – sits in the middle. Suka sits down and begins mixing, talking about the ritual as he pours water in and kneads a bag of dried, crushed kava root through it.

"We drink kava to welcome friends," he says. "We drink kava to show respect." He looks up and smiles. "We drink kava to enjoy. It numbs you, it slows you down."

I look around at the beach, the sunlight dappled by palm fronds, the water lapping at the coral sands, the big Fijian sitting cross-legged in front of me gently stirring his drink. I have to laugh. "You guys need slowing down?" Suka smiles. "It can't hurt, Mister Ben."

Finally, he dips an empty coconut shell into the kava, fills it to the brim and passes it across the mat to me, clapping three times after it passes hands to show respect.

And that's when Fiji makes sense. There will be other highlights on this trip – a scuba dive over the wreck of an old ferry, an Indian meal back in Nadi, a walk around one of Viti Levu's oldest villages – but nothing will touch this moment of Fijian perfection, sharing an ancient ceremony with a local under the palms on a coral beach.
The couples and families can keep their fancy resorts. This is all the Fiji you need.
WHERE TO STAY
There are now three great hostels as part of a new HI network in Fiji. They can all be booked online at hihostels.com.au

The Beach House
Coral Coast, Viti Levu
Set on one of Viti Levu's best beaches about a two-hour bus ride from Nadi, this relaxed hostel is the perfect place for surf-chasers, with world-class reef breaks just a short boat ride away. Those not interested in the big waves can hire kayaks and stand-up paddleboards, or just sit around the pool with a cold Fiji Bitter.
Bounty Island Resort
This is living the dream. A 40-minute ferry ride across clear blue waters from Nadi's Port Denarau, and you're on a private island complete with beachside bungalows, great snorkeling straight off the beach, and a pool and bar area filled with travellers from around the world. Activities such as scuba diving and sailing can also be organised.
Nadi Bay Resort
Wailoaloa Beach Road, Martintar
Pretty much every traveller who comes to Fiji will pass through Nadi, and the Nadi Bay Resortl is the obvious base for arrivals and departures, being a 10-minute drive from the international airport. The hotel has two pools, three restaurants, a games room, and accommodation ranging from air-conditioned private rooms to dorms.
You might also like: 8 Islands Your Boss Will Hate