Five Queensland Adventures You Cannot Miss
Dave Anderson, a.k.a. travel blogger Jones Around the World, talks us through his top tips for exploring the tropics.
After nine months of living and working in Sydney, I was unfortunately forced to leave Australia without getting the chance to travel around the country! I wasn't gone for long though, because just a few months later I decided to return on a tourist visa, and complete the East Coast Highlights with YHA. I spent around three weeks exploring from Cairns to Brisbane, and it was honestly one of the best experiences of my life. Take a read through my top five highlights, and start planning your Australian adventure now!


1. Exploring the Great Barrier Reef
The Great Barrier Reef is one of the biggest attractions that brings tourism to Australia, and that's for a very good reason. Stretching over 2300km off the east coast, the Great Barrier Reef is a massive and beautiful sight you have to see to believe. I took a full-day tour snorkelling at Moore Reef in Cairns, two different scenic flights, and a private snorkelling tour down in Airlie Beach. The Great Barrier Reef was truly impressive . . . it was definitely one of my highlights.
2. The drive from Cairns to Port Douglas
I did very little research about things to do in Cairns, so I'm glad the staff at Cairns Central YHA recommended I make the drive up to Port Douglas. The coastline roads are absolutely stunning, and will give you a much better appreciation for the region's motto "Where the Rainforest Meets the Reef". I made stops in Kuranda, Port Douglas, and explored a bit of Daintree Rainforest. I'm a big fan of driving with music pumping, so this was particularly fun for me.


3. Four-wheel driving Magnetic Island
I may have only spent two days on Magnetic Island, but these were two of the most jam-packed days I had during my entire trip. The island actually isn't that big, but it still takes a bit of time to explore all the beaches and bays! I rented a badass 4WD Van from the people at Isle Hire, and they gave me a bunch of tips of places to go. Driving around the island is just a ton of fun, and you're constantly rewarded with beautiful beaches, viewpoints, and might even run to some cute koalas!
4. Whitsunday explorations
The minute I stepped foot onto the sands of Whitehaven Beach it instantly became one of my favourite places in the entire world. I remember seeing pictures of the Whitsundays years ago, and really thought that it was too good to be true. The truth is, pictures don't even do this place justice. It's one of those places you have to experience for yourself. I was fortunate enough to take a full-day seaplane tour of the Whitsundays and Great Barrier Reef, and that was probably the highlight of this entire trip. The views are spectacular from above, and the snorkelling was unbelievable. The very next day I joined another one-day Whitsundays Sailing trip, and had such a great time exploring different sights and hanging with fellow travellers! To top it all off, I got the opportunity to go Skydiving for the first time in Airlie Beach. That was a feeling I'll never forget, and I'm already planning my next jump!


5. Cool Dingo's K'gari (formerly known as Fraser Island) tour
Last, but certainly not least, was the 3-Day K'gari Tour with Cool Dingo. Everyone had always told me about how unique K'gari is, and they were all completely correct. It's the largest sand island in the world, with miles of beaches, hiking trails, and beautiful lakes. We got lucky every day with fantastic weather, and every place we visited was somehow more beautiful than the last. A few of my favourites were Lake McKenzie, the Champagne Pools, and watching the sunset every night. It was the last major tour I had planned on the trip, and I couldn't have imagined a better experience.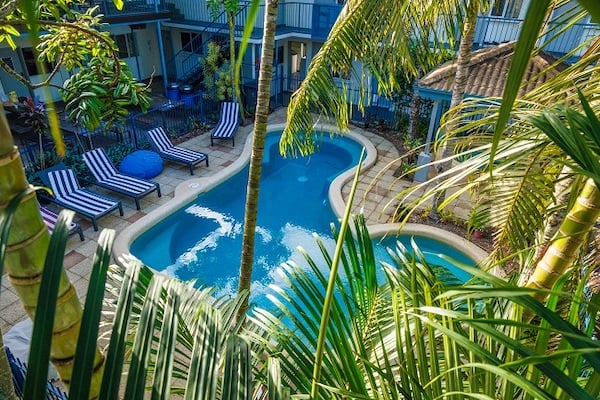 YHA Cairns Central
Centrally located in Cairns, this relaxed YHA offers a warm community feel, great outdoor living spaces and lush tropical surrounds.