21 free things to do in Cairns
Craving a tropical getaway that doesn't bust the budget? You're in luck! Exploring one of Queensland's top holiday hot spots doesn't have to be expensive. From rainforests and waterfalls to pyramids and caves, here's our comprehensive guide for the top free things to do in Cairns. 

Image: Tourism and Events Queensland
1. Meander along the Esplanade Boardwalk
Packed with tons of free things to do, this scenic oceanfront promenade runs along the shore of Trinity Inlet, with views of the water and the Cairns skyline. Stroll along here at sunrise or sunset while you soak up the vibrancy of this laid-back city. It's the best free way to begin exploring Cairns.
2. Chill out at the Esplanade Lagoon
Accessed along the Esplanade Boardwalk, this man-made saltwater lagoon is the ultimate swimming spot on a hot day (without stingers or crocodiles!). Splash around in the water or laze on the grass and watch the boats glide by.
3. Wander through Cairns Botanic Gardens
From boardwalks through melaleuca forests to a bamboo collection and an Aboriginal Plant Use Garden, this 17-hectare lush labyrinth brims with flora and fauna. Keep an eye out for butterflies, birds and native bee hives as you enjoy a relaxing stroll or picnic.
4. Be inspired at the Cairns Art Gallery
Ogle diverse international artworks alongisde Aboriginal and Torres Strait Islander art at this popular, free cultural attraction. Check out the gallery's range of creative learning programs, too, including free artist talks.
5. Try an Esplanade Active Living fitness class
Whether you want to bump, set and spike with a game of beach volleyball; glide through cardio moves with Aqua Zumba; or hone your climbing skills at the bouldering park, this council-run fitness program offers free outdoor activities for everyone.
6. Bask on Cairns' Northern Beaches
Fringed with coconut palms, pristine Palm Cove and Trinity Beach are favorite beaches north of Cairns. Machan's Beach, Cairns' closest beach, is ideal for fishing and exploring. If you go swimming during stinger season (November-May), be sure to wear a stinger suit, or swim within the nets.

Image: Tourism and Events Queensland
7. Take a plunge in Josephine Falls
If you have a set of wheels, a drive to these majestic waterfalls is a must. The misty falls flow into crystalline emerald pools, perfect for a refreshing dip. Once you get here, parking and entry are free.
8. Hunt for treasures at Rusty's Market
Open every Friday, Saturday and Sunday, this bustling outdoor market sells fresh fruit and veg — from rambutans to rainbow chard — as well as handmade jewellry and natural remedies. Browsing the 180 stalls won't cost you a cent.
9. Embrace your inner bookworm at the Cairns City Library
Read through stacks of books or take advantage of the free Wi-Fi, computer access, study rooms and regular events — all housed in a heritage-listed former town hall.
10. Explore a quaint mountain village
About a 30-minute drive from Cairns, Kuranda is an artsy mountain town nestled among the trees. Browse the eclectic markets in the town's centre; pop into the Aboriginal art galleries; and soak up the free-spirited, bohemian vibe.
Image: Tourism and Events Queensland
11. Hike through Barron Gorge National Park
Relaxing, wild, beautiful and — best of all — free, this lush rainforest and waterfall-packed park is a hiker's dream. As you trek with views of the rugged mountains, look out for possums, cassowaries and tree-kangaroos.
12. Gaze at the sunset from Cairns Marina
Bring a chair or blanket and grab a spot on the grassy areas surrounding the marina. Let yourself be lulled by the sky's soft glow and the boats bobbing in the glistening bay. It's Mother Nature's free stress detox.
13. Escape the heat at the Crystal Cascades
A vibrant rainforest surrounds this series of waterfalls and swimming holes, about a 20-minute drive from the Cairns CBD. After you hike the tracks around the cascades, cool off with a refreshing dip.
14. Mingle at the Cairns Night Markets & Food Court
Wandering around these lively Cairns markets doesn't cost a cent. Inhale the aromas of sizzling Szechuan, crispy churros, and steamy pho as you weave among the stalls, and check out the quirky Aussie souvenirs. Open every night from 4:30pm, the markets are one of the best free things to do in Cairns at night.
15. Shred the half-pipe at one of the largest skateparks in Australia
Overlooking the Coral Sea, Cairns Skate Plaza is a great way for beginners and seasoned pros alike to enjoy some free outdoor fun. This 2000m2complex features an intricate network of street and vert lines and is open to skateboarders, BMX and more

Image: Tourism and Events Queensland
16. See the enchanting Mungana Caves
If you've got your own vehicle, head about 200km West of Cairns to the Chillagoe-Mungana National Park. You'll find impressive limestone towers, rocky outcrops and several caves which you can explore for free on a self-guided tour.
17. Snap a pic in front of Walsh's Pyramid
The tallest freestanding natural pyramid in the world and the sugarcane-lined road leading up to it make for an Instagram-worthy photo. If you're feeling bold, you can hike the 922 metres to the peak.
18. Picnic in picturesque surroundings
Cairns is blessed with some immaculate picnic spots, but the palm trees and powder-soft sand of Palm Cove, 25-minutes' drive from Cairns, is one of the best. With public barbecues right on the beach, this is the perfect place to spread your blanket and enjoy a bite with a view.
19. Jam to some tunes at The Court House
Funky, fresh and free, this historic art gallery merges music with art by showcasing local and out-of-town talent right in the centre of Cairns. Check the website for upcoming events.
20. Take a camping trip to Babinda Boulders
This is one of the only campsites near Cairns that's free and accessible to all vehicles. Better yet, it's just a short stroll to a crystal-clear swimming hole.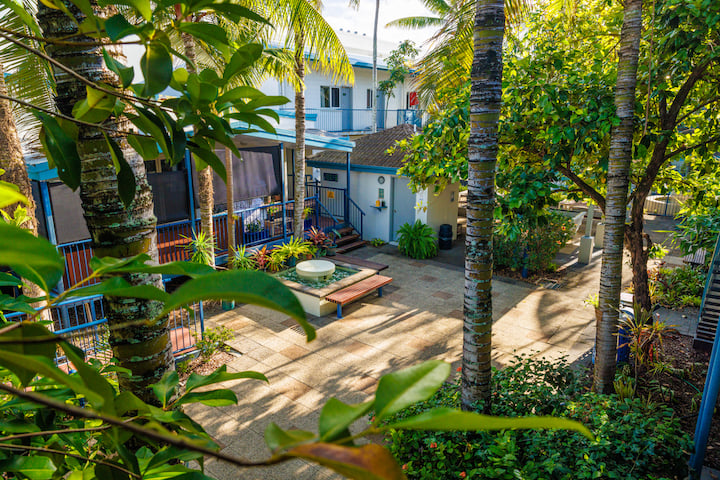 21. Hang out at your YHA
From free pancakes, games, movie nights by the pool and free events for learning about local Yidinji Aboriginal culture, there's plenty of free fun on tap for anyone staying at YHA Cairns Central!
Words: K. Hastings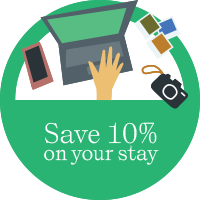 Book direct and save
By booking direct with MyYHA you'll receive our exclusive discounted rates. Sign up or login to get 10% off at select properties.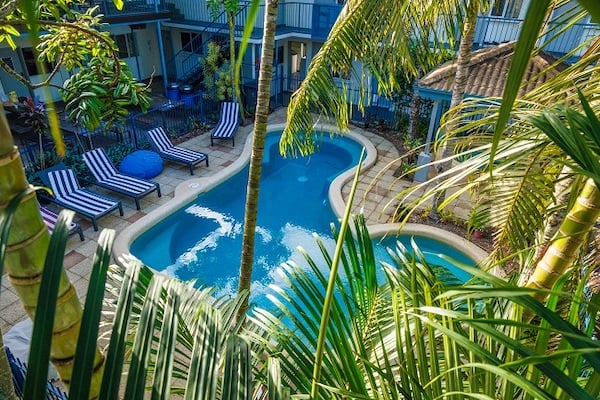 YHA Cairns Central
Centrally located in Cairns, this relaxed YHA offers a warm community feel, great outdoor living spaces and lush tropical surrounds.