Discovering Fremantle: What to do in Freo
Alecia Hancock explore Freo and experiences the unique YHA Fremantle Prison.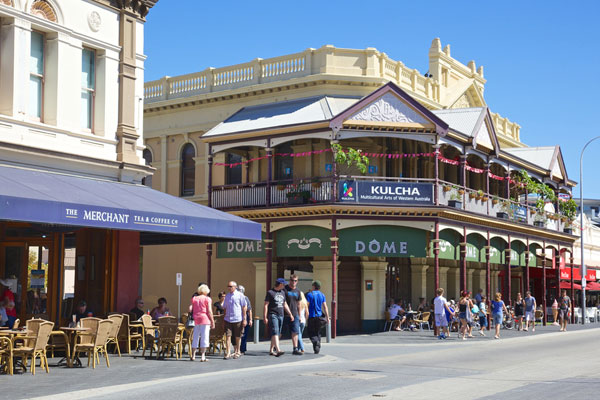 Have you ever speeled a drum, met a swag chovey bloke or sat down to a pot of skilly? Consider yourself lucky, it means you weren't one of the 9,925 convicts that left their mark on the port city of Fremantle in Western Australia.
While it might have been chicken-stealing Brits deported in manacles that made Fremantle – quite literally, as convicts transported to Fremantle between 1850 and 1868 were put to work to build many of the historic buildings brick by brick – the city of today more than makes up for its less than law-abiding beginnings.
Located at the mouth of the Swan River, the former penal colony can be found at the end of three major highways and a railway line. Located just over 20 kilometres south of Western Australia's capital city Perth, in the Fremantle of today you're more likely to stroll past local ARIA-award winning musician John Butler Trio busking on the footpath than a swarthy cutthroat.
The pace in Freo, as it is affectionately known to locals, is noticeably slower than in its capital city cousin and is as a natural home for artists, craftsman and the eco-conscious. Home to the longest running community festival in the country (the Fremantle Festival runs from 25 October to 8 November 2015), the city is bursting with art galleries, cultural centres and clubs and pubs like the Norfolk Hotel, Mojos and Fly by Night Club where local musos perform live.
A large part of the city's charm emanates from the melting pot of characters that come from being part of a port city. As you approach the city along the coast, there is little doubt Fremantle is still a working port. Towers of commercial shipping containers loom over the road, before being hauled by crane to a waiting cargo ship.
The city also still has a huge commercial fishing fleet based here – make sure you pick up a serve of fish and chips freshly wrapped in white butchers paper, chances are the fish was still swimming that morning.
Cargo and fish aren't the only thing arriving here by sea. Visit any one of the local pubs and clubs, and you're likely to be queuing at the bar side-by-side with a broad-shouldered American sailor, a guest from a south-east Asian cruise liner, and a typical local curly-haired surfer whose calves are still crusted with white beach sand.
There is also no shortage of great places to eat. You'll find Indian restaurants alongside Turkish, and raw vegan restaurants vying for space with steakhouses. While fish and chips from the Fishing Boat Harbour is a must do, you'll also find plenty of restaurants on the famous Cappuccino Strip who offer spicy local chilli mussels or authentic wood fired pizza. Thousands of immigrants arrived in Fremantle from Europe during World War II, and our taste buds are the better for it.
Despite the still active port, there is still plenty of coast left for a thriving surf culture. You'll spot tourists who have never even seen the ocean before attempting to stand on a board for the first time, legs as shaky as a newborn foal, alongside tanned-skinned veterans. Look a bit further out and you might even be lucky enough to spot a whale breach the blue-green sea.
Even if you prefer the comfort of dry land, watching the sun set directly over the ocean is a sight everyone should experience at least once.
You can also experience the coast's darker side with a visit to the local Shipwreck Galleries, where you can check out remains of ships torn to pieces on the harsh shoreline, dating back as far as 1629.
History buffs should also check out the ironically named The Roundhouse – it is actually an octagon – it is the oldest building in Western Australia, and was originally used in the 1800s as a police lock-up.
While the convict's mark will be forever on Fremantle, there is little doubt there is plenty to see, do, drink and eat in Fremantle whether you're in town for a day or a week.
5 things to do in Fremantle
1. Fremantle Prison
Daring escapes, notorious criminals and a visit to the eerie gallows are all part of a visit to Australia's largest and most intact convict-built prison. Entry to the gatehouse is free, but prison tours (from $20) are worth the cash.
2. Fremantle Markets
The smells of fresh baked bread, herbs and spices, and worked leather and wood greet you on arrival. Take the time to wander and enjoy the live music and explore the local wares from handcrafted didgeridoos to one-of-a-kind jewellery and tasty treats. Open Friday, Saturday and Sunday.
3. WA Maritime Museum
Explore boats from the city's history from a pearl lugger to a submarine and America's Cup winning yacht Australia II. Entry is $10 ($5 student concession), but on the second Tuesday of each month you'll only pay a gold coin donation.
4. Little Creatures
There's something particularly special about sipping a cold beer actually made in the building you're sitting in. Grab a few friends, a wood fired pizza and a pint of pale ale and kick back. Jump on one of the daily brewery tours at 1pm, 2pm and 3pm everyday and see where the magic happens.
5. Rottnest Island
If you're going to splurge on one thing during your stay in Fremantle, make it a day trip to Rottnest Island. Departing from the B-shed or Northport several times a day, one day tickets are $16.50 each way with Rottnest Express. Hire a bike, and spend the day exploring.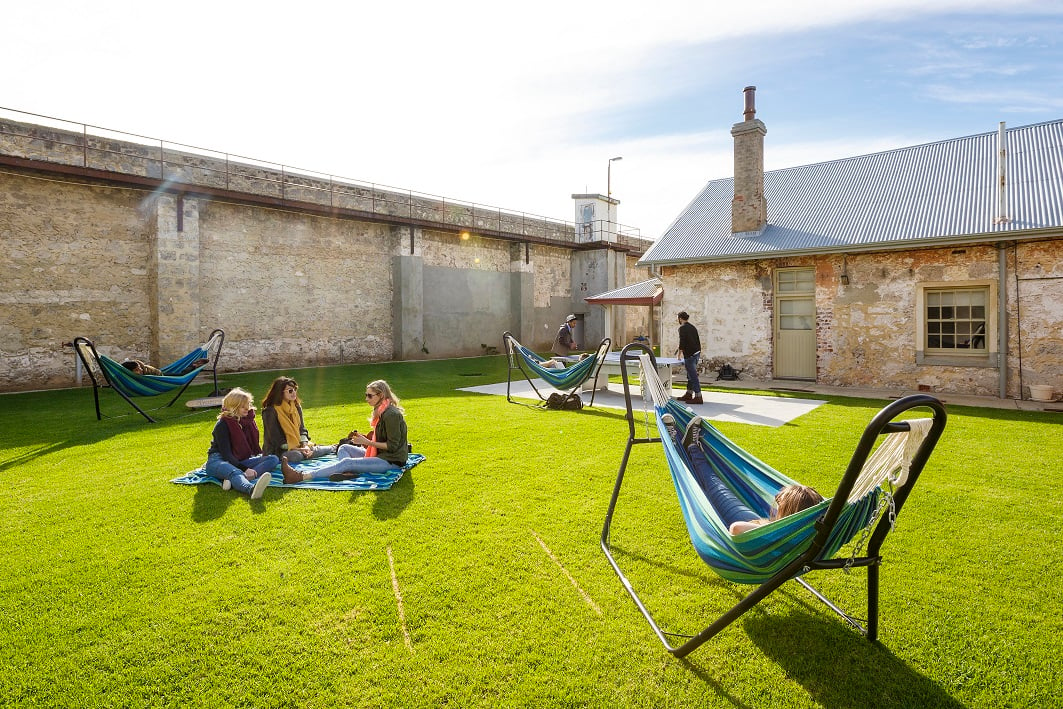 YHA Fremantle Prison
Part experience, part accommodation, spend a night behind bars at the UNESCO-listed YHA Fremantle Prison – a one-of-a-kind piece of convict history.