Fruit Picking in Australia
Discover How Two Australian's Picked Up Buckets Of Travel Cash On The Harvest Trail. By Jane Wilson And Glynne Matthews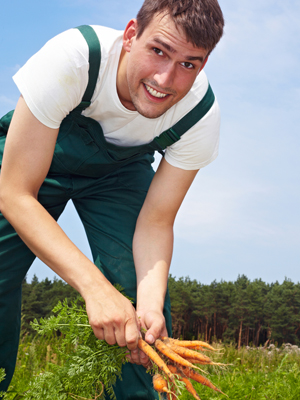 Jane Wilson and Glynne Matthews discovered you don't have to be a backpacker to get pick travel cash from trees on the harvest trail in Australia.
It was the end of the afternoon; we stood at the bus stop with our packs as the coach drove off, leaving us in small town, central Victoria. We had followed up on an offer for fruit picking work that we found posted on an YHA notice board the week before. Work to begin on Monday.
The harvest trail leads to some strange and interesting places with equally eccentric people along the way, and our welcoming committee, an old guy in a tiny Suzuki hatchback that still smelt like the goats he had in the front seat, was no different.
He drove us along the high street, showing us the landmarks on the way: Laundromat, supermarket, and pub. Pub! Our driver had, in fact, come directly from the bar. We wove gently down the road until it left town, onto the open road and into farming country.
We'd arrived too late for a camp spot with electricity, all taken, but didn't mind since we didn't plan to be up past sundown. Not when we had to be up at 6am and in the orchards by 7am each morning.
During the day more would be workers arrived and set up on-site in the remaining spots. From experienced fruit pickers to backpacking working-holiday couples: Aussie, European, and others and us. Both unexperienced novices – neither of us drinkers –but we might also end up at the pub at the end of the week.
WHAT TO TAKE

Clothes: employers recommend long sleeve cotton shirts and long pants, boots or shoes with good grip suitable for climbing ladders, a sunhat/cap, cotton gloves to protect hands if the crop is thorny, and sun block.
Tax file number
Patience and stamina
Good sense of humour

THINGS TO CONSIDER WHEN CHOOSING WHERE TO GO

The nature of the crop - do you need to climb ladders/spend all day on your knees?
Pay: generally either hourly ($10-20), or piecework (i.e. set rate per bin). $50-$100 per day is a reasonable expectation of earnings.
Is it stripping work (fast) or by colour/size (slower) - are you paid accordingly?
Hours per day. Days off.
Accommodation
Do you have your own transport? How far is it to shops and pub if you have to walk?
Climate
Monday arrived. Up at 6am in the cool of the day we dressed in appropriate gear: long sleeve shirt to keep off the sun/insects, long pants, boots suitable for climbing ladders and wading through mud/decomposed fruit. We picked up our hats, gloves and walked to the shed.
It was time to collect a picking bag – a bag worn over your chest that's supported by your shoulders. And finally we find out our crop -peaches - one row of trees per picker or couple picking together. On the back of a truck we are driven to the orchid, a ladder each.
Picking was slow - the crop was still not mature, and rather than stripping the trees willy-nilly, we were taking only those fruit of a certain size and ripeness. It took three hours to fill a bin. By the time we knocked off for the day we'd filled two bins and earned just $56 between us, before tax. There were few who'd done better.
It was not a lucrative first week. Some people left after only a few days - some in search of more lucrative harvests, some simply because it was too hard. Suffer no romantic illusions - fruit picking is extremely tough work. Some did indeed end the first week in crumpled sobbing heaps, some backpacking partnerships began to show the strain. On the other hand, new friendships were formed, there was a certain freedom about the work, and slowly the money accumulated.
Experienced fruit pickers know that the start of the season is often slow while fruit matures. In the next couple of weeks it would be time to strip the trees - an opportunity to earn $100 a day or more.
For those who do their study, fruit picking can be a great way to enjoy discovering a new destination while making new friends and earning cash, all whilst doing an 'honest day's work'. If you are looking to gain your secound year working visas there are many well-located YHAs in regional areas that can be used as a home base to come home to and relax while you complete the regional work visa. Just think how nice it would be to jump in the pool after a days banana picking in Cooktown or enjoy a glass of wine after picking grapes in the rolling fields of Margaret River in Western Australia.
It can be a great way to finance your travel around the country, to keep fit, and to make new friends. If you're planning to stay for the season relax, ease into it, and keep the big picture in mind. Don't fall off your ladder.