Get Into Gear
The Best Of Travel Tourism By Bike
My most memorable biking moments are breaking a leg when I was five, and an over-the-handlebars mountain bike mishap 25 years later. And yet, there's something about cycling that keeps drawing me back into the saddle. Maybe it's the lure of a leisurely pace, the eco-ego boost from self-propelled sightseeing, or simply the promise of a tight butt. What's certain is cycling makes for a great way to get around while travelling.
To inspire you to try pedal power, here are three cycle routes that will have you in training in no time.
Best for beginners: Loire á Velo, France
France's enchanting Loire Valley is perfect if you're more casual cruiser than lycra-clad pro. Freed from the confines of public transport, you can soak in the scenery, smells and sounds as you ride through flowering fields and royal hunting forests, along riverside paths and even into the grounds of fairytale chateaux. In fact, aside from the occasional short climb to a hilltop castle, the steepest thing you're likely to encounter is the castle entry fee.
The still-growing Loire a Velo cycle route, and its equally lovely detours, offer an enticing mix of thigh-friendly and faultlessly signposted roads, cycle lanes and rural paths, stretching for 800 kilometres from the heart of France to the Atlantic coast. There's also the advantage of having a train line never far away, allowing you to split the route up into bite-size rides, plan leisurely day trips, and start or interrupt your trip at will. Bikes are transported free on TER regional trains.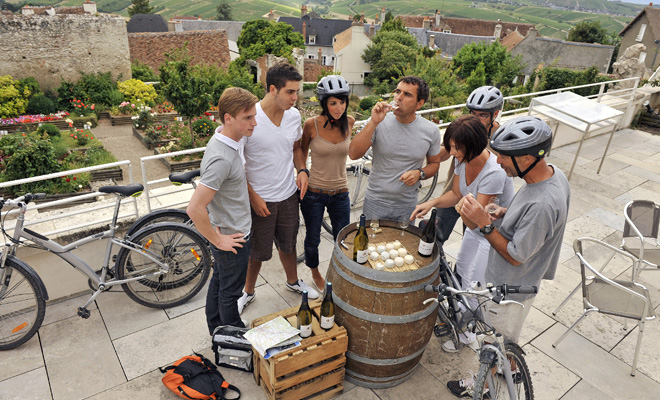 Chateau a Velo is one of the best circuits. Starting from the granddaddy of all Loire chateaux, Chambord, it winds through the royal city of Blois, to richly-furnished Cheverny, the inspiration for Tin Tin's Marlinspike Hall. Don't miss feeding time for Cheverny's 100 or so hunting hounds– it's an eye opener.
There are an infinite number of fortresses and castles, but daily rewards here aren't limited to castle-hopping. Cycling allows you to cover more ground and visit lesser-known attractions such as troglodyte dwellings carved out of the white "tuffeau" stone, vineyards, gardens, and the wildlife of the Loire delta. How about the surreal experience of cycling through Angers' former blue slate mine before visiting its 600-year-old Apocalypse Tapestry?
And let's not forget the food. What better end to a day's cycling than a riverside picnic with a drop of local Sancerre wine, or a guilt-free meal al fresco as the summer sound and light show illuminates the local chateau.
Best for scenery: Nga Harenga, New Zealand
With its breathtaking scenery, wide roads and traffic-free trails, New Zealand serves up some of the best cycling in the world.
The New Zealand Cycle Trail, appropriately named 'Nga Haerenga' meaning 'the journeys', gathers up 22 existing and in-development trails, in a bid to create a world class network of cycling journeys that show off the best of the country's awesome landscapes, culture and heritage.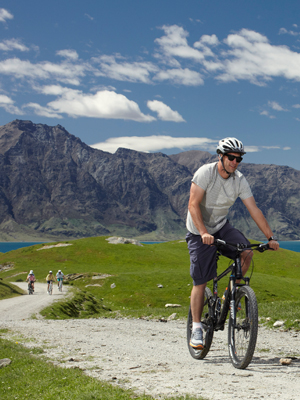 Multiple access points and varying degrees of difficulty provide plenty of inspiration for rides ranging from a few hours to a few days, be it meandering through the wineries, lakes and coastline of Nelson's Tasman Bay along the Great Taste Trail, or tackling the rocky landscapes and high country of the Otago Central Rail Trail. For a great South Island overview, dip into a leg of the epic Alps 2 Ocean Trail. From New Zealand's highest mountain, Aoraki Mount Cook, the trail travels 300 kilometres to the coastal town of Oamaru. This is big sky country, where the sweep of every bend brings views of snow-capped mountains and alpine tundra mirrored in glacial fed lakes. And it's all on trails that are surprisingly suitable for all abilities.
Top of our list? The Thermal Bike Trail, easily accessible from Rotorua, is an adventure through a witch's cauldron of steaming vents, bubbling mud, colourful mineral pools and spectacular geysers. As a major centre of Maori culture, adventure sports and thermal spas, there are also more than a few off-pedal attractions you'll be needing transport to.
KEY FACTS
1

LOIRE A VELO, FRANCE

The regularly updated Loire a Velo website is crammed with need-to-know information on the Loire's network of hire, repair, baggage storage and transfer services, plus all the expected cycle routes and tourism information. It even has its own app.

2

NGA HARENGA, NEW ZEALAND

The New Zealand Cycle Trail website includes handy information on all 22 trails, including maps, difficulty ratings, each trail's current status and highlights

3

HIGHWAY 1, VIETNAM

If you're not prepared to go it alone in Vietnam, bike tours offer structure and support to your cycle holiday. Intrepid offers tours between 2 and 17 days including short and full-length cycling adventures through Vietnam.
Best for culture: Highway 1, Vietnam
Asia has long had a love affair with the bicycle, and there's no better way to immerse yourself in the culture, cuisine, cities and countryside of Vietnam (regularly voted one of the world's friendliest countries), than by travelling on two wheels.
The most popular cycling route is Highway 1, connecting Ho Chi Minh City and Hanoi, two cities once torn apart by conflict. For all its iffy road surfaces, honking traffic, dodging locals and animals there are also long stretches of dramatic coastline and karst formations, country lanes through lush rice paddies, coconut and coffee plantations, and the always welcoming smiles of locals.
Unlike Bangkok, bikes and scooters still dominate the wide, tree-lined streets of Ho Chi Minh and Hanoi. Intimidation quickly turns to exhilaration as you join in the melee, haggle over the handle bars, and duck down side streets thick with the spicy scents from street vendors.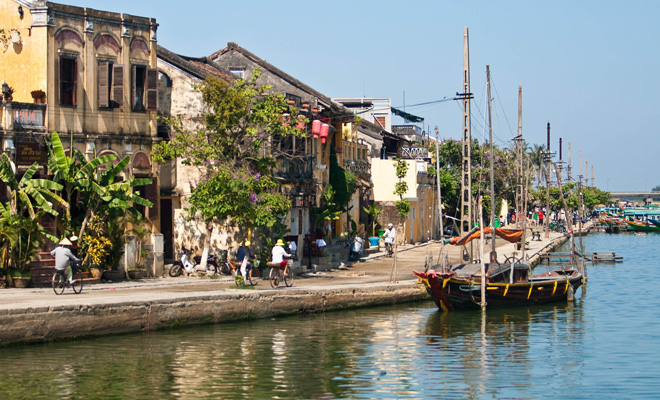 Highway 1 makes it easy to escape the city limits to greener pastures. Not that you need to tackle the full 1,200 kilometres. You might want to hail a bus to conquer the sadistically steep Hai Van Pass between DaNang and former imperial capital, Hue. Once there, it's easy to hire a bike to explore Hue's tombs, temples, palaces and pagodas by day and return with plenty of time to tuck into the city's famous cuisine.
From Hue the highway hugs the coastline down to Ho Chi Minh, via the bustling shopping town of Hoi An. To the north, Hanoi is surrounded by the golden triangle of iconic Ha Long Bay and the rural paradises of Sapa and Mai Chau, with their misty mountains, terraced rice paddies, and stilted hill tribe huts. Or, if you've had your fill of hills, the pancake flat Mekong Delta and its tributaries lie just south of Ho Chi Minh City.
Cycling Australia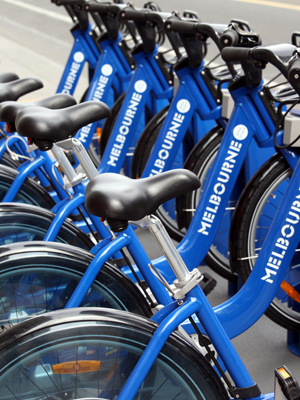 Australia may still be catching on to cycling holidays, but there's plenty of choice if you know where to look. Islands are great, compact destinations allowing you to mix sea, saddle and self-guided sightseeing. Established ride and hire options exist from Kangaroo and Phillip Island in the south, to tropical Magnetic Island. It's pretty much the only way to get around on near-traffic free Rottnest Island, off the Perth coast.
Australia's many wine regions have also built up a network of undemanding two-wheel trails, with the added attraction of après-cycling indulgence. As you'd expect of the home of the Tour Down Under, Adelaide has trails aplenty around the city, coast and into the hills. Brisbane's River Loop provides and attractive day out, Hobart has its Mount Wellington descent, and Canberra's flat paths and open spaces seem made for cycling. But Melbourne's great cycling culture, infrastructure and city bike-share scheme give it the edge.