Get Out Of London
With a number of world trips under her belt, Katie Stokes has plenty of suggestions on why you should see more of the UK than just London.
Beyond the Capital
You've been living in the UK four months. You're earning some pounds, enjoy your daily bath and think The Sun is a respectable newspaper. You've seen London's sites - Big Ben, the Tate Gallery and the equally famous backpacker-haunt 'The Church' but, like many working holiday makers, you're yet to venture beyond the London Underground.

The two-year working holiday visa for the UK provides you with ample time to visit all the quintessential tourist sites (Oxford, Stonehenge, Brighton) as well as the more quirky, abstract and 'real Britannia' attractions. In fact, if you're working a normal 9-5 Monday to Friday gig, it gives you 104 weekends. So escape the grind and get out there, you're supposed to be a backpacker after all.

See Historical England

Throughout the year, museums and castles across England host historical festivals and events. See re-enactments of the Roman Invasion, demonstrations of the 'onager'- a large catapult used to throw large stone balls over enemy ramparts and squirm as 'knights' mount horses and charge each other with lances in jousting tournaments.
More info: historic-uk.com/HistoryUK/LivingHistory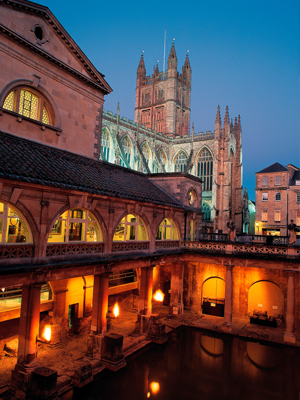 Bizarre Bath
Bath is a gentrified city – the kind that makes you pull up your socks and tuck in your shirt. But for a very different perspective of Bath take the Bizarre Bath Walking Tour. It's an improvisational tour of raw roots street theatre that pokes fun at the city, as well as unsuspecting passers-by. The tour runs every evening through spring and summer. If you visit in summer, visit the Roman Baths of an evening to see them under torchlight. These religious baths were built by the Romans over Britain's only hot springs.
More info: bizarrebath.co.uk and romanbaths.co.uk
Get Cosy in Harrogate
If you prefer to sit in a spa rather than wander around one, visit Harrogate's Turkish Baths and Health Spa. Harrogate is also home to the original Betty's Café Tea Room. Betty's is "fresh and dainty" just as founder Frederick Belmont envisaged, and it has remained a family business since it first opened in 1919. Today, there are six "Betty's" across Yorkshire and all of the cakes, breads and chocolates are made by hand at Betty's Craft Bakery (isn't that just the cutest name). So while it may not be Grandma Belmont baking your scones out back, these little treats do warm your tummy with that home-made feeling. A pianist plays at Betty's in Harrogate every evening from 6pm.
More info: bettys.co.uk
Cultural Cambridge
Whether you're into rap, rock, hip-hop or Beyonce you must visit the King's College Chapel to hear the King's Choir. Surrounded by gothic architecture and soaring vaulted ceilings even atheists have to agree it's pretty special. While in Cambridge cycle to Grantchester (25-minute cycle from Cambridge) for afternoon tea under the cherry blossoms of The Orchard. Established in 1868, this tea pavilion was once frequented by literary figures such as Virginia Woolf and John Keynes.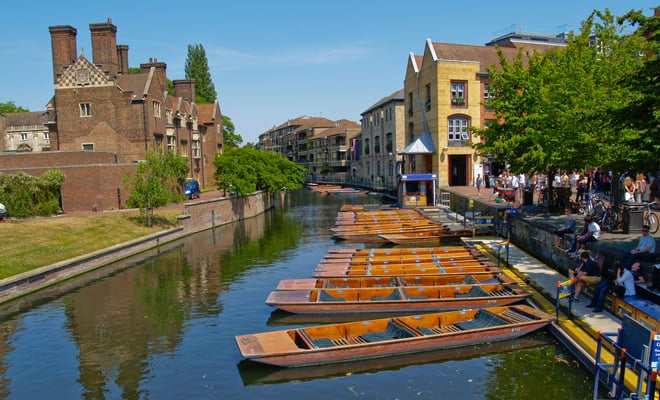 Take Flight in Duxford

Visit one of London's op shops, buy yourself a leather jacket and get out to Duxford to ride in a Tiger Moth. This classic, old model aircraft from the thirties is typically English and, like eating spotted dick, you may only do it once, so do it here.

Also located at the base of the Duxford airfield is the Imperial War Museum, reputed to be Europe's premier aviation museum. With several hangers housing jets, helicopters, planes, tanks, military and naval vehicles, even if your airline knowledge is limited you'll still be enthralled by the immensity and mechanics of these machines.

More info: iwm.org.uk
KEY FACTS
GETTING THERE

YHA Travel offers excellent airfares to its members. See preprod.yha.com.au to locate a YHA Travel Centre.

Take the stress out of travel and book YHA Travel's London Easy Deal. It includes 2 nights accommodation at City of London YHA, transfer from Heathrow airport to YHA and a 3 day London travel pass. From $257 multi-share.

GETTING AROUND

Hire a car from YHA Travel and save 7% off the car hire and an additional 15% off car hire insurance when purchased together.

ACCOMMODATION

YHA UK has a large network of hostels around England and Wales including 6 in London. There are also YHAs in Cambridge, Liverpool, Bath (Bathwick Hill) and Stow-On-The-Wold in The Cotswolds.
Meet The Rude Man in Dorset
When backpackers first hear about The Rude Ma' - a 55metre naked man wielding a club - most assume the English got jack of the Scottish Lochness Monster and decided to invent one of their own. And this could be true as both the identity and date of The Rude Man (a large chalk drawing, officially called the Cerne Abbas Giant) remains a mystery. Some believe him to be a prehistoric fertility god while others think he shares a resemblance with Oliver Cromwell.

What we do know is that The Rude Man is a large chalk drawing on a hillside in Cerne Abbas, a small village in Dorset, and that his presence was first recorded in 1694. The Giant is best seen from the parking area off the A352 highway, but it's also worthwhile walking around the Giant on the footpath to see the chalk carvings up close.

More info: mysteriousbritain.co.uk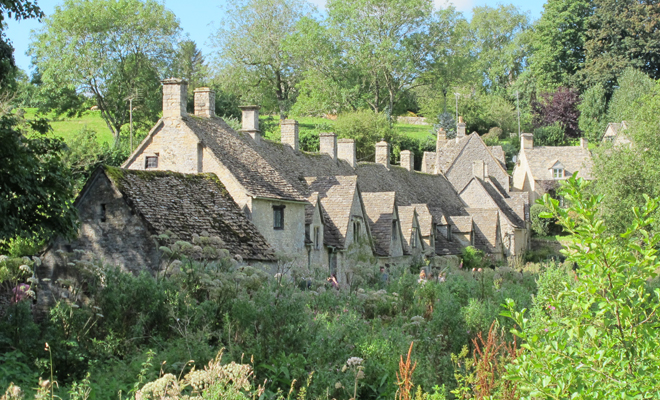 The Cotswolds

The Cotswolds is a region famous for its honey-coloured limestone villages that are largely unchanged from the 15th and 16th centuries. The Cotswolds are timeless and very Wind in the Willows in their old-school English feel. Stow-on-the-Wold is a small town, quintessential of this area. Wander round antique and craft shops or borrow a pair of wellingtons for long walks through the rolling countryside.

Or try one of these very English events:

The Coopers Hill Cheese Rolling Festival: Fancy chasing a 7lb Double Gloucester cheese down a hill in one of those slightly bizarre events that the English specialize in? A hill that reaches a one-in-one gradient in parts (for those of you who aren't civil engineers this means it's very very steep). Yes, you will get bruised and battered. Get there and have some fun.

The Cotswolds Olimpicks: Calling all TV watchers and wannabe athletes, here's your chance to star in the Olimpicks. Events include climbing the unclimbable ladder, a massive tug of war, a falconry display, single stick fighting and the big crowd-puller, the Shin Kicking – an event that lets you kick the bejesus out of your opponent. It's brutal and ridiculous, painful if you're involved, but hilarious to witness.

More info: cotswolds.info/strange-things and the-cotswolds.org

Bog-snorkelling Championship
If you're after weird and wacky, then this is it - Mountain Bike Bog Snorkelling. Huh? What? The idea is to cycle along the bottom of a 6ft-deep peat bog wearing a mask and snorkel. The aim - to do 2 laps of the trench in the fastest time. The bike has a lead-filled frame and water-filled tyres to ensure it doesn't float. The cyclist (or snorkeller) wears a lead-weight belt to avoid floating off the bike.
If this is too weird for you, you can always ditch the bike and just snorkel. But be warned: conventional swimming strokes are not allowed, this is a dog-paddle event only.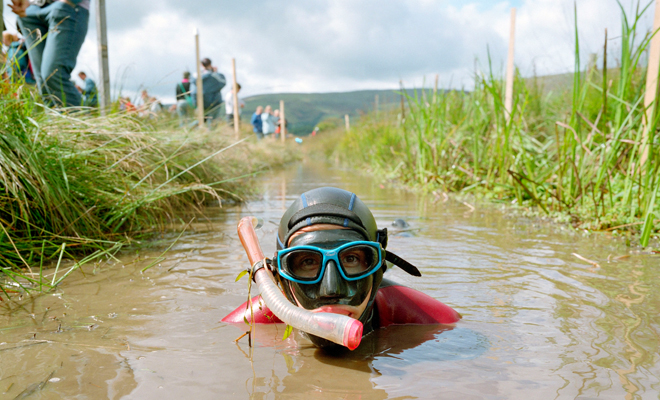 Beatle-mania
Roll up for the Magical Mystery Tour in Liverpool to see where the screaming girls and bowl-haircuts began. The Tour visits over 30 landmarks associated with the Beatles including their homes, schools, birthplaces, Penny Lane and Strawberry Fields.
Liverpool is also home to The Cavern Club where The Beatles performed some 292 times in the early 1960s and The Casbah Coffee Club - the only original Beatles' venue that has remained unchanged. The guitar, mic and amps are the originals used by The Beatles.
More info: cavern-liverpool.co.uk