Go Hard or Go Home
Far North Queensland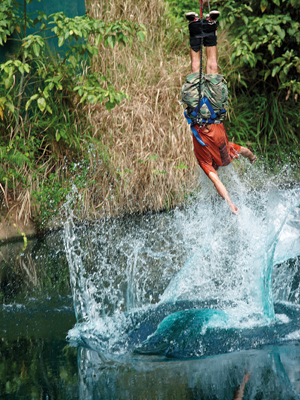 Far North Queensland's amazing natural wonders and reputation as Australia's adventure capital are still very much intact, and make for a fantastic vale trip. Leigh Reading suits up and sets his fears aside for a far north fling.
My introduction to Cairns starts at AJ Hackett. As I walk in, I'm greeted by Marcus who, with a wry smile, delivers an explanation of what to expect, taking some creative licence to heighten my nerves as I suit up. AJ Hackett operates the only bungy jumping experience in Australia. Set high in the rainforest north of town, the 50-metre high platform is the highest viewing point in Cairns and gives amazing views across the rainforest to the Coral Sea.

I'm here to do the Minjin Swing. Marcus takes me through all of the checks, and while safety is paramount (they have done over 100,000 safe swings), I can't seem to shake the nerves of falling from 45 to one metre in three seconds. I do notice that it's an amazing view as I'm towed to the top, ripcord in hand. Then, whoosh! After the initial freefall, the line catches and I'm flying through the trees at 120 kilometres per hour. What a rush. What fun.

The next day I'm in the hands of Barney from Back Country Bliss. We travel an hour north of Cairns to Port Douglas along the amazingly picturesque coast road, the wilderness to the left and rugged coast to the right giving it a distinct Hawaiian Island feel.

We arrive at Thala Beach and slip into our not-so-flattering 'stinger suits' as we paddle out from the calm cove. The water is crystal clear and full of colourful fish that flit under our kayaks as Barney explains that dolphins, sea turtles and whales are a common sight. Reaching the headland it was time to ride the waves back to shore and head inland to one of the top mountain bike trails in Australia, 'The Bump Track'.

I'd been looking forward to this, however my excitement turned to fear when Barney warned us about a common plant found along the route: the Stinging Tree. The heart-shaped leaves are covered by fine hairs which act like syringes that pack a mean sting. Once stung, the hairs stay in the skin and continue to sting you for weeks, if not months. Petrified, I set off downhill and immediately come into contact with trees though luckily not of the stinging variety.
Back on course, riding the track is hard work but absolutely thrilling, dodging rocks and trees, taking on mud, uphills, downhills and even a river crossing. An hour in we stop to refuel with a drink and muesli bar, giving us a chance to admire the view from a lookout high in the mountain which looks right out to the reef. Barney lowers the seats on our bikes and we set of on the final part of the track, a kilometre-long steep downhill section over rocks. It's by far the fastest and most adrenalin pumping part of the track, ending as you fly out of the trees into the open valley, still in one piece, and sting-free.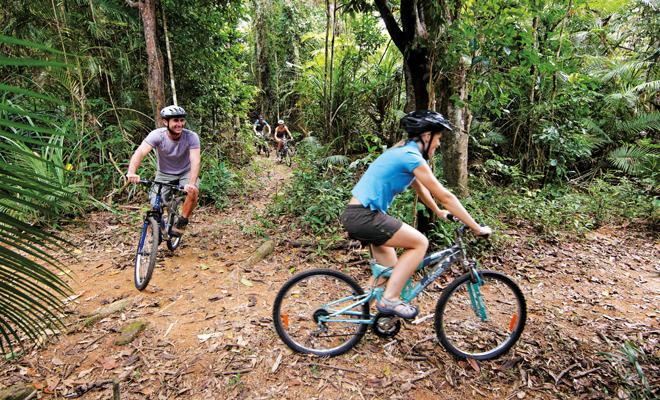 KEY FACTS
AJ Hackett Cairns
Minjin Swing AUD$99 including photos and certificate. Bungy Jump $159 including t-shirt and certificate. Multiple jump & other packages available. Visit ajhackett.com/cairns/

Back Country Bliss
Sea Kayak adventure $120. Half day mountain biking $135. Visit backcountrybliss.com.au

Jungle Surfing Canopy Tours
Jungle Surfing $90 includes five zip lines. Visit junglesurfing.com.au

Great Adventures
Green Island Eco Adventure $84 includes Glass Bottom Boat tour OR use of snorkelling equipment. Visit greatadventures.com.au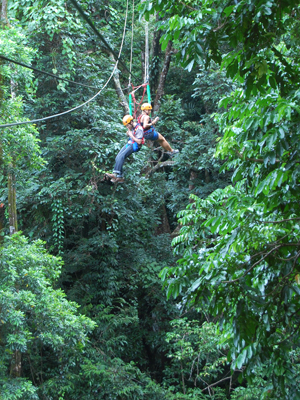 Venturing further north to Cape Tribulation, our next challenge is Jungle Surfing. Host Gordon, helps harness us up then we head to the first platform to be hoisted to the top of the trees. Sitting in a harness being zipped 20, 30, 40 metres between the trees at 10 to 20 metres above the rainforest floor is an exhilarating experience. On one we stop halfway across, suspended 22.5 metres above Masons Creek, on another line we hang upside down, zooming along head-first above the forest.
Back at ground level we're whisked away on a ferry to Green Island, for a snorkel around the Quicksilver Reef Swim circuit. With the sun beating down we have great visibility as we snorkel over the stunning coral formations, spotting hundreds of kinds of fish and at one point encountering a graceful sea turtle.

As I sit on the plane waiting to head home, I reflect on the past few days. I had been wowed by scenery that exceeded all my expectations, experienced once-in-a-lifetime activities, and met people with incredible zest for life. Queensland's far north lives and breathes adventure, making it the ultimate short break to defrost from the winter chill.