Making tracks: Australia's greatest train journeys
There's something special about going cross country by rail. While a comfy locomotive may take a little longer to get from A to B, they're a unique and memorable way to see a lesser-travelled cross section of Australia, and give you all the more opportunity to soak up the incredible scenery along the way. From vast desert expeditions to historic steam trains slicing through temperate rainforests, when it comes to train travel, it's the journey, not the destination, which makes for a truly unforgettable experience.
Indian Pacific

Image:

Journey Beyond Rail Expeditions
Explore the best of Australian scenery in a single journey with an all-inclusive trip on the Indian Pacific. Travelling between Sydney, Adelaide and Perth, this once-in-a-lifetime transcontinental escape passes through some of the country's most impressive landscapes. While the entire itinerary takes place across four days and three nights, depending on where you're staying, it might make more sense to book a shorter trip, like Adelaide to Perth.

Like The Ghan, you won't spend every hour on board, as numerous excursions complement your relaxed rumble through the countryside. In the Blue Mountains, you'll disembark in Katoomba to visit the Scenic Skyway's glass-bottom cable car, rising to 270 metres above craggy ravines. Upon arriving in Adelaide, you'll sip world-class wines in the renowned Barossa Valley. Then, the last day sees passengers gaze across the Nullarbor Plain's spellbinding remoteness.
Spirit of the Outback
Farewell the bustle of Brisbane skyline on a 26-hour journey into the Queensland desert aboard the Spirit of the Outback. Bound for Longreach over 1,300 kilometres away, you'll chug north along the coastline through Bundaberg and Rockhampton before turning inland. Travelling over the Drummond Range, there are quick stops in remote mining towns like Emerald and Blackwater before arriving at your hot and dry endpoint. Then, you can take the same journey back again.

While this trip isn't as luxurious as The Ghan or the Great Southern, the Spirit of the Outback makes up for it with scenery that evolves every step of the way. In private sleeper cabins or reclining economy seats, the overnight fare also includes meals served in charming dining carriages. When you reach the final stop, nearby landmarks like the Qantas Founders Museum and the Australian Stockman's Hall of Fame round out this enchanting excursion.
The Ghan

Image:

Tourism Australia
The Ghan is a bucket list train journey immersing passengers in the Australian outback. Carving through the Red Centre from north to south or vice-versa, the longest journey – The Ghan Expedition – spans almost 3,000 kilometres from Darwin to Adelaide across a four-day, three-night trip. If you're strapped for time, a selection of shorter itineraries, like Adelaide to Alice Springs, provide a more affordable and slightly less daunting alternative.

No matter the itinerary you choose, each journey makes the most of the desert landscape via breathtaking off-train experiences. For example, during the trip, you'll be invited to hike through Simpsons Gap or take a river cruise down Nitmiluk Gorge, while there are optional upgrades like helicopter tours to level up the adventure. Sleeping in cosy cabins, you won't have to worry about loading up your suitcase with snacks, as food and wine are all-inclusive.
The Overland
First operated in 1887, The Overland has helped passengers get between Adelaide and Melbourne for over 135 years. Frequently updated over the decades, the current iteration of The Overland runs twice per week in both directions, completing the 828-kilometre journey in a little over 10 hours. Choosing from Red Premium or Red Service tickets, the former nets greater comforts, including extra legroom and all-inclusive in-seat dining.

Departing northeast from Melbourne CBD via Pleurisy Plains, you'll get a glimpse of Mount Elephant – a dormant volcano. Over the Grampians mountain range, there are brief breaks in historic gold rush towns like Ararat before you cross the South Australia border en route to Adelaide. A fantastic introduction to rural life in the southeast, a ride on Australia's first inter-capital passenger train is still a majestic experience.
West Coast Wilderness Railway

Image:

Tourism Australia
Complete a trip through Tasmania's famously rugged terrain with a journey on the West Coast Wilderness Railway. Established in 1897 to link Queenstown's copper mining operations to the port in Strahan, it has since become a tourist hotspot for those looking to admire the region's dramatic scenery. Stretching for 34.5 kilometres, you're welcome to take part in a half or full-day tour travelling deep into millennia-old temperate rainforests.

Retracing the coastline's industrial past, the railway winds through historic camps and settlements, showcasing the community's pioneering past. Heading into the hills, the wonderfully restored antique locomotives summit Rinadeena Saddle's steep gradients on toothed rack rails. Along the way, gorgeous landmarks like King River Gorge and the rainforests of Dubbil Barril provide stunning views and a chance to stretch your legs.
Great Southern
Launched in 2019, the Great Southern is one of the newest experiential train journeys to set off across the country. Operating between Brisbane to Adelaide, it features a range of included and optional stops in scenic locations (which vary depending on your direction of travel). You'll wander the beachfront and engage with local indigenous culture in Coffs Harbour, while in the Grampians and Adelaide Hills, you can get up close and personal with celebrated local viticulture.

Spanning four days and three nights for Brisbane departures or three days and two nights from Adelaide, there's no shortage of opportunities to marvel at the spectacular scenery. In addition, the all-inclusive food and wine menu highlights sumptuous regional flavours while luxe onboard venues, like the Queen Adelaide Restaurant and the Outback Explorer Lounge, provide tantalising cuisine and a welcoming space to chat with fellow travellers.
Victorian Goldfields Railway

Image: Tourism Australia/

Visit Victoria
Step back in time in Central Victoria with a ride on the Victorian Goldfields Railway. Led by a dedicated volunteer crew, you'll catch an authentic steam train between Castlemaine and Maldon – two of the most prominent gold rush towns. Operating every Sunday and Wednesday, this heritage railway's 17-kilometre journey explores the beauty of the goldfields while echoing the golden age of rail through Edwardian and Art Deco flourishes.

For those travelling with kids, the Excursion Class fare offers family-sized compartments with plenty of room to spread out. However, First Class tickets lift the decadence with a full bar and refreshment service. If you'd like to explore further afield once you reach Maldon, you'll be happy to know there's space to stow bicycles onboard. The railway also regularly hosts special events, like after-dark cinema screenings of the 1974 classic, 'Murder on the Orient Express'.
Kuranda Scenic Railway

Image: Tourism Australia
You don't have to depart on an overnight adventure to benefit from a memorable train journey. The Kuranda Scenic Railway covers 34 kilometres one-way in under two hours, making it ideal for travellers looking to add a short but sweet jaunt to a bustling schedule. Rising from sea level, this trip navigates the lush forests of Far North Queensland's Wet Tropics – a UNESCO World Heritage Site since 1988.

Hugging the mountainside as the train slowly navigates 55 bridges and 15 tunnels, you'll cross dramatic waterfalls and overlook dazzling gorges. There's even a brief stop at the Din Din Barron Falls Lookout, where you'll disembark to admire the cascades from a misty observation point. Riding aboard vintage carriages, choose between Heritage Class and Gold Class fares, with the latter adding morning or afternoon tea featuring locally produced snacks and drinks.
Words: Hudson Brown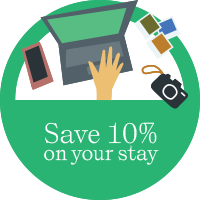 Book direct and save
By booking direct with MyYHA you'll receive our exclusive discounted rates. Sign up or login to get 10% off at select properties.