In the heart of Oz - Alice Springs
Alice Springs has personality that I just can't put my finger on. 'Alice,' as the town is fondly known, has her flaws. For example: she's in the middle of nowhere, the very heart of Australia. But there's something about the place that's just irresistible.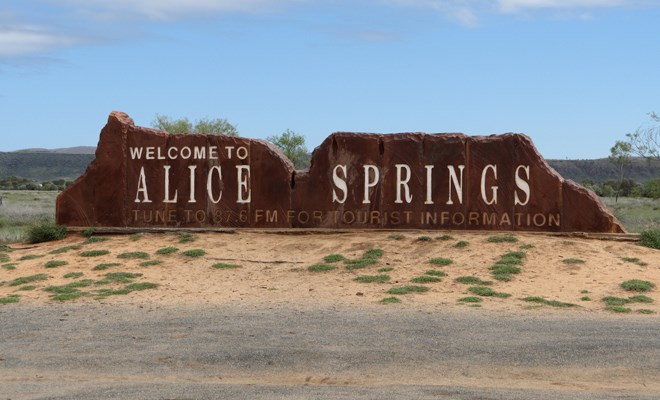 A memorable month in Alice Springs
I spent one month in Alice on a work exchange from the hustle and bustle of the 24/7 reception at YHA Sydney Central to the laid back and often motionless front desk of the YHA Alice Springs. My time there was hot, isolating, exuberant, weird and memorable. Everyone I met had a story or three.
The YHA guests in Alice were an outlandish mix who seemed to either want temporary escape from city life or adventure en route to Uluru and Kata Tjuta, world heritage national parks. There were also the vagabond labourers passing through Alice on their way to their next outback job – there were cowboys heading to the next cattle stations, fortune seekers looking for lucrative mining jobs and a few adventurous backpackers doing a stint between outback pubs. And they were all drawn into Alice by her quirks. Ever attend a Camel Cup? A beanie festival? A river regatta with no river to speak of? Alice hosts these every year.
Eclectic mix of people
Alice is a town that has always attracted eclectic groups of people – it has inspired explorers, feminists, and artists. John Stuart who the town was named after until 1933 led the first successful expedition to traverse the Australian mainland from south to north and return. His story is her story too in Alice where more than 100 Australian women were pioneers in their fields and are featured in the National Pioneer Women's Hall of Fame.
Attractions and annual events
If you are in town for a few days, there are several must-see attractions that are well worth your time. One of them is the Alice Springs Desert Park, which harbours many of the surrounding desert environment. Another great spot is the Olive Pink Botanic Garden, which is surprisingly colourful for an arid climate botanic gardens. Both spots are only a short distance from the town centre. Looking for another unique outback experience? Make sure to check out the following events: Henley On Todd Regatta and Alice Springs Beanie Festival.
Aboriginal culture and heritage
Alice is also of great significance to Aboriginal culture and folklore – every rock and landmark echoes with the desert's spiritual heritage. Many prominent names in Aboriginal art, including Emily Kngwarreye, Minnie Pwerle, Clifford Possum Tjapaltjarri, Albert Namatjira and Wenten Rubuntja learnt their craft in the town.
Exploring the outdoors
On my days off from work, I peddled around the town's outlaying bike tracks on one YHA's mountain bikes. Through dry river beds to strange rock formations, past swamps and water holes, I often spotted red kangaroos, rock wallabies, wedge-tailed Eagles, black cockatoos, finches and the occasional water bird or frog.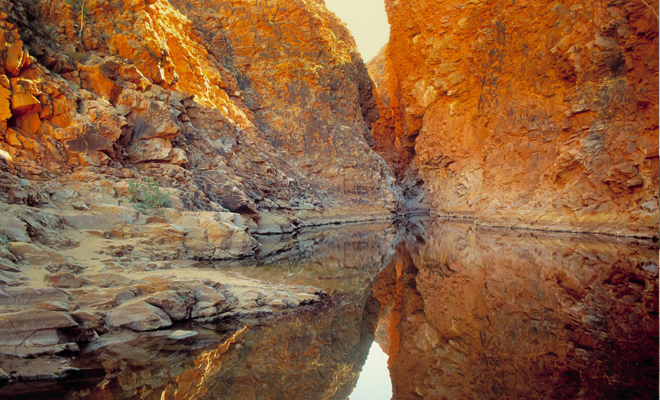 One very early morning I took a dawn camel ride through the dry banks of the Todd River with Pyndan Camel Tracks. From the bumpy heights of my camel I watched the sun rise slowly over the deep oranges of arid soils contrasted by the vivid purples and pinks of desert flowers that surrounded the track's river red gums, tall coolabah trees and the scarlet red dessert peas.
Take the time to wander to the middle of nowhere and you'll find Alice. It's a journey well worth the effort and a journey you won't soon forget. Breathtaking, moving and absurd, this little town epitomizes the spirit of Australian culture and dreaming – it's a rollicking off-the-beaten-track town that has it all.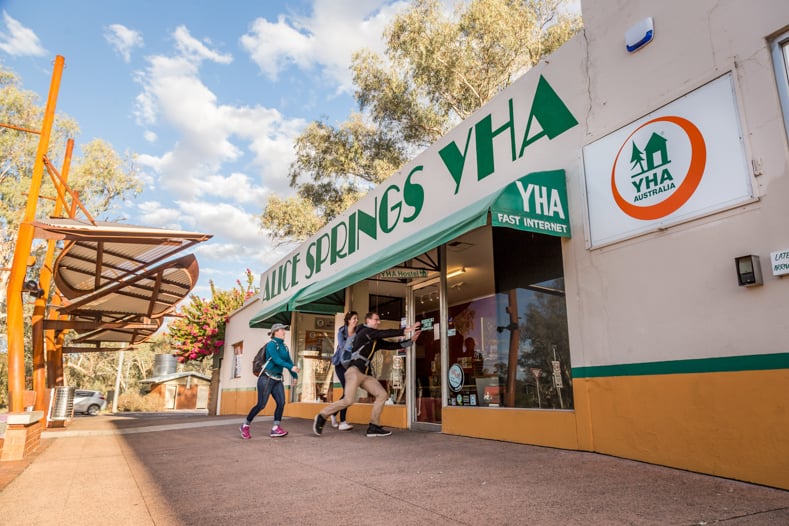 YHA Alice Springs
Located in the iconic desert town of Alice Springs, gateway to the Outback and Uluru, the historic YHA Alice Springs was once an open-air theatre and still hosts nightly movies.