Live. Love. Melbourne
Think hip and happening and head to the 'burbs, writes Jo Stewart about Melbourne's happening hot spots.
Suburban Hot Spots
What is it about the suburbs? Once deemed a cultural wasteland, suburban areas are enjoying a renaissance, with travellers swapping the city lights for the slow burn of the sprawl. Whether it's the desire to get to know the local way of life or just a yearning for authenticity, instead of being 'stuck in' the 'burbs, travellers are now getting stuck into the 'burbs. Sure, Melbourne's urban core has enough to keep visiting punters happy but it doesn't have a stronghold on the cool scene. Just like New York's five boroughs, Melbourne's inner suburbs are hip, happening, and have a distinct, almost-tribal identity that travellers are picking up on. Luckily, Melbourne's trams, trains and nifty bike sharing system are on the ready to get you there, whichever way the wind blows.
North: Fitzroy, Collingwood, Clifton Hill, Northcote, Carlton, Brunswick
This is where the greenie, leftie, eco-conscious, artsy tribe live, work and play. Independent book stores, gritty street art, record stores, vintage shopping and live music proliferate in these parts, as do bike lanes, green space and vegan restaurants. You won't find many air-conditioned malls here, with strip shopping and markets the preferred form of retail. Rose Street Artists' Market in Fitzroy is a weekend institution for locals and visitors alike, and a top place to score an oh-so-Melbourne keepsake or gift.
Music of all varieties is a big part of local life in these parts, with live music institution The Tote delivering rock, punk and metal, while Fitzroy's Night Cat is the domain of Latin beats and smooth, salsa moves. Back street 'footy pubs' typically serve up schnitzels and brews with a side of folk or country. In winter, the old fireplaces crackle, but in summer the beer gardens overflow with cider and sunshine. Over in Carlton, Lygon Street may be considered ground zero for Italian dining, yet many of the best food and wine finds are in surrounding streets with Rathdowne Village's low-key, cash-only Gerald's Bar delivering food, wine and imported beer minus the hype. This is one area where straying from the main street pays serious dividends.
West: Yarraville, Seddon, Williamstown, Footscray
An area with working class roots but an eye on the future, Melbourne's west is often overlooked despite its wealth of diversity. The hub of Yarraville is a compact collection of shops clinging to the Art Deco glory of the Sun Theatre, an old-school movie house known for its comfy couch seating and artisan choc-top selection. Wine bars, cafés and speciality shops are neatly dissected by a train line that cuts straight through the village. Forget tunnels and overhead bridges for pedestrians – Yarraville still relies on white wooden boom gates and level crossings, nailing the 'quaint village feel'.
Footscray was once considered by some to be 'on the wrong side of tracks'. However Footscray has earned some street cred of late thanks its solid food scene. A haven of cheap eats, Footscray's migrant population has ensured it's become a foodie hotspot for global fare. For anyone unafraid to swap fine dining for budget-friendly banquets, Footscray is the real deal - plastic table cloths and all.
At the end of the rail line, you'll find the port of Williamstown. This is where shipping containers and cargo ships mix with luxury yachts and fish and chip shops. A walk or bike ride along the waterfront reveals maritime history, black swans, old mariner's cottages, and locals going for their daily jog. Pro tip: skip the train and take the ferry to Williamstown for a dose of fresh salt air.
How To Live Like A Local In Melbourne's Suburbs
Five Of The Best Local Experiences

1. Get Down at No Light No Lycra

49 Nicholson Street, Brunswick

Essentially a formalised dance party, this phenomenon has spread to Sydney, New York and London, but it all started in Melbourne, so why not shake it with the founding members?

2. Have a play date at Mr Wow's Emporium

97b Smith Street, Fitzroy 3065

Any place with a mission statement like 'drinks, good times and bocce' is worth checking out. Mr Wow's delivers beer, wine, cocktails, free popcorn, ping pong tables and a dedicated space for playing bocce.

3. Go back in time at the Coburg Drive In

155 Newlands Road, Coburg

Downloads and live streams can't compare with the humble drive in. The Coburg Drive In delivers a good, old-fashioned night on the town complete with 50's-style diner serving up the usual (deep-fried) suspects.

4. Go green at CERES Environment Park

Stewart Street, Brunswick

For a dose of green space, head to CERES to see how locals farm in an urban environment. There's an onsite café, organic produce market, nursery, and bike workshop too.

5. Catch a talkie at the Astor Theatre

Corner Chapel Street & Dandenong Road, St Kilda

With the community saving this icon from redevelopment time and time again, this place truly has nine lives. She's a classy old dame with an impressive calendar of movies showing every week; from classic double features to cult favourites.

Festive Season In Melbourne

Summer in Melbourne is characterised by sunshine, hot days, balmy nights and festivals galore. Here's some local favourites to look forward to:

Mid December

This three day festival lets you bring your own food and alcohol for fiscally-responsible fun. Tickets are available by ballot in the months ahead, but tickets typically pop up on gumtree or social media in the lead up.

2. St Jerome's Laneway Festival

Early February

The festival that fast outgrew its laneway origins, St Jerome's has moved to Footscray but still boasts an incredible line up of Australian and overseas indie, synth, rock and punk acts.

Early February

This week-long celebration of St Kilda's arts, music and food scene culminates in an almighty, multi-stage live music boil over.
South: Albert Park, South Yarra, St Kilda, Prahran, Armadale
Heading south of the city, Albert Park, Elwood and Armadale boast an air of refinement and elegance, with stately Art Deco apartment blocks, boutiques, antiques shops and grand manors with rose gardens adding a touch of class.
Over in Toorak shops selling luxury goods and imported wines and cheeses at 'you wish' prices occupy the main street, while the nearby suburbs of South Yarra and Prahran offer chain stores and high street fashion for the rest of us. On the weekend Prahran's Chapel Street pumps with youthful energy as crowds hit the streets for retail therapy, manicures, long lunches, and afternoon champagne sessions.
Waterfront St Kilda is a favourite with all kinds of travellers. The grinning face of Luna Park, the faded glory of the Palais Theatre, towering palm trees, and burnt orange sunsets combine to create a photographer's dream. The Esplanade Hotel (or the 'Espy') combines loud music with a killer view, and if the wind is up the Espy offers a prime position to see kite-surfers carve up the bay. Down the road, Acland Street unites locals and tourists, who all come for cakes, coffee, gelato, juices, smoothies and other extremely important necessities for happiness.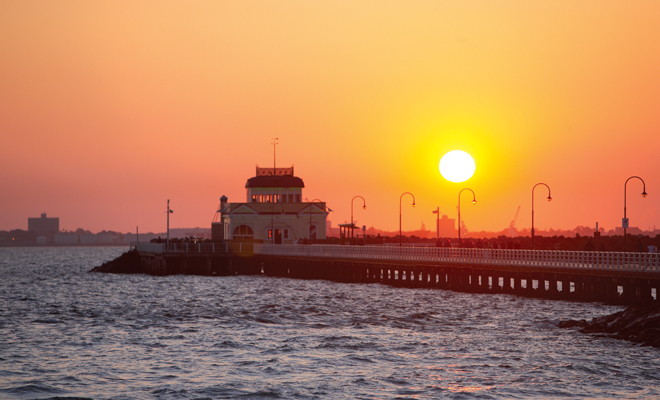 East: East Melbourne, Richmond, Abbotsford
The inner east is a bit of a mixed bag. Sports nuts, fashionistas, students, working professionals and families all collide in this pocket within walking distance of the city. Richmond's main roads have distinct personalities, with people heading to Bridge Road for fashion bargains, Swan Street for food, pubs and gigs, and Victoria Street for a steaming bowl of pho. Over in Abbotsford keen caffeine lovers line up to get into Three Bags Full, a perennially busy café known for its coffee prowess and impressive cake selection.
The east also lays claim to the hallowed turf of the MCG. Ruled by the fast-paced, scrappy game of AFL in winter, come summer the 'G is handed over to cricket, with the first day of the Boxing Day Test seeing crowds swell to more than 80,000. But it's not all about elite sports in these parts. With barefoot bowling and beer at austerity-approved prices, the Richmond Union Bowling Club welcomes visitors and is a top spot for a lawn bowls showdown in the sun.
You might also like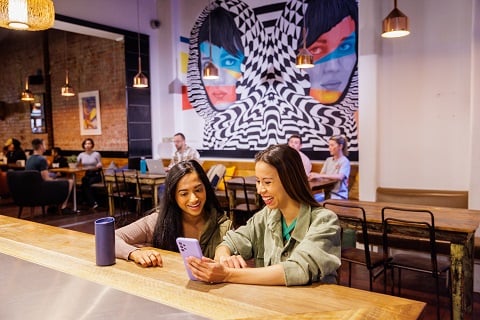 YHA Melbourne Central
Tucked between the downtown Melbourne highrises and with trams on its doorstep, this heritage-listed YHA is the perfect platform for exploring Australia's trendiest city.