London Fiveways
Five days, five new (and wallet-friendly) ways to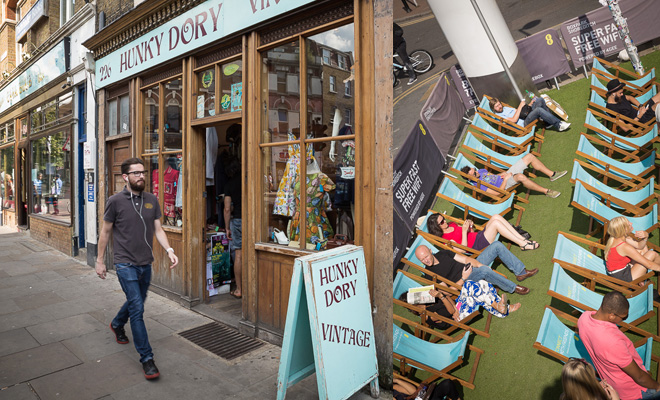 explore classic London, by Shaney Hudson
From a pint in a pub to a West End show, there are some classic London experiences you just have to indulge in, no matter what your budget. However, the best thing about London is that it is constantly evolving, and so too are the ways to enjoy its classic, essential experiences.
Below are five new ways to tick the London box.
Day One
The classic experience: Seeing a show in the West End.
London's theatre scene is second to none. While you can still pick up a reduced price ticket from the TKTS booth in Leicester Square, a West End show can be a hit to the hip pocket.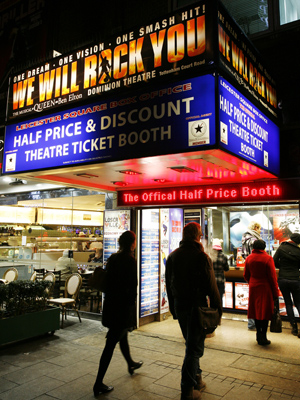 The new way: Get along to the Prince Charles Cinema in the West End. Currently hiding under heavy scaffolding, visitors can catch a quirky sing-a-long cult movie session, with plenty of classics on offer, including sing-along Frozen, aca-along Pitch Perfect, quote-along The Big Lebowski or bitch-along Mean Girls, with many people dressing up (and performing) in character.
Day Two
The classic experience: Having a pint in the pub
There's generally a pub on every corner in London, making this an easy box for most visitors to tick. However, a fair few central London pubs are run by chains, and not all of them are showcasing London's exploding craft beer scene.
The new way: There are now about 50 microbreweries located within the London limits, with many featuring tasting rooms, brewery tours and pub grub.Crate Brewery, in East London, runs weekend tours of its brewery and also has a popular pizzeria, while and Que offers ribs and craft beer from Beavertown Brewery.
NEED GREEN STUFF?
LONDON'S GREEN PARKS

It's easy to feel hustled amongst the bustle of busy London. The best way to keep sane is to head into one of London's Parks, which act not only as a green belt for the city but as a cultural melting pot for Londoners from all walks of life.

Pack a picnic lunch and people watch in one of the eight Royal Parks in London, many of which are home to key monuments and sights including the Albert Memorial, Kensington Palace and the Horse Guard Parade. Often overlooked, Richmond Park is home to hundreds of free-roaming deer and is popular with cyclists, while Hampstead Heath remains a local favourite for its views of the city.

Also worth a look is London's newest parkland, the 560-acre Queen Elizabeth Olympic Park in East London, which has been modified and redeveloped as a community space after the 2012 London Games.

Day Three

The classic experience: London markets

Typically, London's most famous markets - Camden, Portobello Road and Borough - are also its busiest. While each market has its unique appeal, the prices, crowds and heavy tourist presence can be a bit overwhelming.

The new way: The perfect rainy day option, head to Old Spitalfields Market, a covered market near Liverpool Street Station nestled behind a modern pedestrian mall that is open seven days a week. In one section you'll find clothing and handcrafted goods; another a treasure trove of antique clothing, curios and vintage goods.

Day Four

The classic experience: hop-on, hop-off double-decker tourist buses

London's complex transport network can be intimidating, so it's easy to give in to temptation and jump on an expensive sightseeing bus. However, with London carving out a new skyline (Think the Shard, cheese grater, gherkin and walkie-talkie buildings) and a budget-friendly daily bus cap of £4.40, taking a public bus to is the way to go.

The new way: Top routes include the Number 11, which takes you past St Pauls, Trafalgar Square and Big Ben; the Number 74, which takes in Kensington, Harrods and Hyde Park; and the RV1 past the London Eye, Covent Garden and Tower of London.

Day Five

The classic experience: visiting the "it" destination

London's latest "it" destination can change as quickly as the weather. Trendy suburbs like Notting Hill, Chelsea and Soho still have pull (thanks to famous movies, celebrity homeowners and a robust dining scene) but there's always a new area emerging - and the current cool kid is Shoreditch.

The new way: With its collective workspaces, shipping container department store, urban street art and cafes with signs declaring, "all hipsters must be accompanied by a responsible adult", Shoreditch isn't necessarily everyone's cup of tea. However, the occasionally gritty and increasingly gentrified suburb offers a brilliant insight into London life, especially at night when the bars along Shoreditch High Street get going.