Malaysia
Whether you hop on a cheap airfare for a short break, or stopover en route to Europe, Malaysia offers more than you might expect writes Steve McKenna.
Short Break Or Stopover
Perched on a plastic chair, in a tiny kopitiam (coffeeshop) tucked down a shaded back-street of Kuala Lumpur's Chinatown, I survey the scrumptious-smelling breakfast spread across my mosaic-topped table.

There's French-style toast drenched in a warm sauce of egg yolk, peanut butter and honey, a freshly blended papaya juice, a platter of sliced banana, melon and pineapple, and a punchy-looking coffee that the elderly Chinese proprietor has sweetened with a dollop of condensed milk.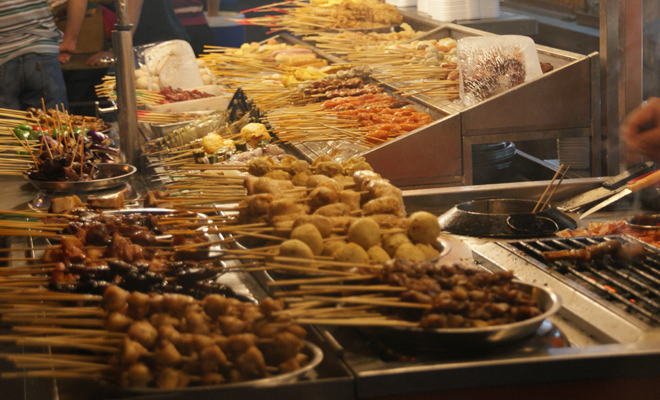 It's ample fuel to kick-start my exploration of Malaysia's steamy capital. Known as KL, this urban jungle edged by tropical jungle, challenges visitors with its heat, humidity and traffic congestion, but rewards with a tantalising range of cultural, shopping and - especially - foodie temptations.

I spend a muggy morning perusing majestic Islamic-inspired architecture, ornate Hindu and Buddhist temples and stately British colonial relics, and before I know it, it's lunch. Rubbing shoulders with head-scarved Malay women in a bustling restaurant cooled by whirring ceiling fans, I embrace the popular Malaysian custom of nasi campur - where diners can choose from an aromatic buffet of freshly-prepared dishes (from beef rendang and coconut curry to stir-fried vegetables and prawn satay).

Stuffed, I hop between the shiny, air-conditioned malls of the skyscraper-packed Bukit Bintang district, alongside trendy young things and besuited businessmen and women scouting the latest Western and Asian fashions; and later, I find myself amid a whirl of colourful saris in the Little India neighbourhood. It's the backdrop for a tender tandoori chicken feast, with a side order of poppadoms, mango chutney, garlic yoghurt and naan bread.
Over a dessert of cendol - a refreshing concoction of shaved ice, sweet beans and cane syrup - I mull over a day in which I've eaten, and roamed, to my heart and belly's content.
I've spent about 60 ringgits (AU$20) all in. I go to bed tired, satisfied yet eager for more.
It's a recurring sensation throughout my travels across Malaysia. Shaped by its ethnic Malay, Chinese and Indian populations, and British colonial past, the country has earned a reputation as a dependable and affordable spot on the south-east Asian backpacking circuit (while remaining relatively under the radar compared to Thailand and Bali).

An absorbing first stop, KL is the launch pad to some fabulous destinations.
Adventure seekers will be happy to swap metropolitan thrills for natural ones. On the island of Borneo, in the East Malaysian states of Sabah and Sarawak, you can explore rainforests with the descendants of ancient headhunting tribes, come face to face with endangered orang-utans and catch the sunset from the summit of 4,095 metre-high Mount Kinabalu.
Three Things Not To Miss
1.
KLCC Park
Despite its ever-expanding glass-and-concrete sprawl, Kuala Lumpur has a clutch of pleasant green spaces. The Lake Gardens and KL Bird Park - which is home to peacocks, parrots and hornbills - are worth seeking out. But in terms of marrying man-made and natural elements, it's hard to beat Kuala Lumpur City Centre Park. This lush, leafy retreat is positioned next to the monumental Petronas Twin Towers, one of the world's greatest pieces of modern architecture. Nice enough by day, the park really comes into its own around sunset, when joggers, walkers and camera-carrying tourists tread the paths that ring the fountain-studded park. Watching the lights on the Petronas crackle to life against a pink-hued sky, as the call to prayer sounds from the park's mosque, is a spine-tingling experience.
2.
Batu Caves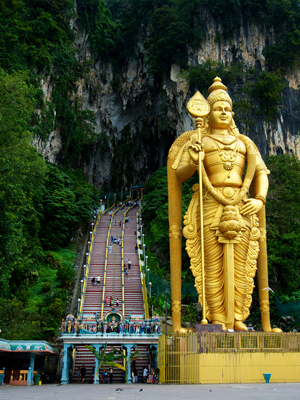 Travellers in south east Asia usually complain of
getting 'templed out'. They often suffer from 'cave
fatigue', too, such is the large number of explorable
caves dug into the region's limestone landscapes.
But the Batu Caves, 12km north of KL, are pretty
special. Revered by Hindus, the cave complex
houses a series of beautiful shrines, while the 272
steps leading up to the entrance are guarded by a
giant statue of the Hindu deity, Murugan. Each
year (usually January), Hindu pilgrims flock here for
the vibrant Thaipusam festival.
Two things to be wary of at the Batu Caves: the
resident monkeys, who are partial to snatching
cameras and ice creams, and the waiting taxi
drivers, who have been known to over-charge
tourists. Avoid the latter by riding the KTM Komuter
train, which links Batu with KL. It's part of the city's
fast-developing rail network (the highlight being the
excellent KLIA Ekspres, which zooms the 57km
from the airport to the city in 28 minutes).
3.
Hawker Culture
Malaysia isn't short of fancy restaurants and iconic Western chains, but some of the best food is rustled up at stalls set up on pavements, or in open-air hawker centres. Don't be afraid to tuck in. George Town in Penang and the Jonker Street Weekend Night Market in Melaka are renowned for their snack-tastic treats, which include spicy curry laksa, grilled squid and custard tarts. In KL, Tang City Food Court in Chinatown's Petaling Street flea market is a reliable option for beef noodle soup and char kuey teow, though you may find it more fun to graze the stalls cramming the nearby alleys. Jalan Alor is another KL street food hotspot. It's round the corner from Changkat Bukit Bintang - the city's liveliest nightlife strip (be warned, though: high alcohol taxes mean Malaysia isn't a budget drinking destination like Thailand and Vietnam). To sample typical street food in neat, air-conditioned comfort, try the Hutong food court under the Lot 10 mall in Bukit Bintang, where some of Malaysia's finest hawkers have gathered under one roof.
4.
Where To Stay
There is only one official YHA/HI hostel in Malaysia, in Melaka. But they have negotiated special rates for YHA members at a range of other accommodation. Find out more at hi-malaysia.org.my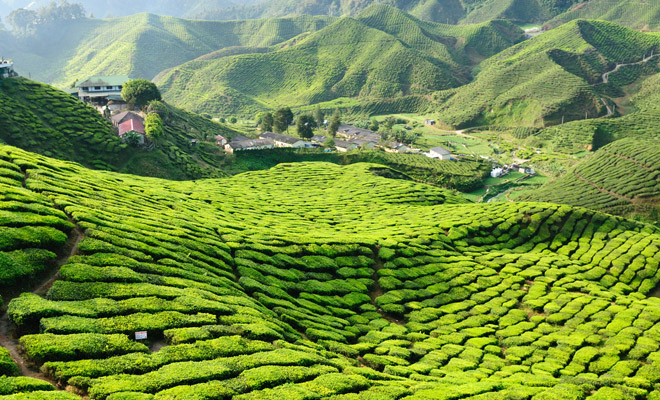 Most travellers, however, stick to Peninsula Malaysia, the chunk of land - and offshore archipelagos - between Thailand and Singapore.

After the energy-sapping elements of KL, it's bliss to ascend into the Cameron Highlands - a chain of luxuriant, misty mountains that slalom between 1,200 and 1,500 metres above sea level, north of the capital.

Likened to the former British 'hill station' of Shimla in India, the cooler highlands were a favourite chill-out zone for expats left ruffled by the steamier lowlands of British Malaya. There's a network of beguiling jungle walks, with marked trails cutting through forestry, kaarst humps and rolling greenery, passing waterfalls, strawberry and butterfly farms, golf courses, temples and villages graced with mock-Tudor country piles.

Amid gorgeous, cascading tea fields, you'll find the BOH tea plantation. Founded in 1929, it's now Malaysia's leading tea maker, producing the equivalent of 5.5 million cups a day. You can sample its multi-flavoured teas on an intriguing plantation tour.
Ideally, it's worth staying in the highlands for a night or two - though it's a long, but very do-able day trip from KL.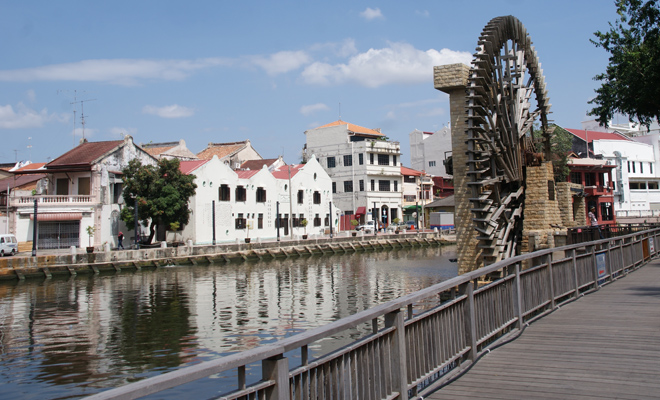 The same can be said about Melaka. A two hour bus ride south of the capital, Melaka - also known as Malacca - rivals Penang as Malaysia's most cosmopolitan enclave.

Hugging the Straits of Malacca, this once-buzzing port was fought over, and colonised, by Malay, Arab, Dutch, Portuguese and British armies and merchants - and these myriad influences are visible, in the local genes, rich architecture and delicious cuisine. While Melaka is still endearingly gritty in parts, a raft of hip new establishments (including alluring bars, cafes and restaurants) have mushroomed inside the once-dilapidated, mural-clad heritage buildings overlooking the Melaka River.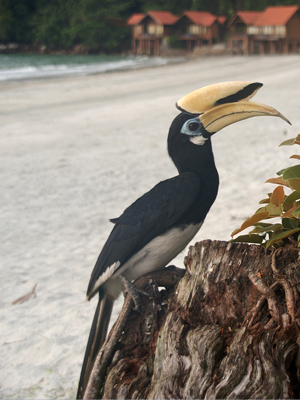 One thing Melaka doesn't have is great beaches. But further up the west coast, you'll find postcard-perfect seaside vistas, not least on Langkawi, whose enchanting white-sand coves are caressed by swimmable warm sapphire seas.

While it's not quite as commercialised as the big-name Thai islands, some find Langkawi 'too developed' and resort-heavy, and prefer the more rustic charms of Pulau Pangkor.
A favourite with domestic tourists, Pangkor Island is characterised by its traditional laid-back kampung (villages), deserted beaches, inexpensive seafood and monkey-filled jungles laced with invigorating trekking routes.

Many Malaysians and wizened backpackers, however, claim the islands on Peninsula Malaysia's east coast are a cut above those on the west, with Pulau Perhentian and Pulau Tioman among their beloved beachy escapes.