Mei Ho House, Hong Kong
Our travel experiences are impacted not only by where we travel to, but by who we travel with. For me, this is especially true in Hong Kong, where the journey is always enhanced with my husband, John's, memories of growing up.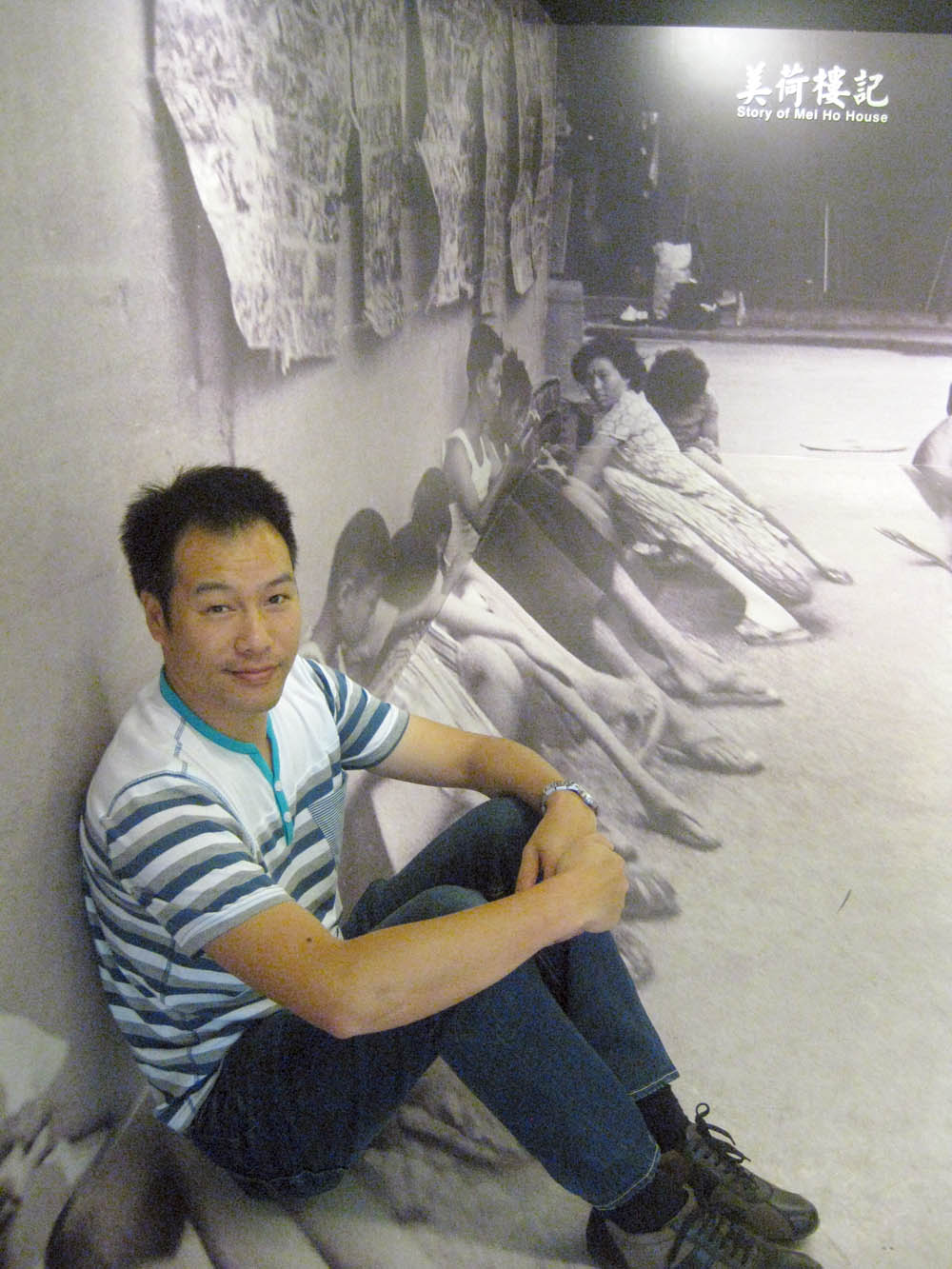 Our latest trip to Hong Kong included a visit to the new Mei Ho House YHA Hostel and Museum. This became the highlight of the trip for John. He found it a very nostalgic experience, reminding him of the joy, freedom and challenges of his childhood. His experience is similar to many Hong Kong locals and migrants, who have flocked to the museum since it's opening last year. The Mei Ho House Museum has tapped into their collective memory of life in the second half of the last century, and provides younger generations a physical insight into the lives of their parents and grandparents.
Mei Ho House was part of the first public housing estate built in Hong Kong in 1954. Nowadays this kind of building is not unusual, with 1/3 of the population living in public housing today, but back then it was revolutionary, and, absolutely necessary...
On the 25th December 1953, a huge fire engulfed the district of Shek Kip Mei, causing almost 58,000 people to lose their homes. This was an unprecedented disaster for Hong Kong, and resulted in the establishment of the Public Housing Scheme the following year.
Mei Ho House would be considered very basic housing by today's standards, but the initial inhabitants felt like they had won the lottery. Instead of sleeping in temporary shelters in the streets, they had a roof over their heads, communal bathrooms, running water and security. This building set the standard in public housing for years to come.
John grew up in public housing similar to Mei Ho House. He lived in his grandmother's unit, which was extremely small compared to what we are used to.
He recalls with fondness that "there were six of us living in Grandma's apartment. Grandma slept on the bottom bunk with my Aunty. One of my uncles slept on the top bunk and the other one on the sofa. My brother and I slept together on a mattress that pulled out from under the sofa. On hot days, if we were lucky, we were allowed to sleep outside on the balcony".
With one communal bathroom to serve each floor of the building, there are many interesting stories of toileting and washing. "The public toilets were in the middle of the building, far away from my Grandma's unit. I was too young to wipe my bum, so Grandma would come to help me after a few minutes. But she was often playing Mah Jong with the neighbours and would forget me, so I would run naked through the building to get her.
Naked children running around residential buildings would be unheard of today, but back then there was a strong sense of community amongst residents and people felt very secure. This meant the children had a lot of freedom to roam the estate.
"My brother and I would play with the other kids all around the building. You wouldn't let your kids do that now, but the adults in the building all looked out for each other's kids. When it was time to go home, my grandma would yell out our names, then another lady who heard it would call our names, followed by another and so on until we finally got the message."
The stories of my husband's childhood continued well after our visit to the Mei Ho House museum, something for which I am extremely grateful. I now feel like I have a better understanding of the circumstances he grew up in, as well as the historical and cultural background of Hong Kong's fascinating public housing scheme.
About The Hostel
Mei Ho House

The Hostel:

But of course, Mei Ho House is more than just a museum. It's also a YHA hostel – the newest and most central YHA hostel in Hong Kong.

The rooms are large, not just by hostel standards but also by Hong Kong hotel standards. But then you remember that this same room housed an entire large family in the past. I feel fortunate that there are just three of us.

We're in a family room, which consists of a main room with a queen-sized bed and cot for our baby, lounge area and bathroom. A second room is attached with two twin beds. Everything is clean, comfortable and modern. We feel instantly relaxed, a nice change from the hustle and bustle of Hong Kong.

Travelling with a baby means you are definitely awake at odd hours and so it is that I find myself staring out the window at 5.30am. It's raining softly and there is an old lady sitting alone in the park. I find myself worrying about her, but she is soon joined by many more women and they commence their morning tai chi exercises. This is a common sight around Hong Kong, and I have a bird's eye view from my room at the hostel.

The building has a unique advantage over many others in Hong Kong – it's surrounded by open space. There are no other buildings around the hostel for about 50 metres. Instead of being within seemingly arms reach of another building, you are gifted with light and space – a rare treat.

Another great feature of the hostel is the on-site cafe. This cafe is open to both guests and the public and is proving very popular with locals. The modern, funky layout at the back of the building provides a quiet oasis from the hectic streets below. Breakfast is included for all guests. Options include typical Hong Kong breakfasts like congee (rice porridge), noodles or macaroni soup or western-style food like bacon and eggs on toast.

The Area:

The hostel is located in Shek Kip Mei, however the nearest MTR Train station is Sham Shui Po, just a short 5 minute walk away. This MTR station gives you quick and easy access to Mong Kok, Tsim Sha Tsui and Central, some of the most common stops for tourists.

Sham Shui Po is renowned by locals and tourists alike for its bustling street markets. The Apilu Street Markets are filled with all kinds of stalls selling clothes, phone accessories, spare parts, electronics, and more. The Ladies Fashion market is in this area, as is the toy market, fabrics market and kids fashion markets. Are you getting the picture? That's right – make sure you have plenty of room in your backpack for shopping!

There is a fantastic food scene in this area with hundreds of hole-in-the wall restaurants. Ask the hostel staff for recommendations on their favourite places.

We hit the jackpot with lunch one day, dining at Tim Ho Wan, a Michelin-starred dumpling restaurant. There are now a few of these restaurants around Hong Kong, and there is often a long wait to get a table. We were lucky to be sat down straight away. We had seven delicious yum cha dishes, the highlight being the BBQ pork buns. And the whole thing costs us less than 20 Australian Dollars. Now I call that a bargain!
YHA Mei Ho House Youth Hostel
Block 41, Shek Kip Mei Estate, Sham Shui Po, Kowloon.
YHA Mei Ho House was officially opened in December 2013.
Member rates in June start at HK $200 per night for dorm room, privates start at HK $680 a night. With current exchange rates this is AUD$28 and $95.